It's sad when our bodies start to age, especially if you're a woman who loves sex and your vagina begins to change. Fortunately, the loss of moisture and elasticity doesn't have to be permanent.
You may remember my friend Jennifer. I told you about her in a recent email. She recently started dating and was nervous about making love with her new man. She'd gone several years without sex and did not know what to expect, especially after her gynecologist reported that her vulva was "fragile."
So I told her about a new product for at-home vaginal rejuvenation. She was so excited that she ordered hers right away. Check out this remarkable breakthrough technology and decide for yourself: 
Unlock Additional Members Only Content
Please login or register for a Free Membership to view this content.
A couple of days before Jennifer's VFit arrived in the mail, she and her new boyfriend got hot and heavy one night. She'd been feeling more hopeful after she ordered her VFit, and with her new beau being so sweet and understanding, she decided to go for it. That turned out to be a wrong decision.
"Even though he took plenty of time to get me aroused and ready," she said, "my vagina just wasn't up for it. When he tried to enter me, I had to make him stop. The pain was just too intense. It was a burning, searing sensation like my skin was getting ripped open."
The LAST thing she wanted was to associate his penis with that pain, and she told him so in those exact words. He understood completely, so they backed off and pleasured each other orally.
"I was very grateful I'd ordered my VFit," she said. "At least that gives me hope. I'm not ready to be put out to pasture."
No woman should be put out to pasture nor have a painful experience like Jennifer. And everyone, men and women alike, can agree that associating a man's penis with extreme pain would be tragic.
Here's the thing about aging. We, women, need to be proactive and protect our vaginal health. That's why I sought out the people at JoyLux and secured an exclusive offer for my readers.
You'll get even better results if you get some of my blood flow supplements made from organic fruits and vegetables and start taking two capsules daily. FLOW replenishes Nitric Oxide in your body. Nitric Oxide relaxes and dilates your blood vessels so blood can circulate more efficiently, bringing oxygen and nutrients throughout your body, including your genitals. This is super important because blood flow is crucial for sexual satisfaction. 
Everyone deserves to have a fulfilling sex life, no matter their age. So get this dynamic trio — FLOW, VFit, and revitalizHER — and start immediately giving your private parts the special treatment they need.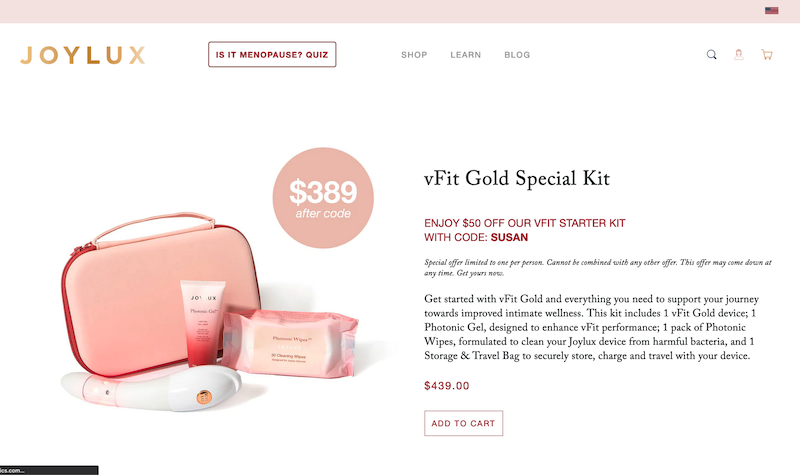 Unlock Additional Members Only Content
Please login or register for a Free Membership to view this content.
Stay vital and sexually alive!
For US customers, you can now get Vfit Gold. It's the same excellent, innovative wellness DIY Vaginal Rejuvenation device that harnesses the power of red light, gentle heat, and sonic technology to improve strength, sensation, and natural lubrication. 
However, it now comes with the Joylux Gold app that makes your health journey much easier. Via the app, you can control your Vfit, track your sessions, schedule future sessions, get notified to stay on schedule, and read super helpful content from Joylux.