There are four hot consumer trends happening right now for you. That is why I want you to choose one thing from this email to take action on. Then, email me or comment below and let me know what you did.
Either try an online program, a new pleasure toy, support your immune system, or use the debuting video chat features to have the newest kind of online date.
FOUR HOT CONSUMER TRENDS
Online home study courses are HOT.
People are finally incorporating pleasure toys into their routine.
Everybody's remembering to take their vitamins again to support immune function.
Video chat features are exploding on online dating apps. Online dating up 27%.
Google searches for online courses grew by over 70% globally between March and April.
This "Great Pause" gives you time to add to your skills and knowledge. And the biggest thing that separates a good lover from a great lover is knowledge.
The more you know, the better your pleasure together.
More sex toys are being purchased now than ever. And these devices have never been better.
And more people are back to taking their fundamental Vitamin D, C, Zinc and Selenium for immune support. Our supplements have 100% of the US Daily Requirements. Take care of yourself better today.
Here is a list of our online courses to learn new lovemaking techniques along with the top favorite sex toys we recommend.
We're fussy about our recommendations. These are the fan-tested top people pleasers.
LEARN LOVEMAKING SKILLS
Start An Expanded Orgasm Practice Together (best for couples)
Experience The Divine Release of G-Spot Female Liquid Orgasms (good for singles and couples)
Learn To Move Your Woman Toward Pleasure with the Seduction Trilogy (written for men who want to have more hot sex but with integrity rather than manipulation or begging)
Revive Her Drive (written for men who want their women to want them for sex again)
Multi-Orgasmic Lover for Men (for men who want to last as long as she wants him to)
200 Advanced Heart-Connected Lovemaking Techniques Video Series (good for singles and couples)
Note: This is not available currently. Get on the notification list for our next sale.
PLAY WITH NEW PLEASURE TOYS
Unlock Additional Members Only Content
Please login or register for a Free Membership to view this content.
SUPPLEMENTS FOR IMMUNE SUPPORT
Never a better time to lay down the basics into your cellular system.
Vitamin D, C, a full B-Complex, Selenium, Boron and libido botanicals built right into your daily multivitamin-mineral to keep your immunity and sex drive high!
The Libido TRIO (for singles and couples)
The world's first blood flow supplement made from organic fruit and vegetables. Assist your immune system with killing bacteria in your blood, increasing blood flow throughout your entire body including your genitals, and for women, increasing vaginal lubrication with FLOW.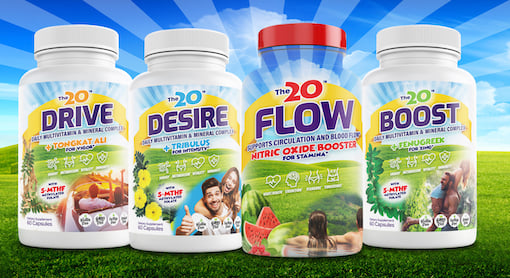 ONLINE DATING UP 27%
Now is the time. If you're single, get on dating sites. People are lonely. They have time to chat and connect. They are envisioning a new life with a new love.
I recommend eHarmony, Bumble, and Match. Get a profile up. Reach out to people. Use the video chat feature to have your first virtual date.
Here are the secrets to success when communicating with someone on a dating app:
The "F Formula" for Men To Intrigue Women
Text Chemistry for Women to Intrigue Men
Which one of these consumer trends have you decided to take up? Supplements for your health? A sexy online learning experience? Video dating? Or a pleasure toy or genital rejuvenation device?
Email me back or comment below and let me know what you chose.
I love to hear from you. Just choose one of these consumer trends, take your action and reply to this email and let me know what you did.