Which of the 5 best aphrodisiacs from natural botanicals will increase my sexual desire?
Maca, a South American root vegetable
Cocoa, the polyphenols from dark chocolate
Tongkat Ali, also called a long jack, from southeast Asia
Fenugreek, also called Methi, from India
Tribulus Terrestris, a flowering vine from the Mediterranean
"I have noticed a difference in my energy, in my cravings for my husband, and many other things that have made our intimacy more vibrant!"
It takes 3 grams of Maca and Cacao per day. Best to put these in your morning smoothie, or at least eat a square of 70% or darker chocolate each day.
It takes 300 mg of TKA, Fenugreek and/or Tribulus for an effective dose.
I put one of each of these in my libido vitamins so you don't have to take ANOTHER capsule… you can still get the foundation micronutrients at the same time you're supporting your sex drive.
LIBIDO TRIO ⇐  90-day supply or 45-day supply if you share as a couple

SEX DRIVE SUPPLEMENTS
There are many so-called sex drive pills on the market. They have a lot of junk in them that is not backed up by human research. And most don't have effective doses of what actually works.
Also, with botanicals—aphrodisiacs from plants—you have to cycle them. Your body gets used to the botanical and then you don't feel its effectiveness.
That's why I packaged a 90-day supply with one botanical in each of the vitamin/mineral bottles. You can take them in any order you want, but take one bottle, then the next, then the next.
That way you can see if your body likes fenugreek best, or Tongkat Ali or Tribulus Terrestris. If you're partnered, compare notes on how you feel on each of the three.
After 90-days you can start over and cycle them again.
You must have proper micronutrients like Vitamin D, Vitamin C, and Vitamin A. You must have proper minerals like zinc, selenium, magnesium, and boron. This is the foundation. That's why I put the libido botanicals right in the daily vitamins.
Think of the vitamin-mineral as the cake and the libido botanicals as the frosting. They are synergistic.
One customer wrote:
My husband and I have been taking the supplements and love them! I ditched my multivitamin for your supplements since The 20 has all if not higher percentages of the crucial vitamins and minerals. I was especially pleased to see the levels of magnesium and iodine which I haven't seen in a complete multi. I have noticed a difference in my energy, in my cravings for my husband, and can attest, his cravings for me 🙂 and many other things that have made our intimacy more vibrant and sensual. Thank you for bringing this to the world!" — Joellen
SUPPORT YOUR SEXINESS
Interestingly, the fenugreek makes your body fluids taste sweet. Many describe the scent as redolent of maple syrup.
The long jack is renowned for erectile support. So you could notice a pronounced clit-boner or harder erection, resulting in more orgasmic intensity.
People tell me the Tribulus Terrestris is one of the best aphrodisiacs and improves their overall desire for sex, causing them to have more frequent sexy thoughts.
But this is all anecdotal —it's what YOUR EXPERIENCE is that matters.
How fun to do this test where you isolate the three so that you can get a sense of how each plant works its magic in YOUR body.
What I've learned is that everyone has a felt and emotional experience that is completely unique.
I'm most excited to hear what the effects are for you.
Please jot notes over the 90-day experience for me, will you?
I want to get a note like this from you too.

Crowd-sourced libido. How freaking fun!
And hey, while you're focusing on your libido, desire and arousal, consider adding a 90-day supply of FLOW to your order. You'll save on shipping.
FLOW is going to get your blood moving, get your body oxygenated, get your vagina lubricated, your penis harder, and you'll increase your ability to THINK.
As we age, our ability to get our blood shuttling around our body where we need it most begins to diminish.
I'll be taking these vitamins and blood flow supplements for the rest of my life. I want to stay strong, smart and sexy!
The world's first nitric oxide supplement made from ORGANIC fruits and veggies.
LET IT FLOW ⇐ Get You The Best Aphrodisiacs!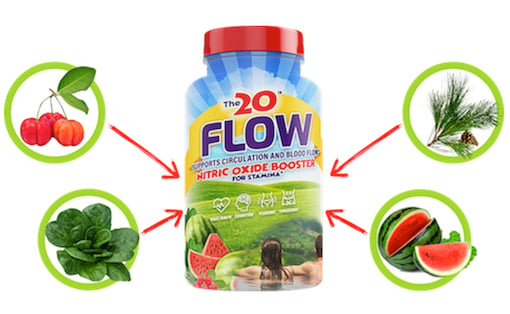 A little apology to my Ozzie and Kiwi friends… my current credit card company doesn't let me ship down under. We are working on this. If you want to get on the notification list, just comment below.
LIBIDO VITAMINS
BLOOD FLOW SUPPLEMENT
The two supplements are completely synergistic. They are a sexual biohacking stack… Designed to work even better taken together.
All information from Susan Bratton, Personal Life Media, The20, and all of our collective brands' advice are personal opinions. Our advice is not intended or implied to be a substitute for professional medical advice, diagnosis or treatment and is for general information purposes only. Always seek consultation from your doctor. Susan has personally vetted and receives affiliate commissions from most of the products and programs she recommends.