Know What Women Want In Bed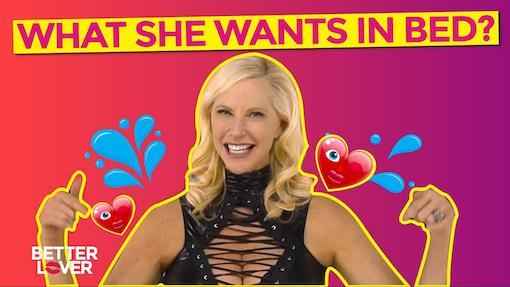 Learn what women WANT in bed.
Gentle or rough play? Sweet romancing or dominating manliness? Do they prefer sensual massages or an orgasm galore?
I'm going to let you in on a little secret.
The #1 question women ask me about their relationship is, "How do I get my man to take charge of the bedroom?"
That means women WANT some (or in other cases, A LOT) of lovemaking.
However, you can't just ask for it and stick it in her. You have to set up the Loverspace to put her in a state of sensual and orgasmic bliss.
And that's what I'm going to discuss today in this video.
Click Here To Watch My BetterLover Video ⇐ What Women Want In Bed 
WHAT WOMEN WANT IN BED
In the video, I also share with you other exciting secrets…
Under what type of lighting or atmosphere are women more likely to take their clothes off and surrender to passion…
And a few other details that you may want to add to your Loverspace to ensure your lover will be physically and emotionally able to achieve "orgasms galore."
Half the game plan is setting up the Loverspace. You have to handle this first before you think about sex techniques.
So watch my video today, learn how to set up a sensually and sexually inviting atmosphere, and explore unlimited realms of pleasure.
Click Here To Watch My BetterLover Video ⇐ What Women Want In Bed 
I also want to give you one of my FREE books about three core sex skills that will provide you and your lover with more erotic pleasure.
It's called "How To Be Instantly Hotter And Sexier In Bed."
Just because I want you to have safe sex doesn't mean it should be boring.
Nope. If you know me, I always love a good steamy sex date.
It would help if you had some too.
Click Here To Download My FREE Book ⇐ How To Get Instantly Hotter And Sexier In Bed (Link Is In The Video Description)