I subscribe to Faith Popcorn's Brain Reserve Blog. She's a remarkably prescient futurist. In her newsletter, she once talked about UltraAgers — a trend that everyone will live on until they are 130.
She says, "In the 1950s, the average human life expectancy was less than 50 years. Today, the global number has surpassed 70 years — and is headed upward. One indicator: Over the last 15 years, the number of Americans over 100 has grown by a staggering 43% to over 72,000. The signals show this is a global phenomenon. There are a huge number of people over the age of 65 around the world."
If you've been reading our articles, you may be considering natural methods to increase your testosterone. You may be looking into hormone replacement therapy already.
That's why I'm giving you a few of my best informational videos on hormonal replacement today. Understanding "optimal" versus "standard" ranges, blood tests vs. urine tests, and the various replacement forms available is important. I explain this and more in the series I put together for you.
Check Out My BetterLover Videos Here ⇐ Testosterone Replacement Considerations 
CRANK IT UP
Here are some of the videos included in this playlist: 
The Benefits Of Hormone Replacement Therapy 

Low Testosterone: Signs, Symptoms, And Hormone Treatments 

How To Increase Testosterone Naturally 

The Pros And Cons Of Testosterone Replacement Therapy 

How To Know If You Need Hormone Replacement Therapy 

Best Hormone Tests

Hormone Therapy: Risks Vs. Advantages
Check Out My BetterLover Videos Here ⇐ Testosterone Replacement Considerations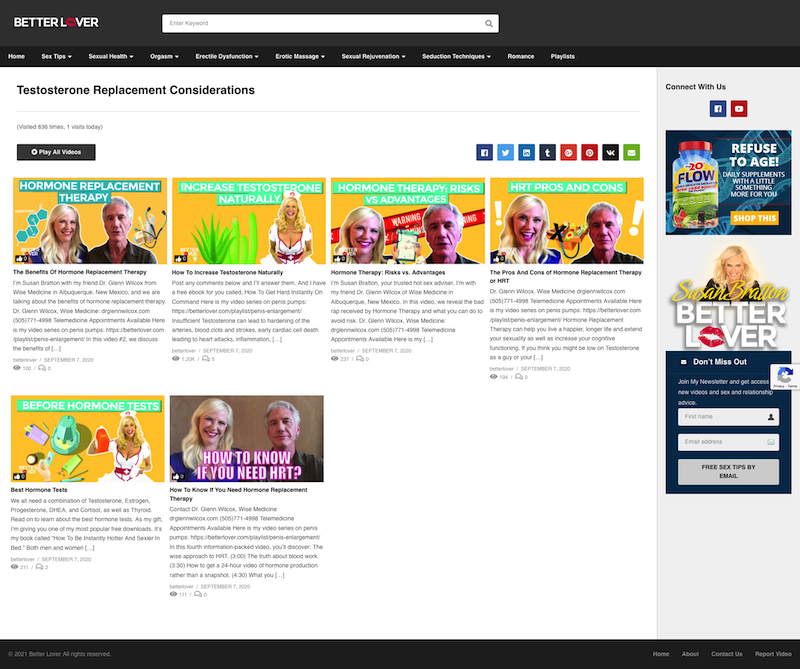 I also want to give you one of my favorite books. 
It's called More Sex More Often, and it'll help you… get more sex more often. 
More specifically, it'll give you some mighty fine and powerful seduction secrets that work on any woman. It will show you the steps to seduce your woman with integrity.
Bring her out. Seduce her toward pleasure. Be her guiding sexual light. Bring her to her sexual potential.
Have More Sex More Often ⇐  Download This Book Excerpt For FREE Here