Let's get kinky.
I'm joined again by my gorgeous girlfriends Amy Baldwin and April Lampert of the Shameless Sex Podcast in today's video.
And we dig into some of our favorite kinky sex toys.
Discover tools and tricks for bondage, power play, sensation play, domination, and everything you could ever fantasize about while still being sweetly sexy.
Check Out Our Video Here ⇐ Kinky Sex Toys For Lovers
THE MASCULINE-FEMININE DYNAMIC AT PLAY
We also go a little deeper into sensation play, which is about removing one of your lovers' senses during sex to heighten their experience with their other senses.
Then, we also discuss why deep down, women long for and even crave being dominated and overcome to surrender to their lover.
We also share some kinky pleasure-heightening techniques that make things hotter and hotter each time.
Check Out Our Video Here ⇐ Kinky Sex Toys For Lovers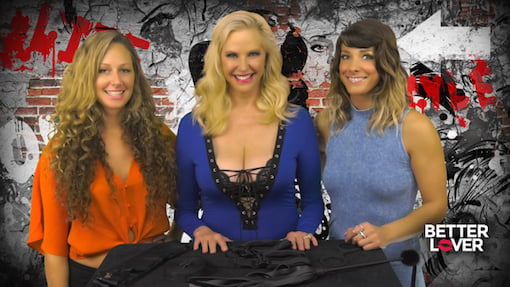 I also want to give you my Dirty Talk book for FREE.
Inside, you'll discover how to get your partner to want to try talking dirty…
How to recognize your lover's dirty talk style…
How to sound sexy and steamy, and not strange…
Dirty talk fantasies you and your lover will want to try…
And much more.
Download My FREE Dirty Talk Book Here ⇐ Talk Dirty To Me