I received an email from a long-time female fan asking me for advice on a good vibrator. She wanted one that she could use internally as well as externally.
Having just created a series called, Healthy Sex Toys for couples, I knew exactly what to recommend: The FunFactory Tiger.
When you scroll down in this email you get more specifics about WHY the Tiger is my number one choice for a vibrating dildo. And you can see Amy, April and I talk all about it in the video.
I wanted a vibrating dildo that a guy could use on his wife to fill her up with pleasure. It had to be non-toxic, have amazing motors with deep rumbly vibrations and a handle that a man could grasp easily.
PLAY WITH VARIETY
"Susan!

Thanks for how much you give to all of us who appreciate you!  

Would you please suggest to me some good vibrators that could be used internally, as well as externally?

Love, Robin"
=======
Hi Robin,
Here is the link for the Fun Factory Tiger vibrating dildo for my YouTube video, Healthy Sex Toys for Couples.
I've been calling in the universe to show me a vibrating dildo that met certain of my requirements.
Some people confuse dildos and vibrators. Dildos are rubber penises, mostly used in a harness. Vibrators can be penis-shaped.
The vibrating dildo I would choose needed to have specific features:
Unlock Additional Members Only Content
Please login or register for a Free Membership to view this content.
⇐ Enjoy This Vibrating Dildo Tonight
First and foremost, a good size. The Tiger is just under 8 inches including the handle. The part that goes inside is less than 5 inches and has a protrusion that stimulates the clitoral system (or the perineum if you use it in your bottom) from the vaginal opening up along the G-Spot on the front of the body all the way up to the clitoral head. Where the urethral sponge (G-Spot) exits the body is a spot few spend time pleasuring but has incredible orgasmic potential.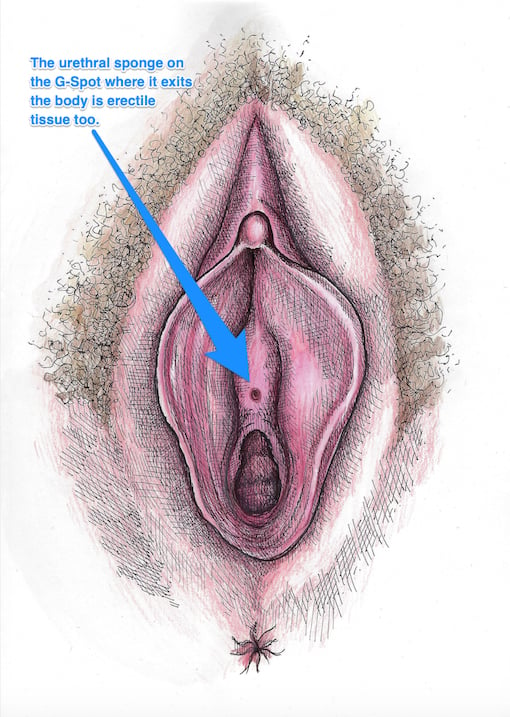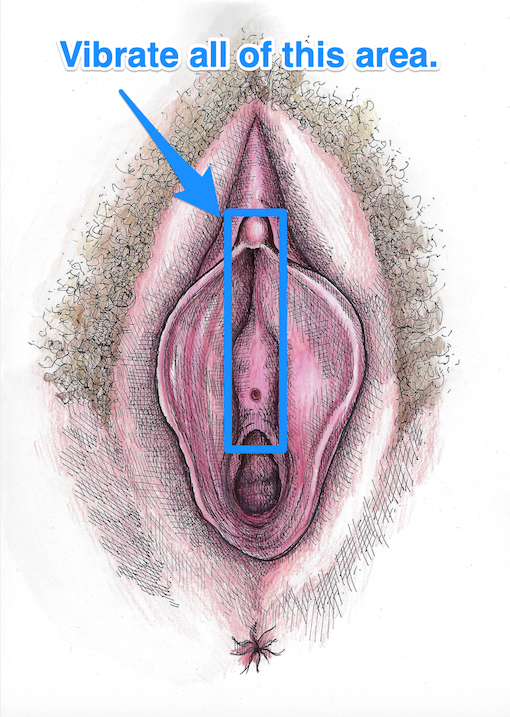 Also, this dildo has a nice girth and ridges up the entire shaft to change the sensations intra-vaginally. This entire shaft vibrates and bends.
Another reason I appreciate the Tiger is that the penis is "uncircumcised." I prefer dildos that show a penis in its natural state. Circumcision is on its way out of favor because people are beginning to understand that the penis is perfect as designed and the foreskin makes intercourse more pleasurable for women.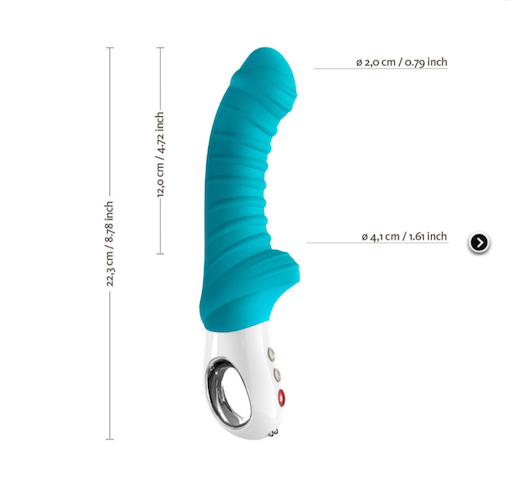 I wrote an article about a study on penis size recently. Their data showed that women's vaginas are "densely packed with pressure-sensitive mechanoreceptors that detect stretch sensations."
They went on to say that the vagina appears finely tuned to detect different penis girths more than length. So many men wish they had a bigger penis. If women knew penis pumps work best on increasing girth, more couples would enjoy using a penis pump in foreplay.
Penis pumps are the unsung heroes of the sex toy world. But they are gaining ground as I help men understand pumping is a viable way to enlarge their penis.
Here's My Penis Pump Guide ⇐ Download It For Free
That's why I wanted a big-but-not-huge vibrating dildo to recommend. Because this is a toy not just for masturbation play, this is a sex toy couples can use and enjoy during sex.
This Tiger dildo has a handle for your partner to hold onto it while he's penetrating you with it. That's hot. And the thumbhole in the handle gives steady grip when you're using it on your partner with lubed up hands.
Most importantly the Tiger has what is called a "rumbly" versus a "buzzy" vibe. The motor is German-made and the toy is quiet. I find loud vibrators distracting, especially if you have kids at home. There are six speeds and six patterns which are easy to change because the buttons are right on the handle and easy to see. Many vibrators have inscrutable buttons. This toy even has a lock switch so you can avoid having your luggage come down the carousel at baggage claim vibrating. Haha. That has happened to me more than once!
The buttons on most vibes are inscrutable. I can never figure out how to operate them and they end up in a drawer. The instant-off switch when you've just had your final, intense orgasm is a welcomed feature. No struggling to shut it off when all you need to do is collapse! Plus, the throaty thump of this vibrator penetrates into the body.
It's not too strong a vibration though. And you can always have your partner tease and pleasure your Yoni with the Tiger while you're holding a Magic Wand on your clitoral area at the same time if you need to be overwhelmed with stimulation to climax.
WOW!
I have to go have sex right now! Haha.
The silicone on the part that goes up in your vagina is soft but slippery. Lube is nice on it. It holds the lube but also glides if you want more "in-and-out" stroking.
When the Tiger was selected to be in my, "Healthy Sex Toys for Couples" video series, I insisted on medical grade silicone and body-safe materials. April and Amy, sex toy market experts and hosts of the Shameless Sex Podcast recommended it. I told them I wanted a vibrating dildo and they recommended the Tiger as the toy with the perfect combination of features.
I'd rather the toy be flesh colored, like a dildo. It comes in pink, teal, and purple. For a couple's sex toy, the pink makes it seem like it's only for her. I'd choose the purple because guys like to be stimulated with vibration in various areas too.
What they really love is giving hours of orgasms to a sexually enthusiastic woman.
The more a woman masturbates and has orgasmic sex, the happier she is. The more orgasms she has, the more she wants. Orgasms enrich her life.  
I wish more couples played with sex toys. I often tell guys with ED issues to get a vibrating dildo and use it on their partners until they can reverse their ED. No sense not getting filled up regularly by your man with this kind of experience.
Thanks for asking about vibrating dildos.
Unlock Additional Members Only Content
Please login or register for a Free Membership to view this content.
⇐ Enjoy This Vibrating Dildo Tonight
Here's My Penis Pump Guide ⇐ Download It For Free