Sexual Tigress vs Pussycat (Which are you?)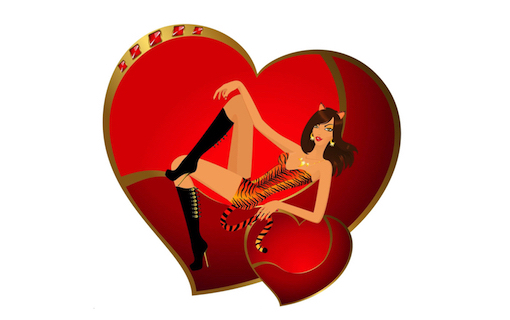 A world of passion, intimacy and erotic information awaits you just around the corner. Choose to receive my
Female Sexual Empowerment Newsletter
at no cost today.
Are you the kind of woman who knows what she wants and gets up to grab it?
Or are you the kind of lady who likes to chill, sit back and let life unravel on its own?
I'm asking you this because you recently raised your hand to get my new book, Sexual Soulmates.
And that means, somewhere deep inside you is a sexual tigress who wants to come out and play.
Maybe you're still a little kitty, wanting to dip her toes and explore her capabilities…
Or maybe you're a fully grown tigress who desires to experience more sensual (and sexual) pleasure.
If that sexual tigress DOES exist inside you and you'd want to learn more about how you can explore, express and expand your sexual prowess…
You might want to join my Female Sexual Empowerment Group.
There's no cost, and there's no catch.
All you need to do is click this link and you'll be added to my Female Sexual Empowerment Newsletter.
WHAT'S IN IT FOR YOU?
A world of passion, intimacy and erotic information awaits you just around the corner.
I have so much I would love to share with you about the many different ways you can experience (and give) pleasure in your life. All I need is for you to let me know.
Let me know that you ARE a sexual tigress, and that you DO want to discover the infinite number of ways you can empower yourself sexually.
In the past few weeks alone, I've shared some wonderful articles on my Female Sexual Empowerment Newsletter on topics such as:
How to blow a man's mind and make him worship you as his sexual goddess…

The scent that makes men stop what they're doing and turn their heads to look for you even in a crowded room…

Music that promotes (and enhances) lovemaking…

How to have your first body-shaking, sheet-ripping, eyes-rolling-to-the-back-of-your-head climax (and have multiple nirvana-esque climaxes…)

How to expand and prolong your orgasmic pleasure for hours…

How to make men fantasize about you all day (and all night) long…

How to train your boyfriend/husband to become a better lover (without crushing his male spirit)
And there's more… so much more.
All you have to do is click this link to let me know, and I'll add you to my Female Sexual Empowerment Newsletter.
You will then receive articles from Dr. Patti, Tallulah, Sloane Fox and myself on more sexually empowering topics specifically for women.
I'm so excited to see you in the group. And I'm equally excited to share with you my best advice on how you can cultivate your sensual potential.
You are in for the ride of your life. And you won't regret one second of it.