How To Heal From Sexual Abuse, Trauma, And Shame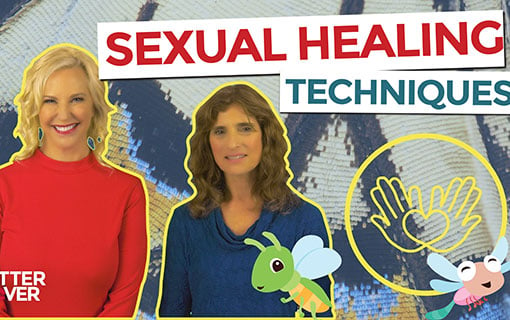 Is past trauma holding you or your partner back from intimacy? Read on to learn how to heal from sexual abuse.
After all this time working with singles and couples on their sexuality, I realized that a majority of us have experienced some form of sexual abuse, sexual trauma, or sexual shame. And it's not just women… men experience trauma too.
Now, it may not be as severe a case as physical abuse. Trauma can stem from very subtle ways such as how we communicate in social situations, what society teaches our children, and of course, how our parents raised us. Even how our bodies have been touched in seemingly innocent medical situations can cause sexual shame.
In today's video, trauma therapist and somatic educator Ariel Giarretto and I discuss the many ways you may have experienced sexual trauma, abuse, and shame.
And how it may have affected our interactions with others, how we experience sexual pleasure, and how open we are concerning our sexuality.
Watch Our Videos Here ⇐ Playlist Sexual Abuse, Trauma, And Shame (And How To Heal)
HEAL YOURSELF
We also talk about a wonderful exercise, sort of a guided pleasure activity which you can follow along as we speak.
This exercise helps you heal, get in touch, and become friends with your body and receive sensations and pleasure.
I can't wait for you to experience it yourself.
As I said, I believe a majority of people have experienced some form of sexual abuse, trauma, and shame… and we owe it to ourselves to heal and love pleasure again.
Watch My Videos Here ⇐ Guided Activity To Heal Sexual Abuse, Trauma, and Shame
I also want to give you a NEW video about Rewriting Your Libido Love Story.
In this video dialog, Dr. Keesha Ewers, a doctor of sexual functional medicine and I give you the tools to right the wrongs of your past, find forgiveness for betrayals, and come through to the other side letting go of emotional burdens holding you back from having the best sexual experience of your life.
You deserve the God-given human right of pleasure and connection with a partner.
This is the most helpful, healing, wholesome video on the subject of reversing sexual trauma I've ever done.
If your sex drive (or your partner's sex drive) has suffered from past issues, grab this video now.
Rewriting Your Libido Story (VIDEO) ← Watch Or Download Now Before It's Gone