"Guybrators" Two New Sex Toys For Men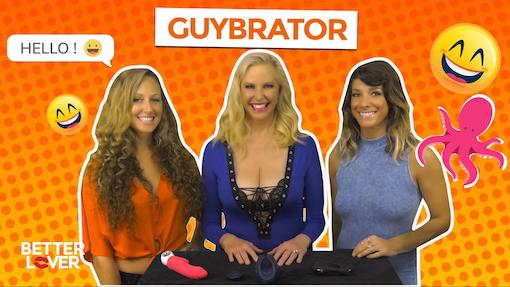 Most guys don't consider using sex toys, because until now, very few of the toys on the market have been designed for men's pleasure.
Well, not anymore.
In fact, in today's video, Amy Baldwin and April Lampert, co-hosts of the Shameless Sex Podcast join me in the first of a video series called, "Healthy Sex Toys for Couples."
We demonstrate two wonderful sex toys couples can use TOGETHER to both receive simultaneous stimulation. Because they are made to pleasure the man as well as the woman — and one of them is a new kind of male masturbator — they're called "Guybrators", or in other words…
"Vibrators for guys."
Yet, they're not ONLY for guys. They're specifically designed to help both men and women achieve intense orgasmic pleasure during lovemaking.
Check Out These Guybrators In This Video ⇐ 3 Girls And 2 Guybrators
BUZZY OR RUMBLY?
These Guybrators are amazeballs! Literally.
One of them is designed to help men and women achieve orgasm even without the man having an erection. This is especially for men who struggle with E.D.
The second Guybrator is a modern take on a cock-ring and vibrator combo that helps men get BIGGER and LONGER-lasting hard-ons…
And give women hands-free super-orgasmic pleasure during intercourse.
These innovative and high quality instruments of pleasure  will change the way you have sex.
Watch Our YouTube Video Here ⇐ 3 Girls And 2 Guybrators
You can also get the links to check out the actual Guybrators themselves…
As well as get the link to follow Amy and April on their Shameless Sex Podcast. Make sure you listen to the episode I did with them…. HOT!???
Let me tell you, these two gorgeous sexperts know sex toys better than anyone I've met.
Check Out The Guybrators And Their Podcast Here ⇐ Link In The Video Description
Please, I need you to subscribe to my Better Lover YouTube Channel. It's free. You just sign up with your email. Subscribing sends the signal to YouTube that my videos are valuable and helps me grow. I really appreciate it.


The links I mention in the video can be found under the video. Click "SHOW MORE" on the left on your computer. Or click the little TRIANGLE on the right on your phone and it will expand to show the links and transcript.  
Check Out The Guybrators Here ⇐ Link is In The Description Below The Video