Learn how to give a blow job. Either giving OR receiving, depending on your orientation…
How much do you love blowjobs? Either giving OR receiving, depending on your orientation…
I've never known a man who would refuse one. In fact, I've never known a man who would not like to receive MORE.
That's why I want to give you a playlist of my BetterLover videos about how to give or receive phenomenal blowjobs.
Now, if you're a guy, these videos aren't necessarily FOR you. They're for your lover. Watch them, see what you like, and teach your lady how to use these techniques on you.
A good girl will love hearing how to please you more. So know what you want and ask her for it. It helps her have more fun when she gets the right directions.
If you're a sexy, sensual woman… pay close attention. I throw down some AMAZING techniques in this video series for you, mama!
Click Here For My BJ Playlist ⇐ Give Your Lover The Confidence To Offer Daily Mouth Hugs On Your Manhood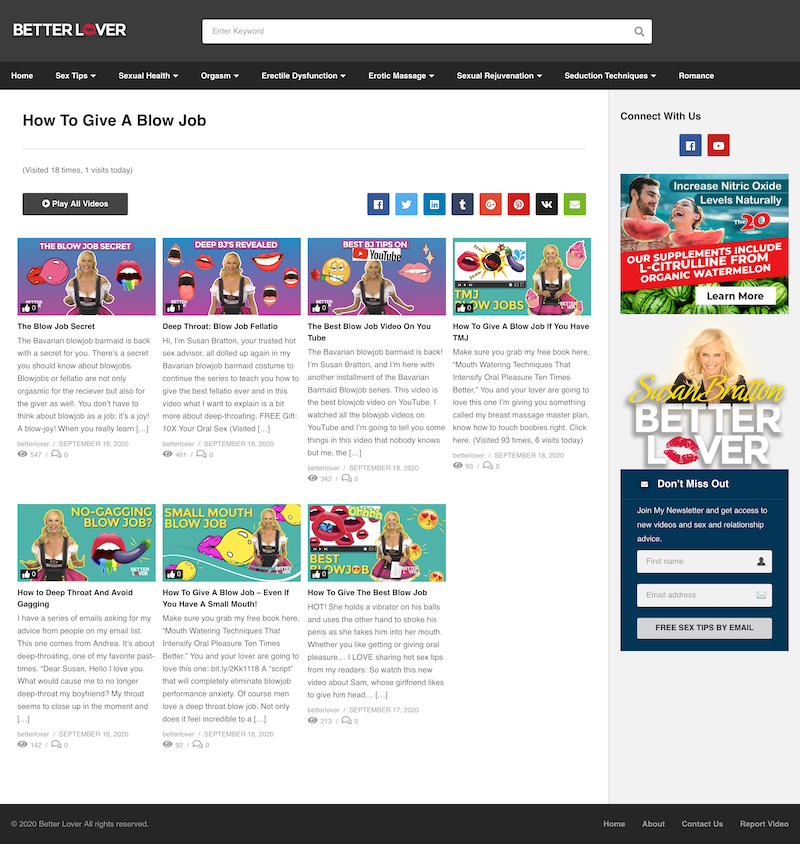 LEARN HOW TO GIVE A BLOW JOB
Here are the videos on this playlist:
How To Give The Best Blow Job
Give A Blow Job, Even if You Have A Small Mouth
How To Deep Throat And Avoid Gagging
How To Give A Blowjob If You Have TMJ
Don't they sound fun, sweetie?
I'm sure you both will enjoy these —no nudity in them.
Just me in some cute outfits sharing amazing BJ tips and tricks.
Click Here To Watch My BJ Playlist ⇐ Take Your Lover One Step Closer To Giving Phenomenal Head
I also want to give you another special gift.
It's all about how you can 10x your oral sex life.
Imagine your spicy sex life if both of you can learn these oral sex intensifiers. What a rush!
And I want you to have this for FREE.
Click Here To Get 10x Your Oral Sex ⇐ Mouth-Watering Techniques That Intensify Oral Pleasure.