"I gag on his penis. Help!"
WARNING: I'm about to bust one BIG FAT LIE about women and blow jobs. Do not continue reading if you need to be right about this one…
"There are two kinds of women in the world: those who enjoy giving blowjobs and those who don't enjoy giving blowjobs."
WRONG! From my perspective, it's not a question of the "kind" of woman… it's a question of whether or not the woman has:
1) sufficient knowledge of his and her anatomy,
2) the sexual skills required to turn giving head into a joy rather than a chore, and
3) enough self-awareness to look inside herself and find out what might be blocking her enjoyment (hint: it's not his penis).
Note: This is an age-restricted YouTube video. Google may make you sign in to watch it. It's totally worth the few seconds to do so.
DEEP THROAT HIM FOR REAL! ← Watch now (What to do if it's not fun anymore.)
It's a little known fact that we have erectile tissue in our throats. That's why all women can actually get off while giving a blowjob if they are comfortable, turned on and know this fact. If she does, she essentially uses her lover's penis to stroke that erectile tissue and get herself turned on. That's the real beauty of a blowjob; it's a two-way pleasure generator!
However, just as is true with any kind of sexual activity, it's best if the woman is deeply relaxed so she can fully surrender to the pleasure. For BOTH parties to get the most out of a blowjob, the woman needs to feel safe physically and emotionally before taking him into her mouth.
If her gag reflex is more sensitive than usual, it's time to zoom out and look at the bigger picture. That's what I do for one of my readers in this video. She'd always enjoyed having her man deep in her throat, but suddenly started gagging. So what happened? Watch and find out.
WHAT YOUR GAG REFLEX IS TELLING YOU ← WATCH IT (before you go to sex therapy)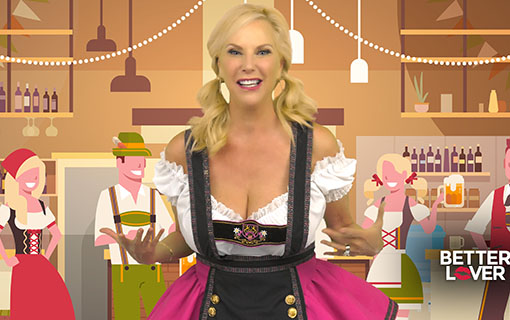 My advice? You can't force it with blowjobs. You need to work with your throat rather than work against your gag reflex so you'll want to take that penis even deeper.
Because the "gag" is simply an orgasm ready to be transmuted. The reflexive contraction of a gag is just an orgasm waiting to happen. That's why you'll hear the phrase, "overcoming the gag reflex." Once you know that there is a metamorphosis from the gag to the 'gas, it's just a matter of time until the deep throating becomes pure pleasure.
When it comes to sex and intimate relationships, lifelong learning is where it's AT. Human sexuality is a fascinating tope and there is always more to discover. But YOU already have a job, so I do the job of keeping you abreast of the latest information, which is the mission of my Better Lover YouTube Channel. Subscribe here today. There is literally an unlimited expanse of pleasure that's yours to enjoy. Subscribe today! It's totally free. You won't get an avalanche of emails, just a notification in your Youtube account when I release a new video once a week. Let me help you keep it HOT!