How to snap your libido back. Prrrr!
Don't miss me all dressed up as a "Heidi" in this article.
So many women wish they were hornier. Sex drive issues and low libido are a BIG problem for many women. So here's the natural skin care system I've been using to balance my hormones.
Non-Toxic Skin Care Line With Free Esthetician Consult ⇐ Educate Yourself, Sloane!
NON-TOXIC SKIN CARE
My friend, Dr. Trevor Cates – you might have seen our video on Clitoral Erections? She's a very sex-positive doctor who had me on her podcast.
Well, Dr. Cates works with women who have major skin problems. Age spots. (Hyper-pigmentation.) Cystic acne. Rosacea. Thinning, aging tissue…
And because of her deep knowledge about dermal health, she developed a skincare line called The Spa Dr.'s Daily Essentials.
If you're a lazy skin care person, this is perfect.
I'm in LOVE with her products. The Spa Dr.'s Daily Essentials are super simple to use because the regimen is broken down into a simple, 4-step system. Everything your skin needs, from a cleanser and antioxidant to moisturizer and unique glow boost are included.
You use the cleanser with a washcloth, which has definitely helped improve the surface texture of my skin.
I love the smell of the moisturizer. It smells like the natural and orgasmic… oh! I mean organic… ingredients it's made of.
Anti-oxidents are key for skin preservation and rejuvenation and this tightens your skin beautifully.
And my favorite part of the 4-step product line is the Glow Boost. POW!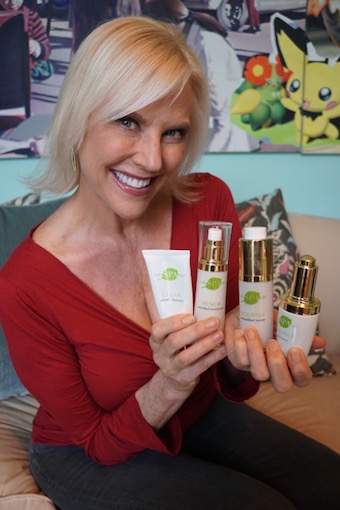 SpaDr. Skin Care System
Dr. Cates has this beautiful glow about her. And I have it now too, by using her Glow Boost. It's amazing that you can LITERALLY see your skin glow like your cheeks are rosy apples when you smooth it on.
I also love how rich and emollient this system is. I make sure I spread it down onto my neck and décolletage (my upper chest). Because as you age, that part gets really wrinkly. Sigh.
So of course I contacted my friend Dr. Trevor Cates and she created a special offer for you because she loves me.
Just knowing you are detoxing your endocrine disruptors and replacing it with a system that is EWG Verified means you can be assured it's free of the crap that wreaks your sex drive.
If you have ANY dermal issues, getting access to Dr. Cates trained estheticians is a fantastic benefit of using her system. You can get the answers you need to problems such as dark spots, acne, spider veins, stretch marks — if you have a skin issue, you now have a healthy new skin care line up AND access to your own esthetician.
Go here to take advantage of this super generous offer from my friend Dr. Trevor Cates and The Spa Dr.
Unlock Additional Members Only Content
Please login or register for a Free Membership to view this content.
⇐ Detox Your Skin Care Educate Yourself, Gorgeous!
Here's to you revealing your natural beauty more and more every day.