If you're in a monogamous relationship, please forward this vital information to single friends. Read on to learn about safe sex tips.
We're crawling out of our bunkers and lookin' for booty. And we're more aware than ever of the danger of communicable diseases. Sexually transmitted infections are the poster child of communicable diseases. Most people think that condoms keep them safe from STIs. Sadly, they do not. Many of the most virulent STDs are spread from skin-to-skin contact.
Naughty Nurse Susan is back to show you how you can have a lot of HOT sex while keeping safe.
Here are the smart precautionary measures to take to enjoy your single sexy life while avoiding bad (and unsafe) sexual encounters.
Click Here To Watch My Videos ⇐ Have Safe Hot Sex (And So Much More) 
SAFE SEX TIPS
This collection includes titles such as:
Have Safe Hot Sex 
How To Have The Safe Sex "Talk" 
Discuss Your Sexual Boundaries And Avoid STIs 
What Is Consent And How To Have Consensual Sex 
And much more…
Remember, these videos are for lovers and singles alike. Whether you're with someone you love (and what to start having sex with) or if you're single and mingling with other sexy adventurers.
Click Here To Watch My Videos ⇐ Have Safe Hot Sex (And So Much More)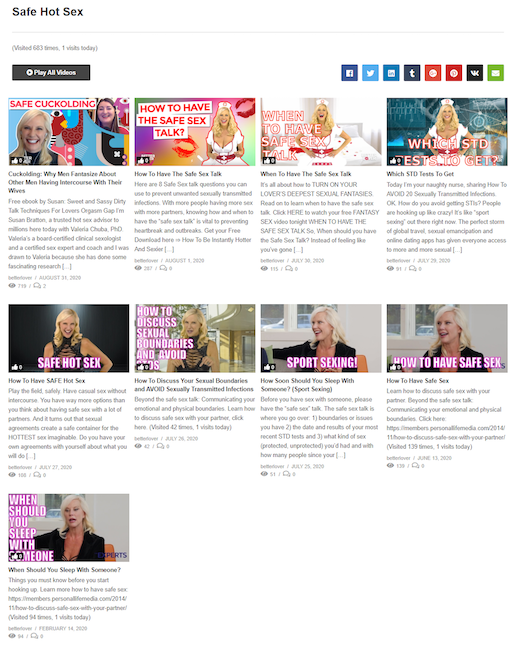 I also want you to check out one of my bestselling books, Sexual Soulmates. It's all about the Six Essentials for Connected Sex.
It's what you do with, to, and for each other behind closed doors that elevate your relationship to feeling like Sexual Soulmates.
When you've got all six essentials down, you're practically completing a checklist of what you both subconsciously desire and require from each other.
Click Here To Get Sexual Soulmates ⇐ The 6 Essentials For Connected Sex