Thanks for watching my "8 Cures for Erectile Dysfunction" video with Dr. Amy.
Did you know that is just one of a series of ten videos all about next-generation erectile performance solutions?
Click Here To Watch These Videos ⇐ ED Cures Video Series With Dr. Amy B. Killen
In addition to Testosterone replacement options, we also talk about everything from penis pumps to Priapus shots to new healing technologies that restore your body's ability to fill your penis with blood and get that blood to stay in there!
THE TEN VIDEOS ARE:
Ask An Erectile Dysfunction Specialist – What Are The 5 Causes of ED?
What Causes Erectile Dysfunction? (4 Types of Men With ED)
Erectile Dysfunction Causes and Diagnosis – Why Do You Have ED?
Erectile Dysfunction Treatment Options – Pills, Penis Pumps, Testosterone (8 Solutions To ED)
Low Testosterone – Signs, Symptoms and Hormone Treatments
Nitric Oxide and Erectile Dysfunction
How To Naturally Cure Erectile Dysfunction Caused By Venous Leak and Arterial Plaque
Prostate Health and Erectile Dysfunction (Enlarged Prostate, Prostatitis and Prostate Cancer)
GAINSWave Demo For Erectile Dysfunction Treatment and Male Sexual Enhancement
Priapus Shot (P-Shot with PRP) and Stem Cells For Stronger Erections
Click Here To Watch These Videos ⇐ ED Cures Video Series With Dr. Amy B. Killen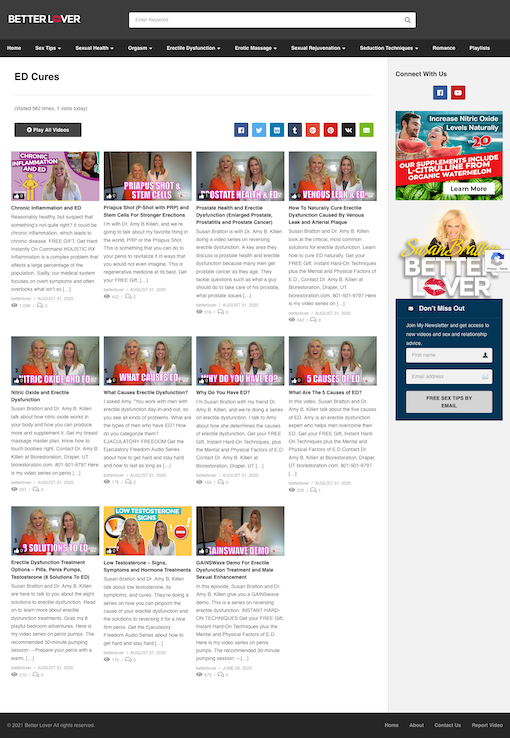 I also want to give you one of my FREE books, the Pump Guide.
In my FREE Penis Pump Guide, you'll discover how to accurately use a penis pump to develop harder, longer-lasting, lengthier and thicker erections safely, in the least amount of time — with permanent gains.
Anyone of any age can pump. You can pump to reverse softness, make your penis bigger, and simply get a rock-hard erection like when you were a young man.
I also cover the latest new protocols for reversing erectile dysfunction and creating more robust erections by combining three protocols:
Unlock Additional Members Only Content
Please login or register for a Free Membership to view this content.
Click Here For The Download ⇐ Susan Bratton's FREE Pump Guide