Nasal spray and vaginal cream formulations.
Taking Oxytocin might help you feel more connected.
If your emotional tone is a little deadened or you're not feeling pleasure when you touch your partner, Oxytocin might help.
If you're struggling to achieve an orgasm, Oxytocin might help.
Watch this video about Oxytocin for hot sex:
The more I learn about this amazing hormone the more I think it might be helpful for couples who want to feel more connection.
Both of you can try Oxytocin sprayed in your nasal tissue. A woman can also apply it in her vagina. It can reverse vaginal atrophy according to Dr. Lindsey Berkson, author of Sexy Brain.
You get a doctor to write a prescription at a compounding pharmacy. Dr. Glenn Wilcox and I have been working on prescription formulations for Oxytocin.
You can schedule an appointment with him here or call (505) 771-4998. He can do an assessment over FaceTime or Skype and then call in prescriptions to Menaul Pharmacy in New Mexico and they can mail you your prescriptions. Or you can ask your doctor to give you a prescription.
Here is a series of videos on bio-identical hormone replacement therapy I did with Dr. Wilcox.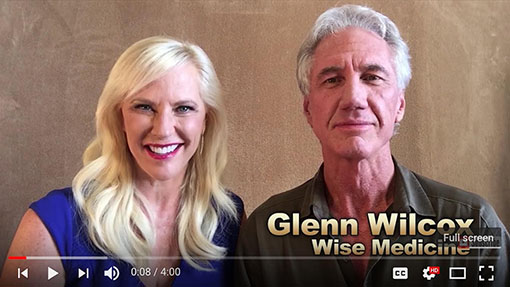 THE PRESCRIPTION FORMULATION
The nasal spray is 50 IU/ml in a 15 mL/ Spray Actuator. (0.1 mL/spray = 5 IU per spray) 1 spray in each nostril in the morning and one in each nostril at night. Use as needed prior to intimacy.
If you're a woman or your partner wants to try the vaginal cream: Oxytocin in VersaPro cream at 100 IU/mL. Apply 1g inside vagina each night. Dispensed ats 30 g tube with applicator.
Oxytocin is a safe hormone that helps with grief, depression, lack of connection, social anxiety, desire and orgasmic climax, among other things. It is most closely associated with women delivering babies as it's called the cuddle hormone.
If you try this, please let me know how it affects you.
If you have questions, reply to this email.
I'm always looking for new ways to biohack your sex life.
Please take a minute to subscribe to my YouTube channel More subscribers sends a signal to YouTube that my content is valuable. Which means they recommend my videos in search results. Which helps me grow my audience to reach and help more people like you.
I'm not a doctor. Heck, I play a sexy nurse on YouTube, but that doesn't mean I'm a trained health professional. You MUST consult your own doctor and take responsibility yourself for your decisions. These formulations are what I am trying. This is all new information I'm sharing. It's not clinically tested. But Oxytocin is regulated by the FDA. It's a prescription, so you do have to get a doctor to write you the prescription. Doing so is at your own risk.