Ladies, show him how to pleasure you exactly the way you like it, even if you're not sure what you want right now.
It's almost holiday season and I'm in a GIFT-GIVING mood.
So for the entire week, I'm going to give you some wonderful presents you'll surely enjoy.
Here's my 1st gift of the week.
Guys LOVE to be told what to do.
Hah hah!
I wish!
Men take feedback as criticism so easily… especially in the bedroom… But I have the solution to that problem for you here.
Guys try desperately to give us women what we want sexually, but, for the most part, they end up scrambling around in the dark.
To men, women are mysterious creatures.
Here's a SUPER SIMPLE approach to training your guy to be a crazy-good lover without making him feel like he's being told what to do.
This technique makes him think what he's doing is HIS idea.
If you want epic love… epic intimacy… and epic orgasms… then you have to download an excerpt from my new #1 international best-seller, "Sexual Soulmates."
I'm GIVING AWAY this technique, The Sexual Soulmate Pact, from my new best-seller for a very limited time:
The Sexual Soulmate Pact ⇐ Train Him To Be Your Sexual Soulmate (Limited Time For FREE Download)
SEXUAL SOULMATES
"I liked the feedback loop. Never thought of giving my "animal side" permission to report on what it needs. My man just loves it!" ~ Christine G, Honolulu, Hawaii
It takes intentional focus, simple communication, and letting him feel like he is a winner to get your relationship with your guy on an upward pleasure-spiral.
In this itty-bitty book, you'll discover how to unleash yours and your lover's animalistic sexual side.
Have raw, unfiltered, unhindered lovemaking that keeps getting better and better each time you make love.
So much love in the right time and the right places.
What I share in the book is NOT woo-woo. When you feel like you're with your sexual soulmates, you'll shout, "Woo hoo!!!"
Soulmates are co-created.
There's no fairytale magic or "meant-to-be" destiny about it.
Get The Sexual Soulmate Pact and use it tonight to have heart-connected and PASSIONATE lovemaking in your relationship.
Get The Sexual Soulmate Pact For FREE ⇐ Train Him To Be Your Sexy Lover In The Bedroom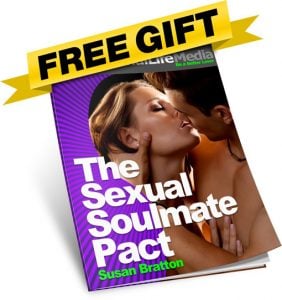 To A More Passionate Relationship
Contrary to popular belief, you CAN train your man to become your sexy bedroom boytoy. You just have to let him think he's in charge, although you're really the one telling him how to make love to you right.
That's just one of the many neat tricks you'll learn in my new book excerpt, "The Sexual Soulmate Pact."
Tomorrow, I'll show you how you can have 10x more oral lovin' from your lover and make him want to pleasure you with his mouth and tongue in all your sexiest spots.
For now…
Get The Sexual Soulmate Pact Here ⇐ Download For FREE (Limited Time Only)