All because of you.
Just a quick thank you to let you know we did it!
Because of you and my fans and followers, I achieved the goal of 10,000 YouTube subscribers. Woooooooooo!!!!!!
I just adore sending you fun Sex Ed YouTube videos each Friday.
If you've seen some of them, you know I like to dress up in sexy costumes.
WE REACHED 10,000!
I've done videos as a sexy nurse, a space futurist and in lots of different sexy club wear.
Now, here's something fun!
How would YOU like to be the one to choose what/who I dress up as next?
A fire chief? A kitty cat? Or what EJ, one of my favourite fans said, "How about as a Nun?! . . .
I'm sure you would be a hard habit for just about anyone to break!"
Ha ha!
Email me your suggestions! I'll read through all of them and pick the best ones!
And if I choose your suggestion, I'll be more than happy to give you a shout out during the video (if you want.)
How fun would that be?
If you haven't subscribed and you don't want to miss the party, here's the button over 10,000 of you dear souls clicked to get me into the big kids club on YouTube:


It's sort of like subscribing to a free online magazine — new content by YouTube channels you're subscribed to shows up on your YouTube homepage.
Videos like:
 • How To Ravish Her
 • Stamina Sex Positions
 • Shaving Your Pubes!
 • Losing Your Virginity (Great for your young adults.)
 • Sleeping WIth Multiple Partners Safely
 • My Boyfriend Doesn't Let Me Wear Lingerie
And lots of fascinating other stories and smart advice for having an awesome-balls sex life.
So you'll see my new video on your Subscriptions page when you go to YouTube, instead of having to hunt for them.
I put up a new video each Friday. So those videos will appear in your subscriptions.
When you go to YouTube, you click on "Subscriptions" and you'll see all the newest videos from any channel you're subscribed to.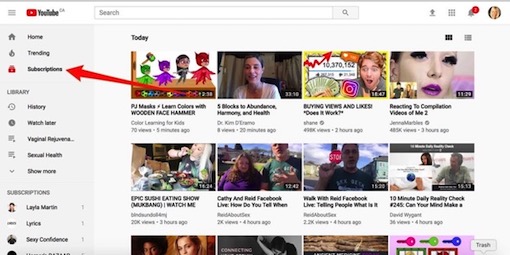 There is no charge to subscribe. It's simply a recognition that the content is valuable enough to you that you'd like to see it on your subscription page when you visit YouTube.


That's why I want YOU to subscribe if you haven't yet.
Thank you so much for helping me achieve a personal goal.
You've encouraged me to throw my heart and soul into new videos for you.
If there's a subject you want to know about. Or a question you want me to answer, let me know.
Coming up I have:
• Which STD Tests To Get
• Which Hormone Tests To Get
• How To Make Love To A Man Versus a Woman
• How and When to Have The Safe Sex Talk
• Using Oxytocin for Hot Sex
• And so much more!