Funny real picture  ⇑
How to train your partner to be a dirty (in a good way), sexy, wildly slutty bedroom buddy.
We need to help our lovers lead us to our sexual potential.
Behind most good bedroom sluts (also in a good way) is a partner who has created the safe haven for us to live into our sexuality. You can teach your partner now to support you. You can train your lover.
With the societal repression that punishes both men and women across the gender spectrum from all angles: the media, advertising, religion, our own lack of knowledge, sexual abuse, et cetera; we all need encouragement to step into our sexual selves with confidence.
Four big ways we can support our partner's sexual growth include:
• Verbal Encouragement
• Unconditional Acceptance
• Erotic Playdates
• The Soulmate Pact Agreement
GET DIRTY TOGETHER
The guy who wrote this, "I wish my wife was this dirty," didn't understand that he needs to encourage her toward her sexual potential. If she's not dirty, he's not setting the conditions for her to get down and dirty with him. Read the explicit story below of a man who obviously knows how to lead his woman.
Look, nobody is born knowing how to be a fantastic lover. Sexual mastery takes practice. It's not your parent's responsibility to teach you these things. It's your responsibility to seek out information. Which is why I'm so proud of YOU. You take initiative in a way that very few people do.
Because you are one the smart ones who knows that if you're not getting better in bed together, all you'll have are wishes and unmet desire.
There are definitely people who need to lead their partner out from under past sexual repression. That's what my Revive Her Drive program does. And yes, these four steps can work on men too.
There are others who have good sexual intentions, but just don't act on them enough. These are people who can benefit from the four keys to seduction inside our Seduction Trilogy. The Seduction Trilogy teaches you how to train your partner to be a dirty (in a good way), sexy, wildly slutty bedroom buddy.
Many partners struggle with their orgasmic potential. For men, we have our Multi-Orgasmic Lover program which helps men master "ejaculatory choice." This means they learn arousal control — whether they have trouble coming or they come too fast. The ME Breath technique transforms men into sexual energy masters.
And for women, Keep Her Coming gets them started. Expand Her Orgasm Tonight not only extends their multi-orgasmic potential — it goes much further to EXPAND a woman's orgasmic length and breadth of sensation.
And Female Liquid Orgasm takes her orgasmic potential to the next level — all the way to female ejaculatory orgasms. And yes, ALL women are able to squirt and no, it's not pee. It's Amrita. The liquid comes out of your pee hole but it's a different fluid. The same way men pee and ejaculate from their pee hole (urethra).
Learning new sexual techniques is what keeps sex getting better. Having "erotic playdates" where you try a new thing as beginners together is a fantastic way to expand your sexuality. Our Steamy Sex Ed® Video Collection shows over 200 heart-connected massage, oral and intercourse techniques.
I've been extremely mindful in what programs we create because I understand what the essential components are to make you a fabulous lover.
These programs dovetail together to form a sexy safety net for anyone to get really good in bed.
If you're not sure where to start, just email me your situation and I can make a recommendation.
If your sex life is not incredibly fulfilling right now, learn something new. Keep learning. Keep adding to your knowledge.
Then, in the heat of the moment, you'll have so many more skills to bring to bear.
It takes a lot to create those sexual moments.
No pressure to buy. Just want you to know what's available to you. We will be here when you're ready, honey.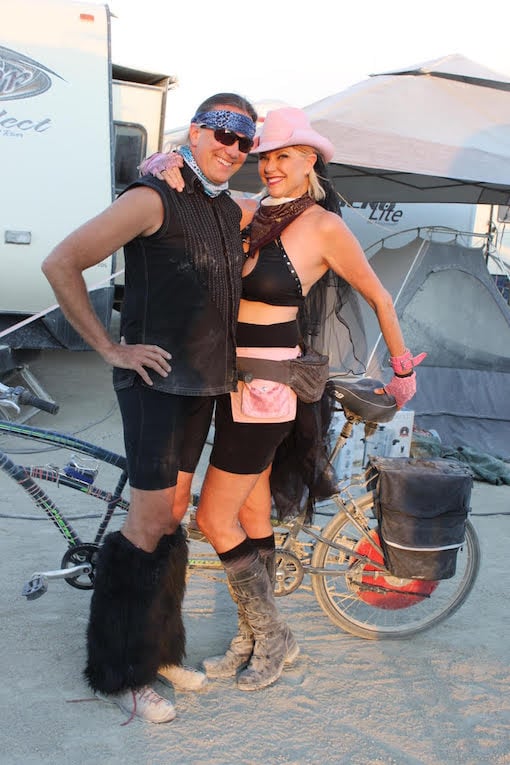 VERY DIRTY WIFE (HEHE)
Here is the explicit story of a man who lead his wife to sexual abandon by creating a safe and fun space and talking her through her pleasure:
I did this to my 60 year old wife on the night of the full moon.

I had a business meeting in the city so I had my wife meet me there and spend the night with me at a hotel.

I told her that we would be going out for dinner and drinks and afterwards I would be taking her to a secluded beach. I instructed her to wear her Ben Wa balls during the evening to help keep her mind thinking about sex.

During the afternoon, I had purchased a clamp-light with a red infrared bulb to simulate the warm sun shining on the secluded beach. I was able to attach the clamp-light to the wall so it shone onto the bed and gave the room a soft, red glow. I also brought sunglasses for us to wear.

After dinner we went back to the hotel. I gave her a gift bag with your sexy bedroom bikini in it and sent her to the bathroom to change. While she was changing, I turned on the red light and pulled the bed covers back and stripped down to my silk boxers. When she came out of the bathroom, I invited her to come lay on the "beach" and to close her eyes and imagine the waves crashing onto the beach. I told her how beautiful she looked and how horny she was making me. With each set of waves crashing the shoreline I told her she would become more and more aroused. I kept talking dirty to her while I was nuzzling and biting her neck. She was moaning in no time and writhing around on the "beach."

As I massaged her breasts and pinched her nipples (her favorite thing) I told her to come for me in her nipples on the count of three as I was talking dirty to her. When I got to three, she came hard and I told her to keep coming and I extended her orgasm for a couple of minutes. I told her to stop coming and to imagine the waves crashing onto the shore while she became more aroused and horny again.

I used dirty talk to have her imagine my penis in her mouth and feeling the soft skin of my penis glide past her lips. I then told her to feel my penis in her vagina as it was gliding past her nether lips, It wasn't long before my penis was in her mouth and she was feeling all of appropriate sensations. This time I told her to come in her mouth and she did while I extended her orgasm.

I could tell she was about to go over the edge so I changed my focus to her vagina and butt. She was tremendously wet and she sucked my middle finger in immediately and I worked her g spot over and used my ring finger to massage her perineum. She loves this combination so it didn't take long to send her over the edge and beg for my penis. I told her to get on her hands and knees and took her from behind as she came and came until I finished inside of her while I had her telling me that she loves to have sex, loves to suck me and loves to have her nipples pinched. We cooled down with much hugging and sweet talk.
Watch this video and learn How To Talk Dirty Without Feeling Weird