"I have these fantasies that get me really turned on. It makes me feel sexy and powerful, even more so when I share them with my partner!"
I recently received an email from a woman who felt confused about her husband's fantasy life. She was so turned off by his behavior that their previously hot sex life was turning cold. This is a common situation many people can learn from so I asked her for permission to share her letter. Here it is:
Dear Susan,
I'm writing to you for some marital sex advice. This is embarrassing to talk about so bear with me; you are the first person I've opened up to.
My husband and I have been married for 18 years, together for 26, and monogamous all that time. We have two children I love dearly, and I'm still crazy about my husband after all these years. Our sex life has always been good, but in the last couple years things have changed for the bad.
First he started pushing for anal sex. He loves it, but I don't like it at all. Then he started doing really weird stuff like talking about my old boyfriends while we were making love. It was a total turnoff for me. I love him and have no desire for any of my exes. Then he started to share his fantasies of cuckolding and watching his friends do me. Yuk!
It just got worse from there. He wanted to see me doing it with a black guy with a huge you-know-what. And he knows I'm not into black men (I like the tall blond surfer types). He has these fantasies about having a threesome, which really turn me off. Especially when he talks about the two of us getting it on while another guy gives it to me doggy style!
I have always been open to trying new things. But I will not bring other people into my marriage. For me, that would break our sacred bond.
Things really came to a head when he started pushing me to watch porn with him. Again, I tried to be open and agreed to watch his "favorite" video, but couldn't stand the sight of a hot Asian girl going at it with four dudes. Then, when he started calling me his Asian slut while we were making love, I really lost it. I can't remember ever being that angry with him. I really let him have it.
I'm so confused, Susan. I'm no prude in the bedroom and I want to keep my husband happy. I know it's just play, but his fantasies are so different from mine! I'm afraid that what he fantasizes about is what he really wants and if he had the opportunity… I don't even want to think about it.
On top of it all, I'm 48 and having hot flashes. It's bad enough that menopause is messing with my libido without this. And I've always struggled with jealousy. My husband is a hunk and I get very jealous if another woman catches his eye. I know it's not right. I mean it's natural for a man to be attracted to a beautiful woman, but I still overreact.
I would really love to hear your advice.
Thanks!
Cheryl
P.S. I always read your emails and learn so much from what you teach. That's why I decided to reach out. I totally trust that your point of view will help me get my marriage and our sex life back on the right track.
GET BACK ON TRACK
I was so touched by Cheryl's plea for help I was moved to record a video response.
He wants me to act like a porn star. Gross! ⇐ Click here to watch the video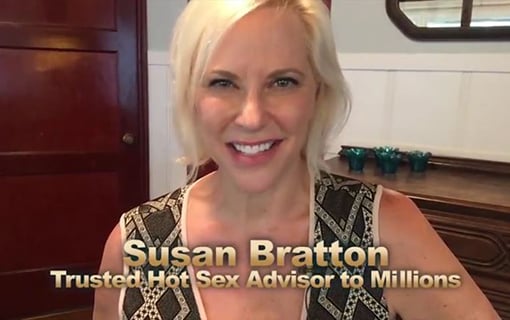 My advice to Cheryl was that she start by appreciating the fact that her husband feels safe enough to share his fantasies. It says a lot about a marriage, about how much he trusts her to accept him for who he is. Then I encouraged her to look at the big picture: to recognize that fantasy is just that—fantasy. Just because her husband shares his fantasy life does not mean she's obliged to act on it. That's a basic agreement I always advise couples to make. It gives both of them permission to indulge their fantasies without feeling pressured to fulfill those fantasies. When you put it in the perspective of being simply fantasy play, you can actually have a lot of fun making up crazy fantasies together.
I also suggested she get in touch with her own fantasies. If it's a surfer dude that turns you on, let that fantasy play out in your mind while you masturbate!
I asked her to cultivate a really naughty fantasy and share it with her husband. Women need to understand that fantasies like this are not abnormal, that a lot of men fantasize about those same things. Guys get ideas from porn but it's important to remember that porn got those ideas from people —because that's what people like.
Where anal sex is concerned, I encouraged her to stay open and assured her that, for many women, anal sex feels just as good as vaginal sex. What's important is to have the conditions just right and get good and warmed up and encouraged her to get my Steamy Sex Ed Video Collection to watch with her husband. It has a whole video devoted to playing with her derriere and anus without any penetration. Starting there feels really good and is a lot less intense that him penetrating her before she'd ready.
I emphasized the importance of making sure her husband wants to explore a new type of pleasure with her, not just to get off doing something he saw in porn. If all he knows about sex he learned from porn, no wonder those are the types of fantasies he's having.
Fill his eyes and mind with the images of sex from Steamy Sex Ed Videos and he will have a whole new, new passionate instead of porn —inspired concept of lovemaking.
On the jealousy piece, I talked with her about the roots of the feelings, how she can handle it, and even turn it to her advantage.
Upset about your partner's fantasy life? ⇐ Click here to watch my video advice
In this video I go into detail about how to turnaround issues like Cheryl's and use them to actually revive a relationship. Here are some of the topics covered:
1) How to hold a partner's fantasies in a positive light.
2) Why it's good for your relationship to indulge both of your fantasies.
3) What it is about porn that's so appealing to men.
4) How and why to cultivate naughty fantasies.
5) The joys of anal sex.
6) Using your discomfort to go to the next stage of your sexual evolution.
7) Transforming jealousy into an opportunity to empower your partner.
There's a lot of great information in this video for anyone who wants to expand their sexual self.
Here is a simple program that teaches you
Unlock Additional Members Only Content
Please login or register for a Free Membership to view this content.
in a way that both honors you as a woman but turns him on as a man. That would be a great thing to add to your skill set.