Thanks if you took our sex technique survey.
Results were most illuminating when noting the difference between what women want men to know and what men want to have as bedroom skills.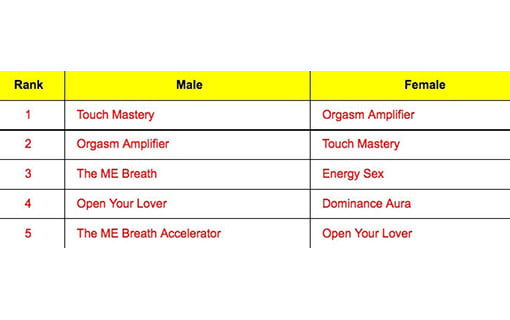 ORGASMIC TOUCH
Touch Mastery and Orgasm Amplifier are the top 1-2 sex techniques according to both male and female respondents. Generally women want men to have more finesse with their hands. Men know they can quickly improve her responsiveness when they touch her the way she likes it.
And everyone's on the same page about having more quantity, more quality, more intensity, more reliable, more kinds of orgasms! So Orgasm Amplifier appealed to the gender spectrum.
Male respondents consider The ME Breath and The ME Breath Accelerator in the top 5 sex techniques but Female respondents rank them 16th-17th. That's because they are techniques specifically for male-multiple orgasm and everlasting stamina, so it would not be relevant to a woman as a skill, which is why the females ranked those skills low.
Open Your Lover made it onto the top five lists for both men and women. Women want to be opened. Men want women to open themselves. It can be the other way around in a any couple. But there is always that fight against bedroom boredom and the desire for growth. The techniques to make opening to your lover and expanding your pleasure potential are subtle yet cause powerful increases in pleasure.
Women also listed Energy Sex as #4 on their list. It was high up in the top ten for men too. There's a draw toward more energetic sexual connection during sex — looking in each other's eyes, breathing together, feeling each other in the moment and raising each other's energy, desire, lust and turn on.
Energy Sex is a big area of exploration for me right now. I'm playing with it so I can bring you some actionable ideas in the future even beyond our Energy Cock technique inside Multi-Orgasmic Lover for Men.<== The Tuning Fork Technique
And the other top five for women was, Dominance Aura. Women want their men to have enough confidence and skills to get her up into her sexual trance state of orgasm and just come her and come her until she's wrung out and has to rest. I've spent a lot of time talking about masculine sexual leadership and you can find a ton of articles on polarity and about how to be more dominant on our website at https://personallifemedia.com
What were the least popular? Well, here are the top five for each again:
Anal pleasures for him and her fell dead last. There is a ton of pleasure in her perineal sponge and in his P-Spot. So I hope in the future you'll become more open to exploring your and her back door.
Kinky stuff and some of the more strange technique names came in last. I imagine the reason they were least preferred is that they just are not names of skills that sound like benefits to people. That's why we do research. To learn what appeals, what confuses and how we can make our work more approachable for you. That way we can have a greater positive impact on your satisfaction.

NOT SO INTERESTING
Here is that link again if you want to take
Unlock Additional Members Only Content
Please login or register for a Free Membership to view this content.
We always love your opinions.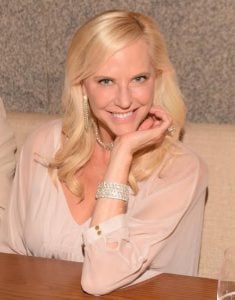 Susan S. Bratton
"Trusted Hot Sex Advisor To Millions"