Part II
Don't be a statistic!
Together, we are going to close what I call The Orgasm Gap: the great divide between a man's (95%) and a woman's (less that 55%) ability to come with penis-in-vagina sex.
This all-pervasive problem is rarely discussed and, in fact, is accepted as "normal."
"I'm impressed, I have to admit. Rarely do I encounter a website that's both educative and entertaining, and let me tell you, you've hit the nail on the head. I am very happy I stumbled across your articles. Your Sexual Soulmates Pact is also incredibly helpful. I don't regret subscribing to your newsletter one bit!"
— Penny
Other sexperts even shy away from helping you close the gap so you both have orgasms from intercourse.
But who would choose mediocre sex over extraordinary sex… sex that is an exquisite connection between lovers?
Watch, listen and learn the three lovemaking techniques that will bridge the orgasm gap and give any woman orgasmic pleasure from intercourse:
☄ How To Give Her Penetration Orgasms From Intercourse ⇐ Watch Part II
THE HOLY GRAIL OF 'GASMS
I speak as a woman who knows from experience….
A woman who lived in the wasteland of the orgasm gap…
A woman who wasn't even lucky enough to have even one orgasm from intercourse.
Like most women, I didn't even know it was possible to bridge the Orgasm Gap and come during intercourse whenever I want to!
Today, I not only know it's possible, I have helped thousands of men become the rare lovers who experience penetration orgasms and vastly expanded sexual potential.
And that's why I made this video series for you.. to lay the foundation for you to have extraordinary sex.
All you have to do is watch, listen, and discover the three fundamentals you need to know that will make any woman come faster and harder while her man is inside her.
Let's talk about the first of the three: context.
It's all in how you set up the environment.
I can't emphasize this enough: context, context, context.
It's the great lover's equivalent to the realtor's mantra: "Location, location, location."
A great lover understands that just because he's willing to have sex wherever and whenever, doesn't mean she'll be willing to have sex anywhere, anytime. It's the biggest difference between a man's sexuality and a woman's… that most men completely overlook.
A lot of orgasms get left on the table by men who haven't figured this out.
Here's what I most want you to hear and what you will learn in this video: A truly great lover always tends to the environment.
A truly great lover knows that it's his job to make sure the physical setting and emotional climate are favorable.
"But why should it be my job?" asks the uninitiated…
Because a great lover doesn't just want his women to "be willing" to have sex, he wants her to be eager for sex.
In this video, I am going to show you how to set up a context that allows a woman to totally relax, let go, and experience a whole new level of orgasmic pleasure with him deep inside her.
That's what I want for you and that's why I made this video series.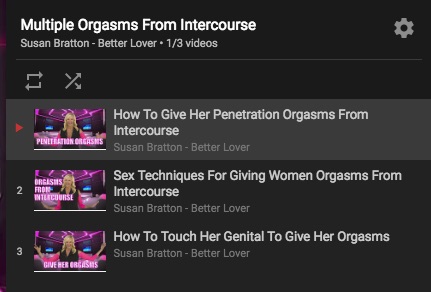 WATCH ALL THREE
☄ How To Give Her Penetration Orgasms From Intercourse ⇐ Watch This Video Series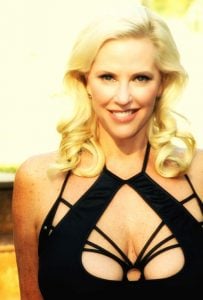 P.P.P.S: Here's another topic you may want to talk about with your lover.
Women are very much aware of the act of squirting during intercourse. However, not every woman has experienced gushing for their lover out of sheer pleasure.
You both may be wondering…
Is it a natural gift? Is it because of technique? Or is it something else completely different?
If you want to know these juicy and wonderful details, you'll want to read Tallulah's book, The Truth And Myths About Female Ejaculation.
You Can Download It For FREE Here ⇐ The Truths And Myths About Female Ejaculation (Why Some Women Squirt And Some Don't