Quickie email for you today… It's all about secrets.
Secret guilty pleasures about our sexuality that we keep from "society."
And also a "secret" little keep-your-marriage-hot gift you can get for you and your partner for the holidays.
Finally… a secret guilty pleasure of mine (and probably all women) at the very end of this email.
Get On The VIP List <=== Get Steamy Sex Ed® In Time For Valentine's D♥y (Don't Be "Empty-Handed" On V-Day)
SEXY SECRETS
I was fascinated watching the widely different reactions of three women in my yoga class yesterday when I showed them the brand new "sizzle reel" (like a movie trailer) of my Steamy Sex Ed® Video Collection.
One girl got all flustered and had to turn away and fiddle with the water cooler.
The other lady –she was a little older –did a moonwalk backward and said, "I don't like to see other people having sex!"
The third woman, the one that always has the cutest yoga outfits on, just watched the other two and then turned to me and said,
"I love it." "How do I get a copy?"
Get On The VIP List <=== Get Steamy Sex Ed® In Time For Valentine's D♥y (Don't Be "Empty-Handed" On V-Day)
GET YOUR COPY
"I really like how the couples look each other in the eyes and how romantic it is when they demonstrate the techniques," said the open-minded woman.
Then the older lady chimed in, "I like the sets. The candles and silks are pretty." "Usually you don't see that in sex movies."
Then all three started talking about how authentic the couples were..
How much their guys would love it if they'd watch with them…
It would really add some spice to their lovemaking…
AFRAID OF WHAT OTHERS THINK
As soon as ONE woman said it was great, the others felt better admitting they were turned on by the idea of watching lovemaking and sexy sex education videos in the privacy of their own home.
There's a cultural peer pressure we women put on each other that tamps down our sexuality in "polite society."
What's great is that Steamy Sex Ed® (I originally made it for husbands to give to their wives as a keep-the-marriage-hot present) gets delivered to your door in a plain unmarked envelope.
Shhh… It's our little secret.
Nobody would EVER know that there are over 200 unique sex techniques that will make you the most erotic, sensual lover.
All beautifully produced, with attractive, relatable couples, beautiful music and a gorgeous sexologist (not a bunny porn star with fake everything) explaining how to perform the steps for delectable satisfaction.
That is why when we put Steamy Sex Ed® on a 60% sale every year, we run out of copies.
So if you want to see the steaming hot Sizzle Reel one day before the sale starts:
We're having a Steamy Sex Ed® Valentine's Day Super Sale in a few weeks. If you want to get the physical DVDs in time for Valentine's, you'll have to get on the Early Bird VIP list. It usually takes around a week to ship it in the U.S., so get on the list to make sure you can give this gift to your partner before V-Day.
Get On The VIP List <=== Get Steamy Sex Ed® In Time For Valentine's D♥y (Don't Be "Empty-Handed" On V-Day)
There's this one star in the videos who looks like Prince Charming…
Seriously, he could be on the cover of any romance novel!
The casting is awesome and so much fun to watch.
With 8 DVDs, there are hours of pleasurable watching.
Actually, with so many techniques you've NEVER seen, there are YEARS of arousing viewing ahead of you.
If you have a guy, you can teach him some new tricks (sex can get boring after a while).
If you are waiting for the right guy, baby, you'll be READY for him now!
Knowing how to give a man this much pleasure is a significant competitive advantage in getting the BEST boyfriend.
So don't worry about those uptight chicks…
It's your private life.
Get a plain envelope delivered to your door with a pandora's box of pleasure ideas.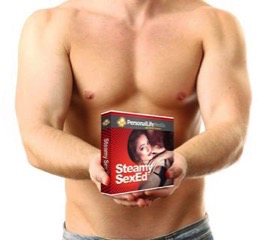 Get On The VIP List <=== Get Steamy Sex Ed® In Time For Valentine's D♥y (Don't Be "Empty-Handed" On V-Day)
"I recommend Steamy Sex Ed® because this is a good program for women, even single women, to teach their lover "connected love making." These videos are very sensual, educational, and don't feel at all like pornography."