It gets repetitive and sometimes dull if you've been making love with the same old positions and techniques for years.
Here's a great way to spice up your bedroom activities and have his mouth water for YOU all summer.
It's coming up just around the corner!
Steamy Sex Ed® Goes On Sale For VIPs Today ⇐ FULLY REMASTERED For Higher Quality — 60% Discount—Only 500 Copies Available! — Get On The VIP List Right Now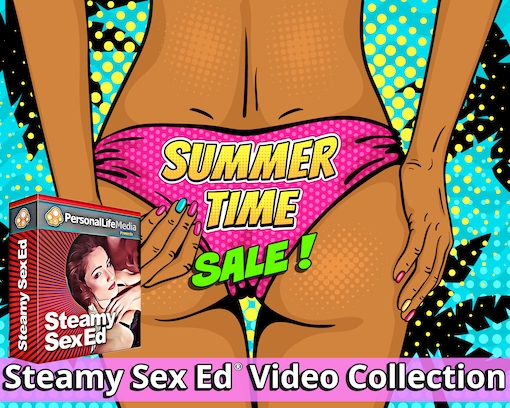 A lot of married women struggle to achieve satisfaction.
Or…
They are a bit bored with their physical intimacy with their husbands…
They want him (but she doesn't want him as much as he wants her)…
Their partner rushes them and is selfish during sex…
They just want something to SPICE up their sex life…
They know if they just started, they'd be glad they did…
As a married woman, I've felt ALL these things at various times in my 31 years with Tim.
Well, Sweetie, I spent the last decade figuring out how to overcome the natural malaise in long-term relationships.
And one of the most imaginative things I've ever done is create a video collection of heart-connected lovemaking techniques that any woman can comfortably watch to learn ways to have more pleasure together.
It's called the Steamy Sex Ed® Video Collection.
This collection of techniques, heart-connected lovemaking pleasure, is the antidote to porn. It's slow sex. It showcases attractive couples demonstrating conscious lovemaking techniques on pretty sets.
And you can watch it WITH your husband (He needs some new moves too!).
"When I introduced the idea of watching the Steamy videos to my partner, he was very keen.
Since then, we have had the most phenomenal sex!
Watching the following videos together has been at his suggestion. So far, we have observed three together.
He has said that he has been astonished that at 50, he could learn new things and experience completely different physical sensations.
After 15 years in a very sexually dysfunctional relationship previously, I am more confident and enjoying the opportunities we have to explore new sexual experiences together."
I printed 500 copies of the Steamy DVDs. We're having a Steamy Sex Ed® Summer SALE!
We sell out every printing. You will want to check out the website, watch the video trailers, and decide for yourself if you want this earlier than later so you don't miss out.
You'll also want to get in on the Early Bird VIP list if you get the physical DVDs in time for the HOT Summer Heat. It usually takes around a week to ship it around the U.S.
Steamy Sex Ed® Goes On Sale For VIPs Today ⇐ FULLY REMASTERED For Higher Quality — 60% Discount—Only 500 Copies Available! — Get On The VIP List Right Now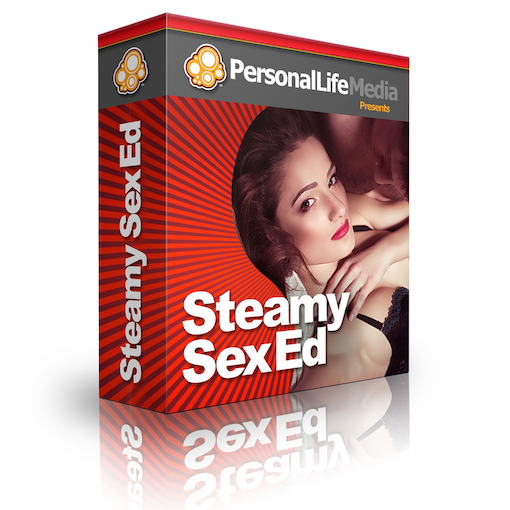 HOW TO SPICE UP SEX
If you don't want DVDs shipped home, there is a digital download option.
Here is a link to get one-day advanced access to see the trailers and sizzle reels and decide for yourself this is something you want.
Click here to get on the list for one-day early access:
Being on the VIP List ensures you'll get to consider a copy before they are sold out and in time to have a gift to give your partner this Valentine's.
These suckers fly off the shelves! It is my single most popular sexual education video series.
So make sure you are on the VIP List for our Steamy Sex Ed® Valentine's Day Super SALE so that you don't miss the opportunity to claim a copy for yourself.
You'll see when you watch the video samplers how this is the kind of lovemaking we women crave.
Many married women use this to get their husbands to try new orgasm techniques on them.
But even more, women use Steamy Sex Ed® to get their men to slow down, give them sensual massages, and do some excellent foreplay.
Because generally guys RUSH IT and we need to train them to be present and enjoy the whole experience.
I think you'll love Steamy Sex Ed®.
And if you have any questions, please just reply to me. There is no question too "dumb."
I live to support your sexual growth and pleasure.
Steamy Sex Ed® Goes On Sale For VIPs Today ⇐ FULLY REMASTERED For Higher Quality — 60% Discount—Only 500 Copies Available! — Get On The VIP List Right Now