A great way to spend the next few days to prepare for Valentine's is to cleanse.
Let go of all the negativity that may have entered your life and relationships this year.
Bad experiences… small arguments… negative-minded people…
And more importantly, the emotional and psychological issues that have long been keeping you from living a fulfilling, wonderful life.
Here's a great video of Jim Benson and myself cleansing our emotions of past traumatic experience we've both had.
There's also a wonderful Sexual Healing technique I'd love to show you.
Scroll down and read on to learn more.
Get On The VIP List <=== Get Steamy Sex Ed® In Time For Valentine's Day (Don't Forget Your Gift For Your Partner)
PRE-VALENTINE'S CLEANSE
I have a new six minute pure content video for you about sexual emotional massage release.
Clear Your Emotions Through Orgasmic Release <=== Sexual Healing Video 6:20
Watch this to overcome or help your partner overcome past sexual trauma… even things like being shamed in some way about your sexuality, growing up in a repressed environment, being made to feel bad about your body, being sexually abused… really anything that has shut you or your partner down can be healed.
Get On The VIP List <=== Get Steamy Sex Ed® In Time For Valentine's Day (Don't Forget Your Gift For Your Partner)
"We have often talked about things we would like to do together but not really felt confident to try them. What if they didn't work? What if we didn't know how? Watching Steamy Sex Ed videos has lessened the risk and given us the space to try these things."
SEXUAL HEALING MASSAGE
You two can open each other to more healing and pleasure.
We humans hold all of our past emotions in our body…
Any negative emotion can get stored in your pelvis…. as well as other places such as your sternum, your lower back, your jaw…
When you are stroking a woman with your penis, fingers and tongue in her vulva, especially inside her vagina… and she has an orgasmic contraction, sometimes she will cry.
Men cry when they have Heartgasms too… Watch this video with Jim Benson, creator of Multi-Orgasmic Lover for Men and I where we talk about the power of sexually healing each other as lovers.
If you've ever wondered why you or your lover cry during sex, this will explain it.
And what's great is that you can heal yourself or your lover with this kind of massage and help the put the past behind.
The genital stroking technique Tim uses on me is inside our Expand Her Orgasm Tonight program. We've had this genital stroking practice for over a decade. It's what helped me finally become orgasmic during intercourse and it's the #1 reason I'm 55 and my vaginal tissue is in excellent condition. Expanded Orgasm is an amazing experience for couples to share together.
First watch the video, then go click around on the other links in this email.
Sexual healing and heart-opening is one of the most beautiful experiences a couple can share.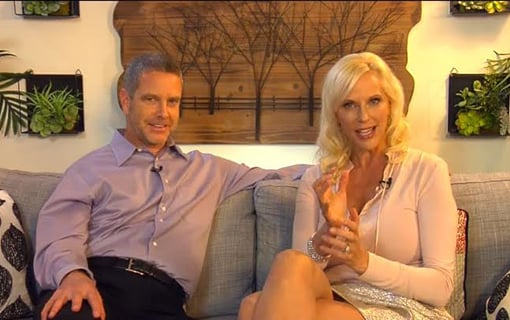 If you want MORE information about sexual healing and sacred spot or G-Spot massage, read this new article I posted:
How You Can Give A Professional Goddess Massage <=== Read The Article
And if you want to give a sacred spot healing massage, you can learn by watching this video series:
Get On The VIP List <=== Get Steamy Sex Ed® In Time For Valentine's Day (Don't Forget Your Gift For Your Partner)
(You can't currently purchase the Steamy Sex Ed® Video Collection. We will be having a sale soon. Sign yourself up on the list so you can get notified one day before everyone else. We sell out every time we put it on sale. Getting on the VIP list for the Steamy Sex Ed® Valentine's Day Super SALE gives you the chance to decide for yourself that you want Steamy Sex Ed®, and that you can get the physical DVDs shipped to you in time. There is no commitment to put your name on the list. So go ahead.)
Note: Men's sacred spot is his prostate. And there is a full series of prostate massage techniques in Steamy Sex Ed® as well. You can release each other's traumas. I love this about you!
"We learned from Steamy Sex Ed® how glorious and profoundly intimate the touching is – to the extent that it transforms sex into something magical that transcends just the physical aspect of it."

Subscribe to Susan Bratton's YouTube Channel "Be A Better Lover"