Feel progress in a super sexy, low stress way.
"She threw that waterproof pad on the bed like a swashbuckler throwing down his red velvet cape across a mud puddle for his damsel…"

"Charm your G-Spot with the perfect pressure, strokes and patterns so it becomes alive with sensation and you get the most satisfying feelings in your Yoni (vulva)."
And now, let me tell you a story…
Live into this one for me.
Rob and Lauren had a pretty good sex life. They made love, enjoyed oral play and sometimes even told each other fantasies while making love.
Rob was fantastic at "warming Lauren up." He would spend plenty of time getting her into her body with massage, kissing and fondling her genitals and breasts to get her engorged before he entered her.
He was always good at making sure there was plenty of Lauren's favorite lube, her toys were clean and ready and the room was exactly the perfect temperature for her.
Sure, they had "quickies," but what they really loved was to spend and hour or two making love together… getting really warmed up and turned on.
Many times, Rob would stroke Lauren's clitoris and finger her until she was arching up against his hand. She love this hand stroking, as much as she loved it when he went down on her. And sometimes he'd put two fingers in her when she was really aroused and use that "come hither" movement on her G Spot.
Lauren would get really turned on when Rob did this and she wanted more G Spot massage. It just felt sooooo good!
G-SPOT! YOUR FAVORITE EXPLOSION
Rob always had this secret desire to see Lauren ejaculate.
Typical guy… they are so results-oriented that seeing a woman get so turned on she actually squirted out liquid would be like dying and going to heaven.
So he said to her, "Honey, would you let me learn how to make you squirt?"
She thrilled inside at the request and said, "Rob, not only YES, but hell yes!"
So they came to my workshop (they were lucky enough to live in SF, where I do most of my work) and I taught them the patterns and techniques that work so well for all my clients.
They started off just practicing a little bit each time they made love.
At first, Lauren didn't feel anything happening. She didn't squirt. She really didn't even get noticeably wetter. Still, it felt great when he was stroking her and added to their overall lovemaking.
The great thing about Rob is that he never pushed Lauren, she never felt pressured to perform. They kept it playful and loving. (I have some great strategies to help you and your partner feel like you're always making progress in a super sexy, low stress way, no matter how long it takes you to finally get that exquisite release.)
Still, they kept at it, a little bit here and there, all delicious and then one day Lauren said, "oh!, I think I ejaculated!" "Rob, did you see it?" "Did you feel it?"
Rob couldn't see it but Lauren knew she had just experienced that first wetness that was more than she'd had just from lubrication. She was following the techniques I teach for "birthing her orgasm" and it was working!
From then on, Lauren got it. Over time (a short time), she was releasing more and more ejaculate.
Soon they had to double the towels. Then they had to triple the towels.
Then Lauren fished around in the depths of her linen closet for the old waterproof crib pad from when their boy was little and threw that down on the bed and said, "OK, let's see where we can take this!"
Imagine how excited they must have been. She threw that waterproof pad on the bed like a swashbuckler throwing down his red velvet cape across a mud puddle for his damsel…
Rob thought to himself, "whoo daddie!"
That night, Lauren let loose. She came and came, each one rolling through her abdomen like a wave. She surrendered and just kept riding the sensation… taking her orgasmic birthright to its peak.
Rob just stayed with her. He thought about how with each stroke he was doing exactly what he thought she'd love the most in that moment.
He was immersed in the pleasure of her pussy. It felt so slippery, soft, blossomed. (He couldn't wait to get inside her…)
When she was spent, she sat up, gasped for air, guzzled some water and flopped backward on the bed. Rob laid beside her.
And they starting cracking up.
They laid there and laughed, and laughed and laughed and kissed and kissed.
It was like that moment, 16 years ago, when they realized they were in love.
They were high as kites on the pure pleasure of deep intimate emotion.
They never felt so connected. It was like there was one energy circuit traveling back and forth between them, electrifying them in vibrating sensation.
Rob told me they said, "Yay, Talluah!" at the end and gave one more laugh — one just for me.
Closing the Gap On Your Sexual Knowledge and Forever Up-Leveling Not Just Your Sex Life, Your WHOLE LIFE
Maybe you're not laughing right now, though?
Are you frustrated and confused by the lack of really helpful information out there about female ejaculation?
Are you in a relationship and wondering how to broach the subject of your desire?
If you find yourself wondering constantly, "How hard would it be to learn to ejaculate? Could I do it myself? Would it freak out my sexual partner if I squirted?…"
Then being a mature woman who knows what she wants and deserves (a great sex life), it only comes down to one single important question for you to ask and answer for yourself… and the rest will fall into place:
What are you doing about this GAP in understanding between you and a partner to make sure your sensuality will be appreciated, expand and get better and better for your whole lifetime?
Think for a moment about where you would be if you were one of those women totally in touch with her sexual self, able to surrender to the most satisfying orgasmic climaxes her heart desires.
Would you feel more confident about your sensual self if you knew:
➜     Exactly what to say and do so that you could easily and consistently ejaculate when ever you desired it and your partner would be trained to know exactly how to give you continually expanding orgasmic bliss with confidence.
➜     Exactly what to say and do so that you and your partner would ALWAYS feel that being with together was the most satisfying, intimate, sexy experience, even when you have challenges in other aspects of your life together… the bond that is created at this level of intimacy would carry you through thick and thin…
➜      So much personal expertise that you started becoming a mentor for other friends who wanted the same pleasure. You became the go-to woman or couple who could show the way for your intimate friends to expand their sexual horizons. You even got a small, private but very delicious reputation as a woman who had sexual mastery! What a great fantasy! And it could easily be you, if you want it.
➜      How to charm your G-Spot with the perfect pressure, strokes and patterns so it becomes alive with sensation and you get the most satisfying feelings in your Yoni —like when you have poison ivy and you sneak a scratch and it's the best itch scratch you could imagine? Only in this case it's your orgasmic center experiencing the best climaxes that wrack your whole body with pleasure, arching you up, pointing your toes and fingers, leaving you in a breathless chasm of outer planetary orgasmic rapture.
Then Consider This…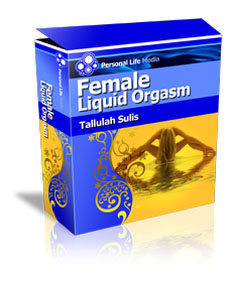 The exercises and mental preparation I provide nurture your body, mind, soul and emotion – because it's all inter-related for you.
Just how to "BE," both in body and mind, so that you could mount a continued ascent of squirting orgasms that start as a trickle and end with a roaring explosion of gushing feminine waters that have you calling out your pleasure at the crescendo of the moment – moaning with pure, physical pleasure and emotional connection.
In my Female Liquid Orgasm program, I'll show you:
• How ejaculation will actually make you love your body MORE than you do now and feel more confident about how your body looks and operates
• The 2 most highly sensitive parts of the G Spot
• 13 reasons women LIKE to ejaculate
• A Mind/Body Check In routine you'll use to get started
• The 7 different kinds of female orgasms, from clitoral to cervical and beyond.
• Insight into how to tap into your unlimited sexual potential… I'll show you how it's the gift that keeps on giving…
• The 5 G Spot Stimulation options
• Exactly what the Skene's Glands are, where they are in your body and how they work.
• A scientific explanation of the composition of ejaculate – it's pro static fluid that includes (PSA) prostate-specific antigens and (PSAP) prostate- specific acid phosphate. You'll be able to confidently defend the truth that ejaculate is not pee and sound super smart too.
• Which of the 4 basic types of female prostates you have
• Pumping orgasmic energy through your entire body… instead of focusing on orgasmic sensation just in your pussy, learn to flush out the energy throughout your entire being
• A solo hands-on exercise utilizing the blended orgasm, which is one of the most successful ways to ejaculate as well as being profoundly pleasurable
• An exercise where you observe your "clit boner"
• Learning the language of the clit. Here's one of many examples,
"Sweetie, my pussy is feeling it bit shy today. She wants to be teased with very gentle sweeping strokes with your whole hand at first and then you can use your finger right around 2 o'clock once she's nice and warmed up."
• Up close photos and illustrations of our beautiful anatomy, so you can see precisely where the G Spot and all of your important bits are located before you head in for your own exploratory journey.
• 4 specific ways you can surrender…let go…unleash your power…release…explode! Part of learning to ejaculate and have explosive orgasms is about letting go of our inhibitions around making a wet spot on the bed and worrying about what our partner might think. I'll teach you how to let go.
• Feeling cherished as you explore 27 ways you can find your G Spot
• How to overcome any SHAME you might be harboring. Maybe you even had a partner shame you because they didn't know what happened or they thought you peed? This is common and often difficult to heal from. Many women have shut down this part of their sexuality because they were/are worried that something "wrong" happened. Because female ejaculation is not commonly acknowledged or talked about, and because there are so many misconceptions, it is not uncommon to think that there is something wrong with you when it does happen.
• Why men love squirting orgasms and specific steps to take to really light him up
• How to manage the process of healing your G Spot if you've ever suffered any sexual trauma or shame, and let's face it, who hasn't?
• The 3 Squirting Options and why knowing them can help you figure out exactly where you should start in your ejaculatory journey
• 24 things you can do to dial in your blended orgasm to its ultimate height of sensation
• Understanding how to pump up profound PC pleasure pulsations
• Answers to the most common questions I get in my workshops
• A PC Muscle (pubo-coxygeus) Test to see how strong your PC muscles are and PC muscle exercises to strengthen your internal vaginal area for enhanced orgasmic pleasure and ejaculatory force
• The best part of my teaching. I call it, "Birthing Your Orgasm." This analogy will have you squirting in no time flat.
• 12 Partner Intercourse techniques for ejaculating WITH (or on) your lover
• Shallow Thrusting, Fwap Fwapping and The Man Handle – three of my favorite positions for ejaculating during intercourse
• The "Cum Hither with Clit-Oral" move — teach your partner to give THIS to you. Oh my!
• What does it mean to "Hold Space" for your partner?
• Tallulah's advice for your partner. Print an extra copy of the ebook for your bed buddy. They WILL thank you!
• An 11 step-by-step guide to Yoni Massage – a "sensual genital massage" I suggest you have daily!
• 27 slow sex warm up techniques to put all you've learned together and get started
• And when you are juiced up and fully engorged, get your partner to give you the Middle Ring Move. Just this technique alone is priceless.
Note: Seeing other women ejaculate is such a big part of the "how to be," that I've included nine video clips with different women coming in different ways so you can SEE what it looks like. Once you see other REAL women, NOT PORN STARS faking it, you will begin to see how this can be part of your life too…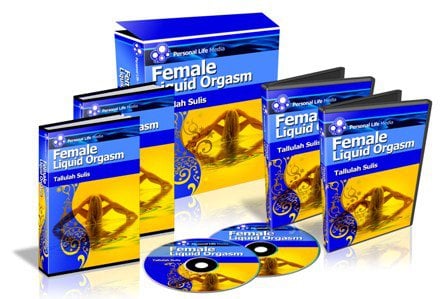 You'll enjoy gorgeous, sexy "goddess-like" imagery, art and illustrations that make the book an inspired experience of beauty and appreciation for the lush gorgeousness of women's bodies.
ALSO – for the first time ever – I assembled a list of my favorite toys and lubes for squirting into a Resource Guide. You can click right on the document and check out these products from my favorite, trusted vendor who carries all the toys, lube and products I recommend so you have one-stop shopping.
Lots of the woman at my live workshops can't stop talking about how using the toys I recommend has changed their whole outlook and helped them feel their sexuality in a new way.
If you truly understood how guys think about and feel about women who squirt and how unbelievably "life-charging" knowing how to squirt can be for you, then you wouldn't be still feeling frustrated wondering what in the world men see in this and why some women are so able to be sexually plugged in to their own pleasure.
My Female Liquid Orgasm program will forever up-level your sex life.
You'll get enough in this program to use one great new idea or tip every day for a year and keep seeing results… and you'll feel the pleasure of instant progress because of the attitude shift that comes the minute you commit to this fabulous journey.
If you want to learn how to give yourself ejaculatory orgasms as a woman, I created a program called, Female Liquid Orgasm and a companion program called, Squirt Your Heart Out.
This program shows you how to give and receive female ejaculatory orgasms (squirting G-Spot orgasms) in a way that is completely removed from what you see in porn.
This is a program for singles and couples to watch and learn how to give/receive these incredible orgasms in a heart-connected and very sweet and sexy way.
THE CROWN JEWEL OF FEMALE LIQUID ORGASM
The most valuable aspect of this squirting training program are the video tutorials.
For the person who simply doesn't want to watch anything that looks like porn, involved porn stars, or uses moves that work on porn stars but not on real wives and girlfriends there are nine exclusive, explicit yet tasteful video demonstrations of real women having squirting orgasms – both by themselves and with their men helping them ejaculate. And to really get the exact moves to bring a woman to her gushing glory you also get ten step-by-step stroking videos — both suitable for watching together or learning solo.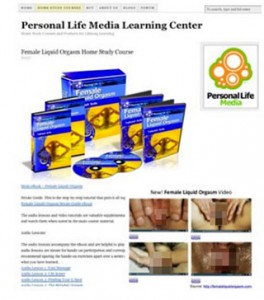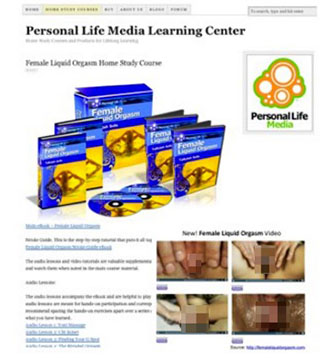 FLO MEMBERS AREA
Also included are audio coaching sessions where I guide you through the stroking techniques.
Plus there are interviews with other experts to help round out your understanding.
Everything is accessed and downloadable from your browser, eReader, iPad and smartphone.
SPECIAL PRICE FOR YOU
As part of my exclusive Insider's Club access, my followers get full access to the Female Liquid Orgasm membership site with eBooks, audio, video, and all program updates forever, for the cost of only the initiation fee of $97. The annual fees alone cost $187 ($17 per month) but if you purchase with this special link, all future monthly fees are waived.
You will never pay another penny and have access to all the new content!
To buy out the entire collection costs $284 just the first year BUT…
Now you can get lifetime buyout access to Female Liquid Orgasm.
Your price – just $97.
You keep $187 in your pocket!
Plus with this special link only you also get Squirt Your Heart Out as a membership bonus one month from placing your order.
SQUIRT YOUR HEART OUT
I want you to get Female Liquid Orgasm. Go watch the videos. Learn how to coax the ejaculate out from your vulva (Yoni). See how to use your hands and toys to give yourself gushing 'gasms.
Then, in one month, you're going to get another special treat of Squirt Your Heart Out.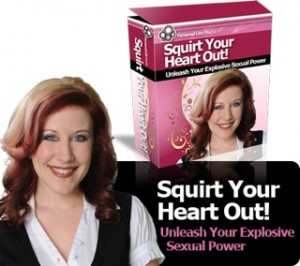 There is no way anyone can get this Insider's Club special price unless you are on our email list.
This is the best and lowest price we offer for learning how to squirt.
If you need help paying the one-time $97, just email customer care at [email protected] and we can work out a payment program for you.
Don't let anything stop you from knowing how to confidently and reliably make yourself or any woman have the incredible pleasure of these ultimate orgasms!
If you desire receiving ejaculatory orgasms, there is simply NO BETTER program in the world than Female Liquid Orgasm.
I've reviewed all the other programs out there. And they are full of porn stars.
Porn stars are not typical women.
Don't learn from porn. Watch them for fun, yes. But to learn how to be a truly gifted lover that can receive this level of amazing orgasmic pleasure, please rely on Female Liquid Orgasm.
Here is that link again to the super duper special offer for Insider's Club members ONLY:
Female Liquid Orgasm + Squirt Your Heart Out   <=== $97 one-time charge/no recurring fees