"Women have cultural permission to criticize ourselves."
"It's like one day I just decided it was all bullshit. Who are they to tell me I'm not amazing exactly as I am?"
"What would happen if you put down the whip you've been flogging yourself with for decades?"
Yesterday I gave you 10 ways to "get out of your head" during sex.
Today we are going to talk about overcoming body shame once and for all! If your partner struggles with bad body image issues, there are lots of things YOU can do below to support them too.
LOVE YOUR BOD
32% of women say they struggle to orgasm because of being in their heads or because of body issues according to a Cosmo survey.
OK, Body. Love.
How can you get over body issues and cultural shame. How can you help your partner feel as beautiful to themselves as they are to you?
The large majority of women are ashamed of their sexual desire or how they look naked.
Our culture, our family, religious beliefs and advertising make us feel unattractive, imperfect and ashamed.
1. Do whatever you need to do to push every single limiting thought out of your head as it occurs and replace it with a positive affirmation. It's just programming. You are beautiful no matter what you look like. And every day you deny yourself pleasure because of what you think others would say or how you think you look is self-defeating and shackles you in negativity.
2. Find workarounds to your issues. Turn down the lights. Wear lingerie that covers the parts you don't like. Take better care of your body. Know that in this moment you are as young as you'll ever be. Don't wait for perfection. It never comes. Perfection is allowing yourself to love your imperfections and getting intimate with another human being who adores you.
3. Finally, men are not that picky. Women are our own worst enemies about our bodies and our sexual desires. Men want you to show your desire. Men want to see you nude and they love you for exactly who you are. Men love women who are sexually confident without hang ups.
Every time a self-deprecating remark passes through your head, just let it fly by and bring yourself back to self-love.
If you've never watched porn, you'd be surprised to know that though the standard "porn star" is allegedly "perfect," when you actually watch a lot of porn those adult stars have all kinds of imperfections!  Men simply do not see the cellulite, the scars, the fat rolls that you are so worried about.
4. Permanently let go of self-criticism by seeing the circular logic that doesn't support your thriving.
Dr. Emily Nagoski in her book, Come As You Are: The Surprising New Science That Will Transform Your Sex Life  explains the circular logic that is embedded in our culture that you can now break free of because you've been shown the light. She says:
"Self-criticism is associated with worse health outcomes, both mental and physical, and more loneliness. That's right: Self-criticism is one of the best predictors of loneliness — so it's not just, "I am at risk," it's also, "I am lost." Self-criticism is directly related to depression.
The solution is to start replacing self-criticism with self-kindness.
When women start to think concretely about it, they begin to discover a sense that they need their self-criticism in order to stay motivated.
We believe it does us good to torture ourselves, at least a little bit. As in: "If I stop beating myself up for the ways I'm not perfect, that's like admitting to the world — and myself — that I'll never be perfect, that I'm permanently inadequate! I need my self-criticism in order to maintain my hope and to motivate myself to get better."
When we tell ourselves, "I can't stop criticizing myself or else I will fail forever!" that's like saying, "I can't stop running/fighting/playing dead, or the lion will eat me!" That's absolutely what our culture has taught us, so it makes sense that many of us believe it. It's so entrenched in our culture that it sounds… sane. Rational, even.
But it's not.
Think about it. What would really happen if you stopped running from yourself or beating yourself up? What would happen if you put down the whip you've been flogging yourself with for decades?
When you stop beating yourself up — when you stop reinjuring yourself —what happens is… you start to heal." — Dr. Emily Nagoski
5. Take more active care of your health. The two things you can do that will go the furthest of ANYTHING are:
1) Eat more organic vegetables every day
2) Walk every day
Taking ACTION: a little walk and some nutrition to fuel your body will immediately make you feel better about your body.
6. Practice focusing on the things you love about your body. Look in the mirror often and see the beauty of your body. Just fill your mind with gratitude.
7. Ask your partner to tell you what they love about your body. Get them to use as many specifics as possible and take it all in. Really be present and listen to what they love about your body.
8. Remember that you have a short time on this planet and any moments you spend lamenting versus celebrating your beauty rob you from the joy of your humanity.
9. When you compare yourself to others, think about yourself in the context of how much joy and love you create in the world. People aren't paying attention to your body, they are noticing how you make them feel about themselves. How are you making yourself and others around you feel? Could you 10X the love you generate today?
10. Just let it go. Let go of your worries. If you are in what seems to be an unbreakable cycle of negative self-talk, you may have a mood spectrum disorder. That's where there's a sticky switch in your pre-frontal cortex. It can get stuck in the negative where you literally cannot see the positive. Psychiatrists such as Dr. William Prey of San Francisco, California are doing amazing work with Ketamine infusion therapy and low dose trials of lithium and other medicines that are not anti-depressants. Talk to your friends and family to see if they think you could be helped by going to an enlightened professional.
Focus on connecting intimately with your lover. Surrender to your co-created pleasure. This is what fulfills and nurtures us as human beings.
It's literally THAT easy.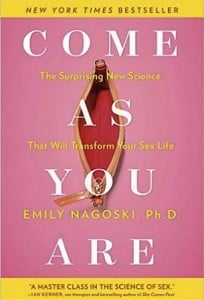 <== Come As You Are: The Surprising New Science That Will Transform Your Sex Life,