How to be a sexy dancer. <=== Watch Suz Get Jennifer's Advice — SASSY!
There's dancing… then there's SEXY dancing.
DANCE LIKE NO ONE'S WATCHING
Jennifer Romas is not only a gorgeous celebrity entertainer in Las Vegas…
She's not only the STAR of The Sexxy Show…
She's the producer of the show! It's her choreography with the seven sexy dancers that makes her truly at the top of her game for being someone who knows how to make dancing sexy.
After all, she produces the hottest topless revue in Las Vegas based on the 10 most popular erotic fantasies.
We go over the 10 fantasies and what she recommends to be a sexy, sensual dancer.
Plus, Jennifer used to teach, "Stripper 101" and Pole Dancing to women for sensual fitness.
I ASKED HER
– How did you become such a sexy creature?
– How do you tap into your sexuality when you dance?
– What are ways you can move your body — twists and techniques — that make any woman feel more sexy?
I also asked the Chippendale's how a guy dances sexy for his woman. HOT!
You MUST watch James and Ryan, or as I like to call them, Chip and Dale, answer my question with an awesome twist!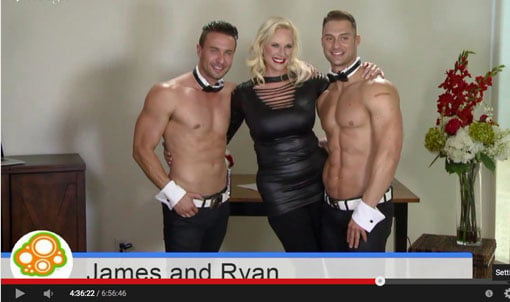 JUST FEEL IT
The Chippendales' are absolutely hot, sexy and darling.
Watch as much as you'd like of our Steamy Variety Show.
And don't forget to click the button below the video and go see my Steamy Sex Ed DVD Collection "Sizzle Reels."
There are three videos to watch on the Steamy Sex Ed website, two of which are SPICY!
WHY I MADE STEAMY SEX ED FOR YOU
I made the Steamy DVD Collection so women could watch and model other women's confident sexuality….
– So you could be the best lover your partner has ever had…
– So you could be confident in your body and your lovemaking and have that confidence spill over into your whole life….
– And especially so you could enjoy the vast pleasures of your body to it's fullest…
– To connect in rapture and surrender to your lover and have your body filled with the purest pleasure imaginable…
TAKE A FEW MINUTES NOW FOR YOURSELF
Dance Like No One's Watching,
Susan
P.S. Click here to go directly to watch the video preview trailers. <=== Tasteful, Erotic Video Previews
And email me anytime you have any questions.
We are only offering Steamy Sex Ed while supplies last. We will sell out.
So take this moment to consider if these classy, tasteful videos can support you in having all the passion and intimacy you want in your life.