Ways To Pleasure Him With Your Hands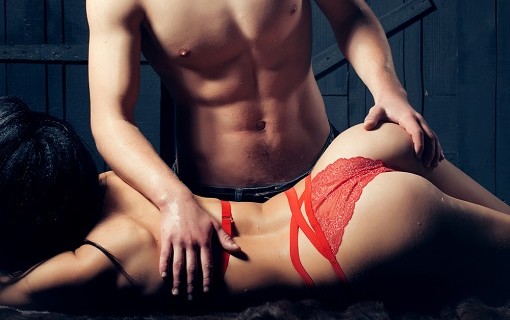 Ladies… male genital massages satisfy a lot of his desire for oral pleasuring. This is an awesome workaround when you're too tired to give him oral sex. And guys, sensually massaging her love spot not only gives her immense pleasure but also promotes sexual healing. Read on for more details…
Here's one more favorite way lovers use Steamy Sex Ed® and is also a wonderful workaround when you simply want to give your lover pleasure without having to commit to full-on lovemaking.
It's called "Cock Modeling" or "Yoni Modeling."
Here's an email sent from one of our happy Steamy Sex Ed® owners.
===============
"Dear Susan,
I know you say that sex is not a quid pro quo – you do me and I'll do you – but I really wanted my husband and me to still have some "sweet and sexy" time at night before going to bed.
After work and kids, we sometimes get physically too tired for sex. I know it sounds absurd, but it's true. But your idea of "modeling" has saved us many times over.
We bought Steamy Sex Ed® a year ago and I'm so glad we did.
The Male Genital Massage DVD has been huge for us. He loves it when I make him my cock model.
And I admit, I like being his model too.
It's truly hot and steamy in the bedroom each night before going to bed.
We love it!
PLAY ALONG WITH THE DEMOS
The first time we watched it I said, "Hey, why don't you lie there and I'll practice on you."
I remembered that email that said, "make him your cock model." That phrase, cock model, stuck with me. I liked the idea.
And so did he!
I warmed up some organic coconut oil (thanks to your recommendation) and just did exactly what the video said to do.
Oh my god.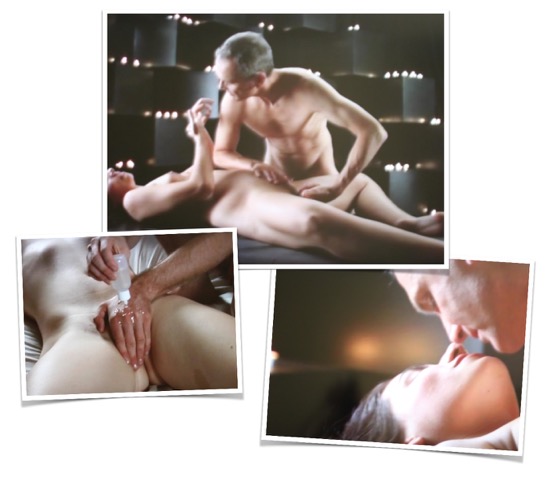 HE WAS IN HEAVEN
If someone had told me to do some of those strokes (they are so easy) I wouldn't have thought much about them.
But he lies there and sighs and moans and his cock gets so big, long, thick and hard. It's unbelievable!
There are like 20 different moves and I just do them all to him as I follow along.
Sometimes I can't control myself and I hop on top of him.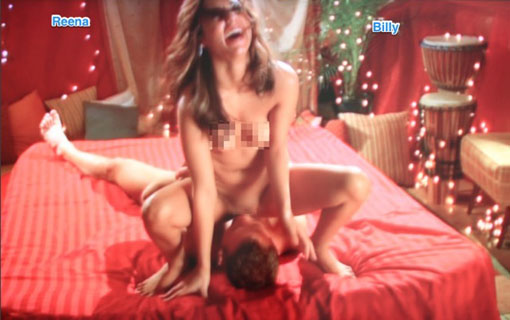 HOP ON POP
The Steamy Sex Ed® 60%-OFF SALE Is Happening Now.
Only 341 copies remaining as of this writing!
60% Off SALE IS ON! ⇐  MEN CLICK HERE NOW TO VIEW THE VIDEOS
60% Off SALE IS ON! ⇐  WOMEN CLICK HERE NOW TO VIEW THE VIDEOS
But I try to give him the whole sequence, as it's really luxurious and grounding for my guy to just be able to totally relax and enjoy that much penis and balls massaging.
I love that one where you pretend his penis is a bar of soap and you "wash your hands." His penis feels so good in my hands.
His favorite is that move where you make one hand a V under his balls and the other hand you make into a V from the top and you squeeze gently upward.
That's why the videos are so excellent – you need to see these strokes to really get how to do them.
I have so much more sexual confidence since we started watching Steamy Sex Ed® together.
I love the sets and the couples on the DVDs. They are so full of ideas we have had them a year and instead of getting bored with them, every time we watch them we notice something new.
Our sex life is on fire. He's the best husband and lover ever.
Thanks to all you ladies who give us relationship and sex advice every day.
My husband and I love all your stuff.
You guys have changed my life. Thank you so much.
I am the best cock rubber ever. Hee hee.
– "Cock Rubber Extraordinaire", Someplace In The South
==============
Isn't that a wonderful email?
The more techniques you know, the more confidence and pleasure you can give and receive.
The Steamy Sex Ed® 60%-OFF SALE Is Happening Now.
Only 341 copies remaining as of this writing!
60% Off SALE IS ON! ⇐  MEN CLICK HERE NOW TO VIEW THE VIDEOS
60% Off SALE IS ON! ⇐  WOMEN CLICK HERE NOW TO VIEW THE VIDEOS