How To Re-Spark Intimacy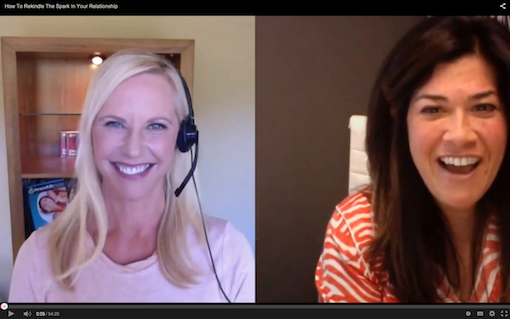 Is it possible to rekindle the passion in your marriage?
What happens that makes the romance die and how do you bring back that loving feeling?
How do you rekindle desire in your husband?
How do you get your wife to want to have passionate sex with you again?
Listen as Midori Verity, author of the upcoming book, "How To Have A Kick Ass Marriage" interviews Susan Bratton, author of Relationship Magic, Revive Her Drive, 30 Romance Tricks That Work Like Magic and publisher of advanced sex ed programs such as Expand Her Orgasm Tonight and Seduce Her Tonight explains the Four Elements of Revival.
THE FOUR ELEMENTS OF REVIVAL
Over time, desire gets covered by pain, stress or emotional upset. Watch as Susan explains how to uncover the issues that are roadblocks to intimacy.  Then she explains how The Four Elements of Revival are the map back into each other's arms again.
What are the Four Elements of Revival that get a couple having fun, adventurous newlywed-style lovemaking again?
From her incredibly popular, Revive Her Drive program, Susan outlines the Four Elements of Revival: Overcoming Resistance, Polarity, Seduction,  and Advanced Sexual Mastery techniques.
First she discusses the issues standing between you and all the intimacy you crave. Discover how to overcome the resistance that has driven a wedge between you. Learn how Co-regulation is what securely functioning couples do.
MASCULINE FEMININE POLARITY
Next learn about Polarity.  By re-instating your masculine feminine magnetism, you can get your polarity back. Susan explains how men can lead in the bedroom and how women can invite their men to lead. She explains the fundamental tenets of masculine sexual leadership and why they are explosive in creating super hot sex, even after years of sleeping together.
This may be the best part of the entire interview. The section on Seduction. Susan gives you a shortcut to making your sexual offers the kind that your partner will accept, instead of reject. If you want rejection-free sexual conversations, this key to seduction is not to be missed.
ROMANCE AND SEDUCTION
But Susan cautions you not to get ahead of yourself in the seduction stage. Remember that women need to be romanced. If you go right to seduction, it will backfire. And when she makes romance this easy, it's fun to make sure you do this step first:
Turns out, there are 5 kinds of Romance. Here is the list and in the interview, Susan breaks each one down to show you how easy and fun it is to romance your lady. Romance creates more masculine feminine magnetism, or polarity, anyway. So it's in every man's best interest to show his masculine leadership by being romantic before he seduces his wife.
THE 5 PILLARS OF PASSION (The Romance She Craves)
1 – Mindfulness
Romance requires attention and intention
Seeing life through your partners eyes
Showing your sentimentally sensitive side
Mutual self-disclosure
2- Sensate Connection
Mutual holding
Eye-gazing
Affection, touch, warmth
3- Playful Adventure
A spirit of adventure
Spontaneity and playfulness
An element of surprise
Excitement
4- Erotic Communication
Sexually irresistible. Text, email, call, poetry, songs,
dirty/sexy talk
5- Declarations
Adored. Rituals and traditions of your love
Symbols and tokens of your love
Homages to your past
Awakening your sexuality. Small offers. Erotic Escalation.
ADVANCED SEXUAL MASTERY
Once you've generated polarity and begun to romance your partner, you are beginning to have fun together again. Now you can start with very small seduction techniques that slowly escalate to more sexual experiences. It's important to stair step from romance to sensual awakening before moving to seduction and then sexual advances. If you skip through these steps too fast, it will backfire and your partner will feel pushed too fast.
When you are finally enjoying romantic times again, you can slowly begin to add in some seductive offers.
Once you are regularly having sex again, being prepared with the anatomy, orgasm technique and verbal skills of a masterful lover will catapult you into the best sex you've ever had. Watch to the end for how you can become orgasmic from intercourse or help your woman climax during penetration. Susan reviews a series of Advanced Sexual Mastery skills, explains Orgasmic cross training and the power and pleasure of filling her up orgasmically.
Please post your questions and comments below. We love to hear from you.