New Oral Sex Position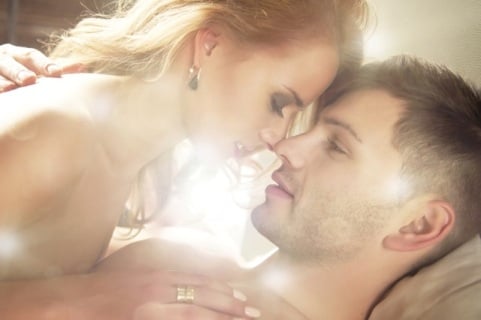 Men, you can read this one I wrote for the women about an oral pleasuring sex position.
Hey Gals,
Have you ever tried this incredibly erotic oral pleasuring position? This works best for those guys who love to go down on you.
It's a female sexual empowerment move for those times when you like to be in control. This will have him lying there writhing and moaning in pleasure. And you'll get off on it too.
The meta-frame is that you are going to suck him, he's going to lap you up and you are going to kiss in between.
The Blow Job Secret <=== I shared all my secrets about how to get off giving him oral.
The intimacy of his mouth on yours after you've been licking each other can be a naughty, hot turn on.
Here's what you do:
Lie him down on the bed on his back and take control. Allow him to luxuriate in your loving attention. Take turns blowing him and kneeling over him while you lower your genitals onto his face. Then give him a long lusty, deep probing kiss.
Repeat.
I usually kneel down beside him to pleasure his manhood with my mouth and then get up and squat down on him for "his turn" at my delicious bits. When I get off his face I lean down and kiss him passionately, then return to enjoying myself fully on his member.
Keep that up until your legs are shaking from orgasmic pleasure and your knees are numb. Take your time.  Laugh and giggle. Tease him a bit. And make sure you run your hands all over his body and encourage him to do the same to you.
Bring as much pleasure into the Around The World Oral Technique as you can.
Try it and let me know how you liked it.
When you read this page written for guys I want you to know that the books themselves will give you tons of insights about how to make yourself come from giving a guy oral. Women can gain even more from my advice than men! I reveal my favorite position for getting off while giving him pleasure; how to easily take him all the way in your mouth for heightened orgasm, and even how to train him to slowly move himself in and out of you without gagging you while you surrender to the delicious sensations he delivers. I put every trick, insight and technique in these four little downloadable books so that you could have the hottest oral experience possible.
Learn more about sex positions, download this eBook for free.