"I do not feel any sensations when I'm having intercourse." [Mailbag]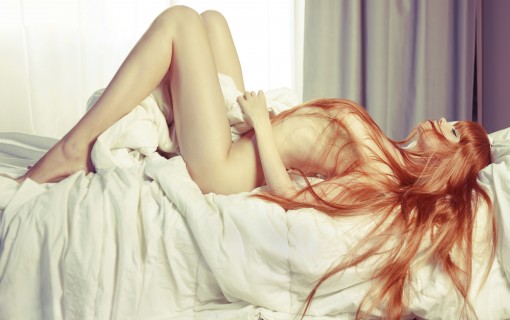 Dear Tallulah,
I have a problem. I do not feel any sensations when I'm having sexual intercourse. I feel it sometimes when having oral sex done to me and sometimes if his penis rubs on my clitoris. I don't know what is wrong with me. I feel the need for sex but I am struggling to actually feel pleasurable sensations.
I went to the doctor and he says that the sensations will soon come. I have been having sex for about six months now and still nothing.
I am only 19 years old and I don't know what to do. Please help!
Love, Robin
Related Article: Some Women Are Wired More For Orgasms Than Others <=== Read This
Dear Robin,
I am so glad you emailed me. I am happy to help!
First of all, good for you for going to the doctor, even if they didn't help. So many women are afraid to seek advice. I think you will do just fine because you are not afraid to get support for something that is your right as a woman to experience.
For you to feel sensations inside your vagina, especially during intercourse, you have to think about the tissue being awake or asleep.
At 19 years old and new to intercourse, your vulva is just starting to "wake up." Your whole genital area is alive with erectile tissue that will feel more sensation the more it is stroked and loved. You can start to explore inside and out and all around your genitals yourself, stroking and touching in whatever ways feel good to you. This will engorge — or fill your tissues with blood — and make them more sensitive.
You know how a man's penis gets hard? You have just as much of this erectile tissue all around the outside of your vulva and up inside your vaginal canal.
Become a member of the Insider's Club and get access to this information about how to create more sensation.
Give yourself some self-love. Spend time touching and exploring areas of your own body that feel good when you stroke them.
Kissing and nipple play will also engorge your vulva. Frottage is also very effective at increasing engorgement. Frottage has also been called "dry humping." I think that's a yucky name and I like the French term better! When you rub your crotch up against your partner, especially when you press your outer labia against your lover's leg to engorge your outer labia and vestibular bulbs this is called Frottage.
And breathe deeply while you're making love! Put a lot of attention on your breath. Breathing deeply, especially together, will expand your mutual sensation and arousal.
Unlock Additional Members Only Content
Please login or register for a Free Membership to view this content.
And take your time having intercourse. It can take a woman years to become orgasmic through intercourse. One of the best ways to experience a vaginal orgasm, if you feel like it brings you down, instead of up, into more arousal when he enters you is this. Have him fully engorge you first. Then start with fingers inside you before he inserts his penis. Have him stroke softly with well manicured hands up inside you and guide him by telling him what feels good and what you cannot feel. The more you experiment with this, the more your sensation inside should increase. When you are really ready for his penis, have him insert himself and continue stroking your clitoris as he makes love to you. Find a position that works for your bodies so he can pump slowly and stroke your clitoris at the same time. This may help you have your first "blended" orgasm, which includes G-Area (up inside your vagina) and clitoral stimulation.
I'd also recommend you BOTH attend my upcoming webinar called, "Making Her Multi-Orgasmic." When you sign up, I'll send you a little test you can take to see how much you know and what you can learn on the webinar.
Thanks again for writing to me, Robin. Your question is excellent and will help MANY people!
Much Love,
Tallulah Sulis
Get our free report and discover how to make a woman ejaculate.