"She feels uncomfortable about her body —she's gained some weight. It doesn't bother me but it keeps her from being able to get in the mood. Suggestions?"
Revive Her Drive is a perfect program for this situation where a woman becomes inhibited due to how she feels about her changing body because one of the Four Elements of Revival is "Overcoming Resistance Issues."  It's incredibly common for a woman's weight gain to negatively impact her libido.
What we women don't understand is how much our guys love to touch us, love the feeling of us and think we're beautiful as full, ripe, luscious females.
Society has programmed the "skinny bitch" into our brains as the "right" body style and it makes it hard for us to relax, let our tummies pooch, just let go and enjoy the pleasures of our womanliness.
One of the best things about Revive Her Drive is that it gives a man a plan. A plan to help his woman truly BELIEVE how beautiful she is to you.
It does require patience, because it takes women a really long time to trust you when you tell her she's beautiful to you and you love to play with her body.
But if you keep telling her, showing her, never bringing your "weirdness" to the bedroom, she will, over time, start to relax.
Here's the order of the modules I'd recommend you consume from the Revive Her Drive program if your woman is holding herself back from sexual surrender with you due to any sort of body image issues.
This process of reading and listening in this order to the modules will show you how to mitigate her resistance to being sensual, even due to body image issues.
I would start with these modules:
Overcoming Resistance – how to get underneath what she's really afraid of.
In the case of thinking she's "fat" you can understand what specifically is her biggest bane. Is it her overall size? Her butt? Cellulite? There's likely some specific area that is bumming her out.
Could she wear lingerie that's still sexy but covers up her "problem spot?"
Would she feel more comfortable with the lights off and a candle burning?
Figure out the exact issue and then create a work-around.
Sexual Sticking Points – ways to get her through her resistance using your masculine authority and leadership.
Masterful Lover MANifesto – how to lead her as a masculine authority so she can relax and do what you tell her. (requires TRUST)
Trust and Surrender – If you want her to relax and surrender to her passion, you have to gain her trust that you'll deliver her pleasure and she won't ever worry that she's physically or emotionally safe. Women, being all different, have various concerns about "letting go." This will help you create the conditions for her to surrender to her pleasure.
Then I would start going through the program, listening to the audiobooks and/or reading the downloadable eBooks in this order: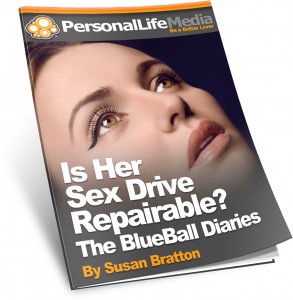 Stealth Seduction Turn Around Tricks – these 10 sweet things you DO (don't tell her you're doing them, she'll love it more) to romance her will start the arousal through her heart and mind – that's where turn-on begins for a woman
Erotic Communication – women love to be romanced verbally. This reinforces the heart/mind arousal. Start whispering sweet things, telling her what you'd like to do to her. This module is packed with incredible ideas that will get her going!
Then I would listen to:
Sustaining Attraction – this will remind you how to romance her the way you did when you first got together. She wants to be sexy and sensual. You have to set the stage for her to do this for you in a way that she feels she gets your approval and encouragement. If she's not sexy now and she used to be, it's likely because you've untrained her (by accident) by your actions. Reverse them and get your sexy gal back.
Secret Maps to Buried Pleasure – one of the most important of all the modules. If you're warming her back up and turning her on, DON'T MESS IT UP BY GOING TOO FAST FOR HER. That will turn her off. I know you're anxious to feel her softness on your hardness. I know how much you desire, crave and want her. But take it slow, start with Zone Theory. Have her begging you for more when you know how to plumb her depths for buried pleasure.
Next I would do Erotic Adventures – women want to be transported into another world of sensation and pleasure. This module is like a Chinese menu of delicious sexual and sensual treats you can give her that she will eagerly consume and…
ask for MORE!
What you are doing, by going through this process, is:
1) Opening her to her sensual pleasures
2) Gaining her trust
3) Taking the lead
4) Creating conditions for her to relax and let go of her body issues
5) Giving her incredible pleasure
So she wants more and more from you.
Also, keep the lights off and light one candle and start giving her massages right away (even if you have to start with feet while she's watching TV at first) so she's used to and starts liking to have her body touched again.
Also, if you are both a little overweight and want to do something about it together (it's nice to support each other) read this blog post for more ideas.
Hope that helps! Let me know if you follow this format and how it works for you.
Unlock Additional Members Only Content
Please login or register for a Free Membership to view this content.
With love,
Susan Bratton
Get our free eBook to learn more how to turn your woman on.