BUY 1 GET 2 Bottles FREE Inventory Blowout SALE for our Libido Trio line of DESIRE supplements (For the 3-month supply pack, you only pay for one bottle. Limited Supplies Of Each Left)
"Hel­lo, Susan.
My focus is on improv­ing my over­all health, weight loss, cir­cu­la­tion, and men­tal acu­ity. I have a fee­ble cir­cu­la­tion, and I've noticed excel­lent results from your FLOW and TRIO prod­ucts.
My hands are always warm now, and my low­er legs and feet have improved. I've also noticed I have more ener­gy, moti­va­tion, and desire to be active and do things. Bonus!
Yes, all my other parts are happy, too.
When I start­ed tak­ing them (I start­ed with FLOW and DESIRE with Fenugreek), I noticed imme­di­ate­ly that my mind was clear­er and calmer. I was able to think more clear­ly and remem­ber words bet­ter.
I've always dreamed vivid­ly, but instead of the frus­trat­ing, frag­ment­ed, mud­dled, incom­plete, and inco­her­ent sce­nar­ios, inter­ac­tions, and con­ver­sa­tions my dreams have become in recent years, I have more aware­ness now. I can com­mu­ni­cate entire thoughts and ideas with ease, in com­plete sen­tences with com­plex words.
I know this may sound weird, but the change was dra­mat­ic and star­tling enough to com­ment on it." — Nan­cy (not her real name)
Are you tak­ing the mon­ey you used to spend eat­ing out and spend­ing it on your health now?
If you've want­ed to top up your Nitric Oxide with our pop­u­lar dai­ly blood flow sup­ple­ment, I have good news.
We've made our FLOW and TRIO sup­ple­ments more acces­si­ble and afford­able for those who want to start invest­ing in their health start­ing today.
The DESIRE Libido Trio Is ON SALE! ⇐ BUY 1 GET 2 FREE Inventory Blowout SALE! (Order the 3-month supply, pay only for one bottle, and get the other 2 for FREE!)
Get Up To 25% OFF On FLOW Here ⇐ Save By Getting A 6-Month Supply (For All Customers Worldwide)
Up To 33% OFF On FLOW ⇐ 3 Bottles Every 3 Months Option (plus FREE Shipping for US-based orders over $50 or International Orders over $75)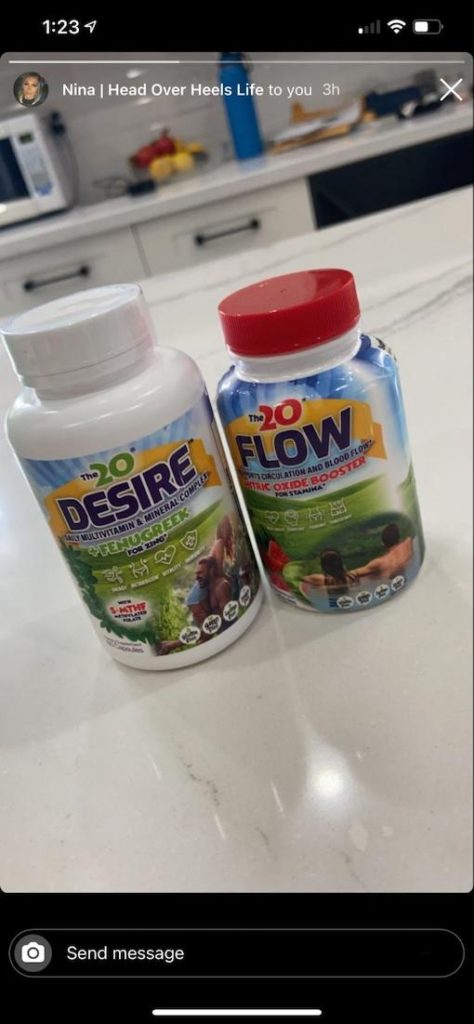 DESIRE SUPPLEMENTS
The three most impor­tant sup­ple­ments you can take if you're over 40 are a dai­ly vitamin/mineral com­plex, fish oil, and a com­ple­ment to top up your nitric oxide pro­duc­tion.
That's why I high­ly rec­om­mend my FLOW Nitric Oxide sup­ple­ment and the DESIRE Libido Trio line of supplements.
FLOW is from organ­ic fruit and veg­eta­bles (not lab vat chem­i­cal process­es).
It helps improve vasodi­la­tion, which means your body can get oxy­genat­ed blood and nutri­ents.
It increas­es physical performance and promotes healthy organ function in both men and women.
And it keeps your arter­ies flex­i­ble and improves your blood pres­sure.
As you age, your abil­i­ty to pro­duce Nitric Oxide that keeps your blood flow­ing dimin­ish­es. By age 50, you have half what you had when you were young.
If you don't have good blood flow to your brain, your body won't pro­duce hor­mones well.
Vit­a­mins and min­er­als are just as essen­tial.
You'd think you can get all your nutri­ents from your dai­ly food intake, but that's less like­ly for most peo­ple.
Yet with the right sup­ple­ments, you can get all of it and more.
Our DESIRE Libido Trio line of sup­ple­ments are 100% com­plete with all the dai­ly rec­om­mend­ed vit­a­mins and nutri­ents. We also added a dif­fer­ent libido botan­i­cal for each type—two cap­sules a day sup­port your youth­ful ener­gy.
Cit­rulline works bet­ter than argi­nine, and ours is made from ORGANIC fruits and vegetables only.