My program, Revive Her Drive, is fantastic. Read on to learn how to revive a sex drive.
However, it's not for women who no longer want to have sex out of being "dry as a desert," as one of my readers puts it.
Libido and lubrication are more of a body-based issue and should be handled with sexual regenerative procedures, techniques, and tools.
Check out Ronnie's email, plus my complete response and recommendations below.
HOW TO REVIVE A SEX DRIVE
"Good afternoon, Susan, 

I was wondering if Revive Her Drive will work for my wife. She will be 55 and in menopause with no mood for sex and intimacy and as she puts it, dry as a desert down there. 

She feels terrible for me lol. I want To try and help her in any way. 

Also, will this help me as well with better blood flow for stronger erections? I will be 53.

Thank you!"

— Ronnie (not his real name)
==========================
Hi Ronnie,
Thanks for asking me how to get your wife lubricating and horny for sex with you again. I also answered what you could do to keep your erectile function strong through middle age and beyond.
Since your wife WANTS to have sex with you, and it's just a physical issue holding her back, I don't recommend my program Revive Her Drive yet. That is for wives who have given up on sex for more reasons than just loss of libido and lubrication.
Your wife wants to satisfy you sexually. She just needs some sexual regenerative support.
Here's what I'd recommend for your wife in the following order based on both the least expensive solutions to things that cost more but are worth it and are synergistic:
Take her for a walk every day and hold her hand.
Buy her flowers every week.
Tell her she's pretty, and you think she's sexy EVERY DAY.
Do NOT skip these fundamentals.
You already know her brain is her most significant sex organ. Set a timer on your phone, put a note in your calendar… do what it takes to get her moving again, and verbally appreciate her.
Plus the flowers. IMPORTANT!
Unlock Additional Members Only Content
Please login or register for a Free Membership to view this content.
. Do not barter or bargain for sex. Selflessly give her as many hands-on vulva and clitoral massages as she'd like, whenever she'd like. Make sure she understands that there is zero expectation of reciprocation for sex. If you tie the sex to the massage, she won't let you massage her. Then you can't get her vulva restarted. You must just let her come to you and beg you for sex. Don't give in easily. Soon she will want intercourse with you, and it will feel good. 
Here are some videos and resources to get her in the mood for desire and intimacy.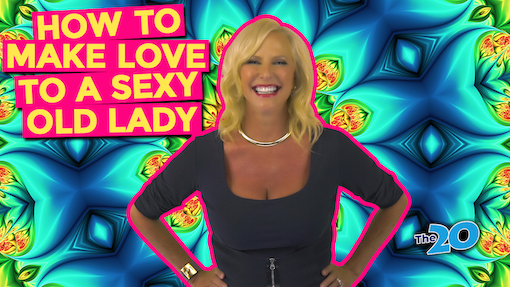 Check Out This Video I Made ⇐ How To Make Love To A Sexy Old Lady
Here's Another Hot Video ⇐ How To Give A Yoni Massage
Even Hotter Right Here ⇐ How To Finger and Give A Pussy Massage
Work your way up to G-Spot pleasuring:
Here's How To Get Her There ⇐ How To Do A Sacred Spot Massage
Graduate from there to an Expanded Orgasm practice:
Creme de la Creme O's ⇐ Expand Her Orgasm Tonight
More Expanded Orgasm Videos ⇐ How To Give An Expanded Orgasm Massage
Watch This Yoni Massage Video Too ⇐ Yoni Vagina Massage
Unlock Additional Members Only Content
Please login or register for a Free Membership to view this content.
⇐ Real Nephrite Jade Egg (GIA-certified)
Encourage her to use a vibrator and give herself vulva massages…
DIY Vagina Massage With Toys ⇐ She Can Also Try Easing Into Pleasure By Herself At First
The vibrators I recommend for rejuvenating the vagina for intercourse:
Unlock Additional Members Only Content
Please login or register for a Free Membership to view this content.
Help her restore her vaginal wetness:
Click Here To Watch The Video ⇐ Restoring Vaginal Wetness
Take FLOW 2 capsules in the evening and before sex (both of you) for blood flow (and lubrication for her.)
Take DESIRE 2 capsules in the morning. Start with the Tongkat Ali for 30 days, then the Fenugreek, then the Tribulus Terrestris. Then start again with that cycle.
Up To 33% OFF On FLOW ⇐ 3 Bottles Every 3 Months Option (plus FREE Shipping for US-based orders over $50 or International Orders over $75)
Click Here For The DESIRE Trio ⇐ Daily Multivitamin Multimineral Supplement With Libido-Boosting Superherbs
Buy some organic nut oil such as sweet almond, avocado, or jojoba (not coconut), and use it copiously and repeatedly throughout lovemaking so that everything flows smoothly without friction.
Get your wife the VFit Gold and have her follow the protocol. This will increase lubrication and help her feel more pleasure again.
Unlock Additional Members Only Content
Please login or register for a Free Membership to view this content.
⇐ VFit Gold Do-It-Yourself Genital Rejuvenation + Joylux Gold App. (Use Promo Code SUSAN to get a free SHEbar)
The SHEbar is a soap-free, french-milled coconut, argan, and avocado oil-enriched bar to help smooth and cleanse your delicate tissue.
Get your wife an O Shot and FemiWave treatments.
Watch This P Shot/O Shot Video ⇐ Sexual Biohacking (Ageless Sexual Solutions)
Unlock Additional Members Only Content
Please login or register for a Free Membership to view this content.
⇐ Rejuvenating Your Vulva (GAINSWave for Women)
She Should Watch This Video ⇐ I Had 6 Orgasm Shots To My Clitoris (How to Revive a Sex Drive)
Have a functional doctor put her on hormone replacement therapy. Bi-estrogens, testosterone and progesterone. Have them check her cortisol levels and thyroid.
Here's A Video About It ⇐ Hormonal Replacement Therapy
Once you are romancing her, massaging her vulva, and getting her clitoris activated. She's taking the blood flow booster and daily libido vitamin. You will find she is enjoying sex much more.
You keep this up until she's making sex dates with you.
As for you, my entire course of action for making sure your penis doesn't atrophy and get bendy is here:
Click Here To The Download ⇐ Susan Bratton's FREE Pump Guide
Read and watch these together. Decide on a course of action.
Let me know your questions and how it goes.
I'm excited for you!