The Advice Your Father Should Have Given You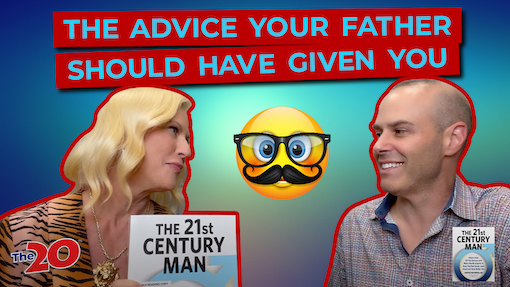 We're not into our 5th video segment of my interview with Dr. Judson Brandeis.
For today, we're going to talk about how his NEW book, the 21st Century Man, is like advice a father should give to their son.
It's like a guidebook for every man because it combines topics such as sexual health, work-life balance, vitality, sex, relationships, divorce, fatherhood, and so much more.
And it's not just Dr. Judd writing the advice here. No. He's invited experts from every field relevant to a 21st Century Man, and they, in turn, poured their heart, soul, and expertise into providing top-class information on their subject matter.
If you're a guy, this book is a MUST-HAVE for you right now.
Check Out Our Video Here ⇐ The Advice Your Father Should Have Given You
BE THE 21ST CENTURY MAN.
Dr. Judd has written a NEW book that may change the way men in midlife and beyond can recover, rebuild, and maintain their physical, mental, emotional, and sexual health.
It has contributions and advice from over 50 top doctors and Men's Health Experts.
At more than 900 pages, this is the life manual all men (and their partners) will want, helping men feel great, look good, and have better physical intimacy for the rest of their lives.
According to Dr. Judd, this isn't a 300-page book that one can summarize in two pages. This is a 900-page book that can be outlined in 900 pages. It's just THAT chock-full of valuable info for men of the current age.
The book also provides leading-edge research on reversing early dementia and
protecting brain health and subjects, including family life, hormone therapy, psychology, and so much more.
In this book, you'll find a practical guide to men's health and discover:
The most common health causes of premature death in men and intelligent ways to reduce risks
Principles of nutrition and exercise and how to fuel and strengthen your body without injury
Coping with mental health struggles and addictive behavior to increase the quality of life
How to continue looking good through midlife and beyond
The impact of good relationship skills on men's health and overall wellbeing
Techniques and strategies to continue enjoying mutually satisfying physical intimacy
Specifics on prostate health, testosterone, circumcision, vasectomy, and fertility
How to navigate healthcare systems and understand the health insurance
An insider's view on finding a specialist and making the most of your trip to the doctor
The health effects of gratitude and how to leave a legacy that inspires the next generation
Unlock Additional Members Only Content
Please login or register for a Free Membership to view this content.