Safe Bondage Sex Positions
Wedge Sex "Making Whoopee 3.0" Technique. Read on to learn more about safe bondage sex.
Hey, Hey, Sweetie Pie!
Another week has gone by, and I have something new for you to try.
This week my technique for the orgasmic intercourse series, Making Whoopee 3.0, is called "Liberate Her." 
She will be restrained on a sex wedge (safe bondage sex). A wedge is a made-for-sex piece of home furniture. You don't need to buy one. You can fashion something from pillows and bolsters and neckties. 
Or you can get the
Unlock Additional Members Only Content
Please login or register for a Free Membership to view this content.
and add on a Cuff Kit to get the restraints as a whole system. This makes it so easy and exciting.
Note: The wedge doesn't come with the cuffs. Just attach points.
You can choose red, black, or leather cuffs to add to your wedge. The other wedges don't have the attachments for the cuffs. I like that it's easy to use, adjust, and comfortable.
This is a fun, playful couples experience. The more new experiences you have together, the more you create a super hot sex life. Tying her wrists and ankles to this cushion has many benefits: (scroll down)
NEW YEARS NEW DIRECTION
Why you want a sex wedge:
1) She can quickly get out but feels secure.
2) It's exciting for her to surrender to your lover's ministrations.
3) She is in full receive mode to relax and receive sensations.
4) You get perfect angles to penetrate her, finger her and go down on her.
5) Going back and forth from penetrating her with body parts to stimulating her with toys creates a spicy variety.
6) Punctuating her experience with a G-Spot wand between body and toys can get her ejaculating.
7) You can also blindfold her to add up the experience.
8) Masculine/feminine polarity is created because you are in charge of the decisions.
BONDAGE SEX
Kaira says, "My boyfriend got this system and tied me up on it. OMG. I love being tied up so much! I run a $100 million business, and I want him to do things for me so I don't have to make one more decision. Wedge sex is more fun, a little more titillating. You don't know what will happen next. Instead, you give up your control and ability to direct or even be an equal partner. You have to submit to whatever is happening. Sometimes that is what I want. I don't have to do anything. I am excited that somebody will do something to me, and I don't know what. With my consent, it's super sexy to surrender."
Her boyfriend, Ali, shares, "We love using the toys on Kaira while she's strapped in. It puts her in a slightly different position because she's tilted upward. So the insertion feels different because it's coming in from a different angle. She says everything feels fuller. It hits different spots with the "lift" from the wedge. The adjustable cuffs can be set very loose as a beginner. As you get more advanced, you can choose whether to be more restrained or not."
Adding in a blindfold is fun. You will find that you reach for the wedge often. It's so easy to throw on the bed and try new positions. The cover comes off and washes up great. Whether you buy or make one, definitely strap your lover in and take charge.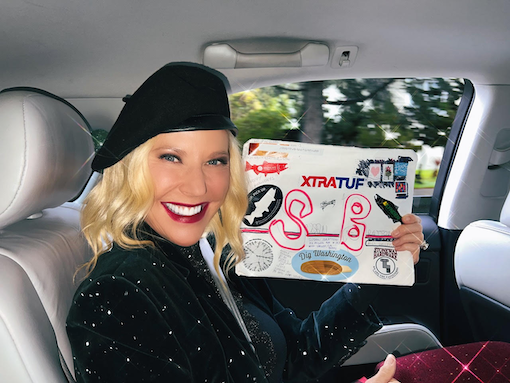 Fan Mail! Thanks to all my darling fans. I love and appreciate you all.