"Squatting Tiger Bouncing Lion" Sex Position
I like to make my guy orgasm so hard he blows stuff out of his pipes back from 1979. And then I want to give him an even better orgasm the following day… The kind of climax that sounds like a caveman is raiding a village…
The way to do this best is to get on top and ride him like a wild banshee. Long, deep strokes. Light tiny twerks on the tip of his penis. Then up and down. Some slow strokes so he can recover. Then some squeezes from deep in my vagina.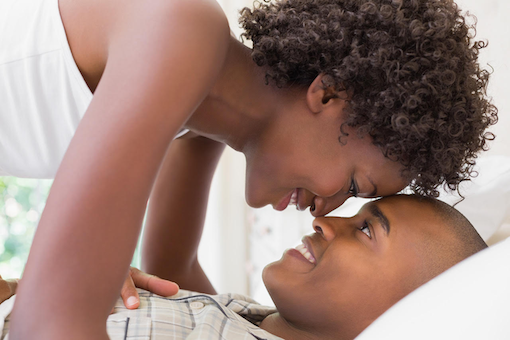 The more variety you provide him, the more unrelenting pleasure signals scramble his brain. This helps him last longer. The more you can prolong his pleasure and keep him at the edge, the harder he comes. This "Squatting Tiger Bouncing Lion" Sex Position is part of my Making Whoopee 3.0 series for having mutually orgasmic penetrative intercourse.
When a woman gets on top and practices these pops, flicks, and slides, she gets more articulate with her vaginal musculature. She also builds up her leg muscles so she can ride him longer.
Of course, this works with all bodies in various positions. And it works with a strap-on if you don't have a hard penis. There are lots of workarounds. One of my favorite new tricks is to squat on my haunches and bounce on my lover's penis. I've upgraded my strength so I can now slide effortlessly up and down, quickly and slowly.
There's a glide you can get if you're on your feet instead of your knees. It gives you more travel. And it's a more fluid movement.
I partially attribute the fluidity of my movements to just riding my guy and getting better at it. I've also been running stairs, making my legs stronger and improving flexibility. But I also take a slug of hyaluronic acid every morning. HA is the 21st-century version of the old "glucosamine chondroitin" for your joints. HA is what holds fluid in your cells. The high molecular weight HA is great for joints. They give it to racehorses. I like the LubriSyn brand. If you have joint stiffness, it helps a lot and works within a week or two. You can feel the difference.
The more you get on him, the more you will find ways to use his tool for your pleasure. You'll be able to start giving yourself orgasms with his penis. Guys LOVE this because, first of all, they know you're having a blast. Secondly, they feel real, really wanted. Guys struggle with this. They need to know you want them for sex. So when you're having tons of orgasms and they are witnessing it, they KNOW you want them.
Secondly, when you're super turned-on, it resonates with him and raises his arousal. He's sensitive to your happiness. If you want him to have the savage blowout, then make lots of noise, and it will take him up to level 11.
When you want to blow out his pipes and his mind, try the woman-on-top cowgirl style sex position with variations of strokes. Let me know how you like it!