Here's a great question I got from a customer.
"Hi, Susan! I got ahead of myself and bought more than I needed and still have an unopened bottle of "Flow." Could we skip the June order? That would be greatly appreciated." — Meghan (not her real name)
Dearest Meghan,
When we said you could pause your subscription anytime you want, we meant it.
That's because we want to be completely open and trustworthy to our customers.
Your satisfaction is our utmost priority.
So if you want to pause one or more of your The20 supplement subscriptions, all you have to do is
Step 1: Log in to your account at https://the20store.com/my-account/
You can find the login button in the upper-right corner of the page.

Step 2: Click the Subscriptions button on the right-hand side of the page. It's among the menu selections.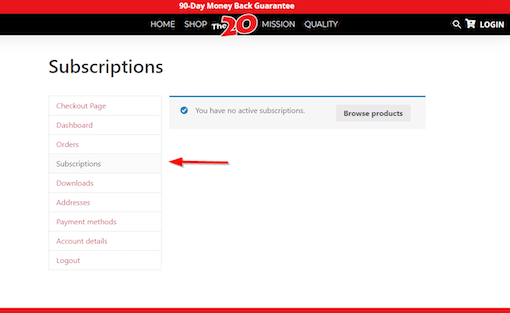 From here, you'll see a list of all your The20 subscriptions.
And when you want to start them up again, you'll find the option to do so in the same place.
If you want to check out our latest promo on our FLOW and DESIRE Trio supplements, check it out here.
Up To 33% OFF On FLOW ⇐ 3 Bottles Every 3 Months Option (plus FREE Shipping for US-based orders over $50 or International Orders over $75)
Check Out All Our Supplements Here ⇐ Use Promo Code SUSAN to Save 10%