Top Tips For Keeping Things Spicy (Part 1 Of 3)
What's most important when you start fresh as new lovers? What can long-term partners do to keep sex exciting? Learn how to keep a relationship exciting.
This is what I'm going to talk about in this 3-part series.
First of all, there's no "right" way to have the best sex relationship — we all have different desires every day. Honoring what you crave at the moment is one way to keep sex fresh.
Variety makes sex exciting. Tune in to each other's mood. Instead of a prescribed set of activities you always do, see where your lovemaking date takes you.
Ask yourself, what does my body want today?
TAKE YOUR TIME
Taking time to get turned on together creates more overall sexual satisfaction. Sex is better when you first relax, then begin to build your desire for each other through "foreplay." 
Rushing to intercourse will, over time, lower your attraction for each other.
For maximum sexual pleasure, think about your arousal as a set of stairs. You go higher into more pleasure by resting between more intense moments. This is called "peaking."
In the resting moments, your body will reach for more pleasure. Then when you stimulate each other, you'll feel even more pleasure. This builds on itself.
Here are a few things you can try to keep your bedroom play exciting and fresh.
Like the word seduction, teasing has gotten a bad reputation because both are enticing acts of intimate connection.
Instead of teasing, think about what you're doing to entice your partner. Teasing or tantalizing can include a slow warm-up to a future moment of intimacy. It can be a slight caress with a promise of a neck or foot rub to come.
TEASING
A pretend threat such as, "When I get you home, you're going to be in big trouble" brings masculine daddy energy to the interaction. 
Teasing builds anticipation. Use it to get your woman excited about your plans. When you move a woman's body, you carry her emotions. This brings her closer to you. One of my favorite "teases" is a move called "Catch and Release."
As she walks by, catch her in your arms, kiss her on her forehead, her eyelids, or her cheeks. Squeeze her for a second and release her. This will cause her to want more physical touch from you.
Often when a man is trying to create an opportunity for intimacy, he takes a direct approach. This straightforward approach can be too much for her. The Catch and Release teasingly leave her wanting more of you. Try it and see! One of my fans reports that his wife now walks up to him and closes her eyes so he will kiss her eyelids. He says she can't get enough of the eyelid kisses.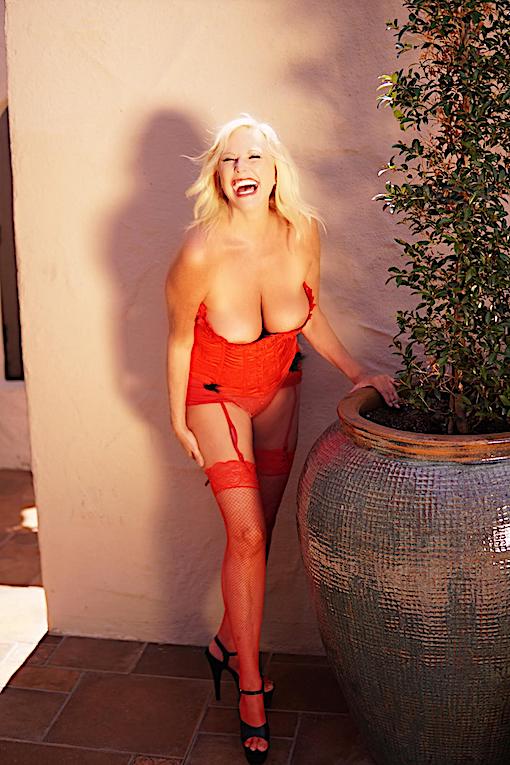 ROLE-PLAYING
Role-playing is one of the facets of intimacy that keeps it spicy behind closed doors. There are three types of sexual mindsets: 
a) Sexual Trance where you surrender to your pleasure together and time and place evaporate into intimate interplay.
b) Partner Engagement where one of you takes the lead and pleasures the other.
And c) Role Play which is acting on your fantasies. You create scenes together and take on roles. As you do this more often, it's easier to try on roles that are less like you. You might want to start with something like Daddy and His Little Girl or The Naughty Librarian, French Maid, Doctor and Nurse, pretending your lover is a stranger and picking her up in a public place and taking her home and making love to her.
From there, you might move to a light tying-her-up scene or something that feels edgier. The more you role play, the more fun it gets. As you play, you learn how to safely and productively elicit each other's fantasies instead of being confronted and anxious.
By learning how to enjoy all three of the psycho-sexual mindsets, you can expand your pleasure and connection. Soon you'll be fluidly moving from one style to the next and back again during a lovemaking session. If you want to make love to a woman ultimately, lead her into all three kinds, so she feels safe and excited about maturing her sexuality with you.
SPOIL YOUR LOVER IN BED
"There are three magazines, a chocolate bar, and a cup of tea by your bedside table."
"Go get in bed, relax, and I'll meet you there with a bottle of warm organic coconut oil in thirty minutes."
Either lover can do this for the other. And when you switch roles on who spoils who, it keeps things electric and exciting.
SATISFY YOUR LOVER WITH NEW FOOD
Go to a new restaurant together. Research online to find a new place in town that gets excellent reviews. Make a reservation, specifically request a romantic table, and drive her there.
As you guys get in or out of the car, go around, open her door, and offer your hand. Ask her to wait to get out, so you have time to go around. She'll wait. Open the entrance to the restaurant for her, get her coat and get her chair for her. Don't ever stop getting her door, her coat, her chair.
From now on, for as long as you know this woman, get her doors, her coat, and her chair. She will love you for it. Other women will love you for it.
Other men of quality will appreciate you as a brother who is a man of value. If she resists, tell her you love the little ways you get to treat her like a lady and ask her if she'll allow you the pleasure. That ought to get her to let go and enjoy your sweetness.
There are many ways for you to shower your lover with new experiences. Get creative. 
These four will have to do today. I'll be sharing a lot more in the succeeding weeks' articles. I've got a lot in store for you to do with your lover.