Menopause?
It's not something that we ladies look forward to. Hot flashes, hormonal craziness, mood swings, and the dreaded weight gain.
Thankfully, many smart women have come together to share their wisdom, experience, and tips to help you drop your diet struggle, find yourself, and live a healthy and happy midlife.
I'm inviting you to Jennifer Patrick's "Weight Loss In Menopause" summit. Over 35+ experts share their best secrets and methods so you turn the menopause madness into a walk in the park.
My segment will go live tomorrow. I'm going to talk about "Menopleasure!"
You know I'm all about intimate connection and pleasure. So I'll be sharing my best secrets on libido, desire, arousal, and how to turn dreadful menopause into menopleasure, especially for women who want to continue be intimate with their partners.
Unlock Additional Members Only Content
Please login or register for a Free Membership to view this content.
⇐ Turning Menopause Into Menopleasure (Join The Weight Loss In Menopause Summit For FREE)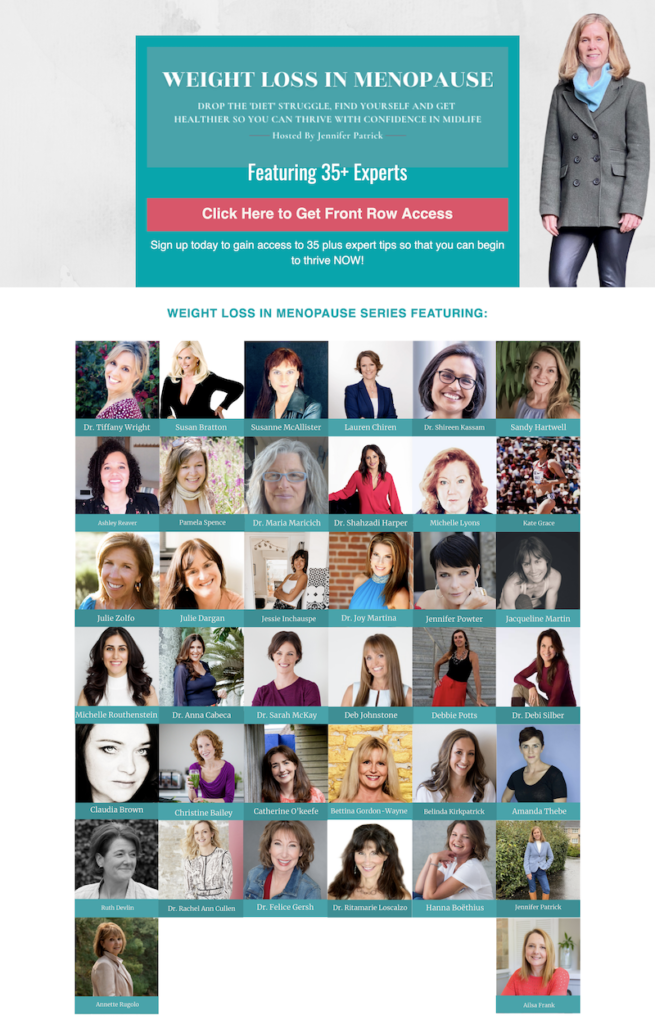 MENOPLEASURE FOR YOU
Other speakers and topics you'll have access to when you sign up for the Weight Loss In Menopause Summit include:
Dr. Joy Martina – How To Use Your Intuition To Lose Weight
Christine Bailey – The Top Nutrients and Food, Memory, and Mood
Dr. Sarah Kay – Brain Health in Menopause
Catherine O'Keefe – Sleep During Menopause
Dr. Anna Cabeca – Hormone Balance and Thriving During Menopause
Dr. Ritamarie Loscalzo – Gut Health During Menopause
Amanda Thebe – Thriving Through Your Menopocalypse
Debra Johnston – How To Find New Direction in Midlife
Bettina Gordon-Wayne – Make Your Age Your Superpower
Annette Rugolo – Transform Your Home, Transform Your Life
And so much more!
Remember, there are over 35+ experts sharing their secrets. And the event has been live for a few days already.
You'll want to register for FREE now so you can watch all the expert interviews before the summit ends.
However, you can get lifetime access to the videos, as well as FREE gifts from the speakers that include discounts on their services, as well as their books, all for a small price.
More wonderful details on the website. Make sure you register for FREE today.
Unlock Additional Members Only Content
Please login or register for a Free Membership to view this content.
⇐ Turning Menopause Into Menopleasure (Join The Weight Loss In Menopause Summit For FREE)