I'm continually amazed by the kindness that lovers show their partners. This young man hopes he can heal his girlfriends' sexual trauma through genital massage.
Even if you or your partner has not been abused, these eight kinds of genital touch are just as important. Swap out the G-Spot for the P-Spot in men and use the same steps.
Hello Susan!
I'm an 18-year-old man. My partner was raped for about a year a couple of years back, and she heavily suffers from nightmares and many other things. One of these things is contractions, which is the tightening of the vagina during intercourse.
I just watched your video "How To Help A Partner of Sexual Abuse." It helped me understand more of my role and how I can be the best I can be for my partner. Unfortunately, she does not want to see a therapist, and that's ok! So as a result, I've been trying my best to help her heal along the way.
My question is this: When it comes to having sex and being intimate on that level, would it be best if we tried to have more sex rather than avoid it? In other words, would the best way of helping her heal be to have more sex for her to become more comfortable, or would it be the opposite (in other words, putting off sex as much as possible) so that she could get comfortable in a different way?
Thank you very much for your time, take care, and stay safe! — Caleb from California
Hi Caleb,
Thank you for your willingness to help your girlfriend overcome the horror of being raped. I can feel your good heart shining through.
Here is a playlist with the whole series called, Healing My Sexuality, that I did with somatic sexual therapist Ariel Giaretto. Make sure you watch the ones that go along with How To Help A Partner of Sexual Abuse.
The first thing that comes to my mind is that when you talk about "sex," I understand you mean intercourse.
If I am correct in that assumption, my recommendation is to expand your view of sex to include sensual genital massage, kissing, oral pleasuring, and erotic genital massage. By increasing your sex map, you can have a lot more intimacy and pleasure without a heavy focus on penetration.
The more you do all the other things, the more her body will move toward intercourse naturally. These different activities will allow her to get more comfortable with being touched and aroused, and she'll know you won't push her into anything.
As you get better at pleasuring each other together, the pleasure will grow, and desire will blossom.
Genital touch is often the path leading to complete healing because talk therapy can't release body trauma like hands-on healing.
There are eight different kinds of genital massage for women:
Nurturing, Healing Massage
Sensual Massage
Sexual Massage (Often called "Fingering")
Expanded Orgasm Practice
G-Spot Healing
Female Ejaculation
Introduction of Sexual Pleasure Tools
Addition of Oral Pleasuring
I'll break them down for you. You can discuss this with your partner, see what she is comfortable with, and offer it to her, no strings attached.
If you offer genital massage to achieve intercourse, she won't open herself to you. You must be willing to give her a genital massage and only for as long as she wants it. Some days it could be short; other days, she might need so much of it that your legs go to sleep!
Stay in the moment in every case and keep the communication going. You're dealing with a wounded animal — yes, homo sapiens are part of the animal kingdom. You want to hold her in your heart in that way, knowing that your goal is to provide security, comfort, and over time, more pleasure.
Nurturing, Healing Massage
This is how you would touch a baby or small child if they were hurt. This is where you invoke healing hands with no intention for the touch to be sensual or sexual. It is therapeutic and loving.
Sensual Massage
This is a massage that brings pleasure without a focus on sexual release. It just feels so good, relaxing, and nourishing.
Sexual Massage (Often called "Fingering")
This is when you focus on generating arousal and desire. In a sexual massage, you work up to and give orgasmic release. There would be a more clitoral focus in this kind of massage.
Expanded Orgasm Practice
This technique is perfect for couples who have experienced difficulty orgasming. Having an Expanded Orgasm practice means that you commit to doing this stroke technique once or twice a week. She receives. You give. Over time, it helps her expand her orgasmic potential and come very, very well.
Expanded Orgasms are a type of orgasm in which the touch is so light that a woman can have multiple, stacking, ever-lengthening orgasms. It fills a woman up with orgasmic pleasure and increases her confidence to come well. EO's also help women have orgasms from intercourse because their orgasmic response becomes more honed.
The five-stroke practice follows a form to get the expanded result different from just a one-time orgasm. It's reliable and predictable, and it's so light that it doesn't cause clitoral fatigue.
The light touch is immensely healing for women who are "numb" from trauma.
The Expanded Orgasm Practice helped me cross the 'gasm chasm after sexual trauma. And my husband Tim and I, to this day, still have the EO Practice. Here's a video in which we were interviewed about our practice. I just asked Tim for a date this afternoon as I am writing to you. Thanks for the reminder!
We teach this practice in our downloadable program, Expand Her Orgasm Tonight by Dr. Patti Taylor. The program gives you 21 Erotic Playdates, and each date teaches you a facet of the practice.
Having 21 unique ways to learn how to be good in bed together is another way of removing the performance pressure for intercourse. The Playdates make sex fun instead of scary. And they improve both your skills and confidence.
Watch the videos on this website to learn more:
Read these three free pleasure reports to learn more: What Is Expanded Orgasm? The Power of Peaking, and Touching For Rapture.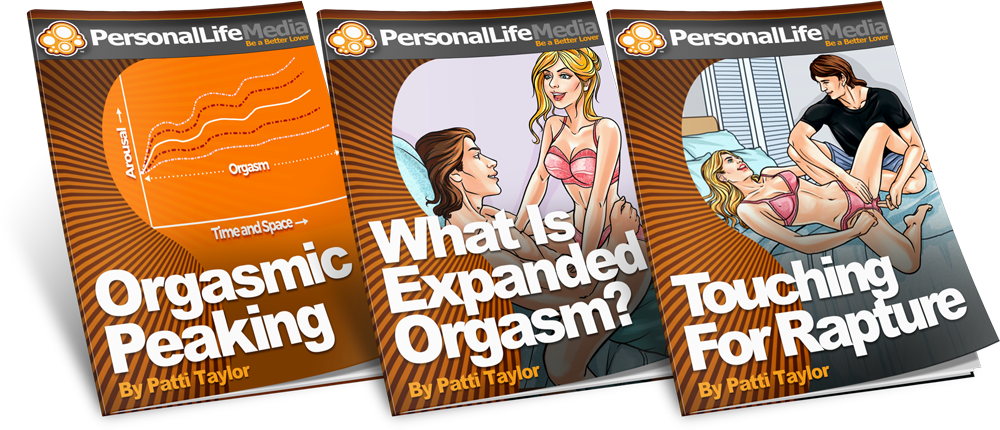 I suggest you use the Touching for Rapture technique during any Sensual and Sexual Massages you offer.
G-Spot Healing
The G-Spot is not a spot. Instead, it's a long tube of erectile tissue that surrounds the urethral canal. It runs along the top of the vagina. You can access it by placing a well-lubricated finger on the roof of the vagina up to the first finger joint and pressing upward for emotional release. Every woman has a different response, and we cover the reactions and how to hold her safely through her releases in our program, Female Liquid Orgasm.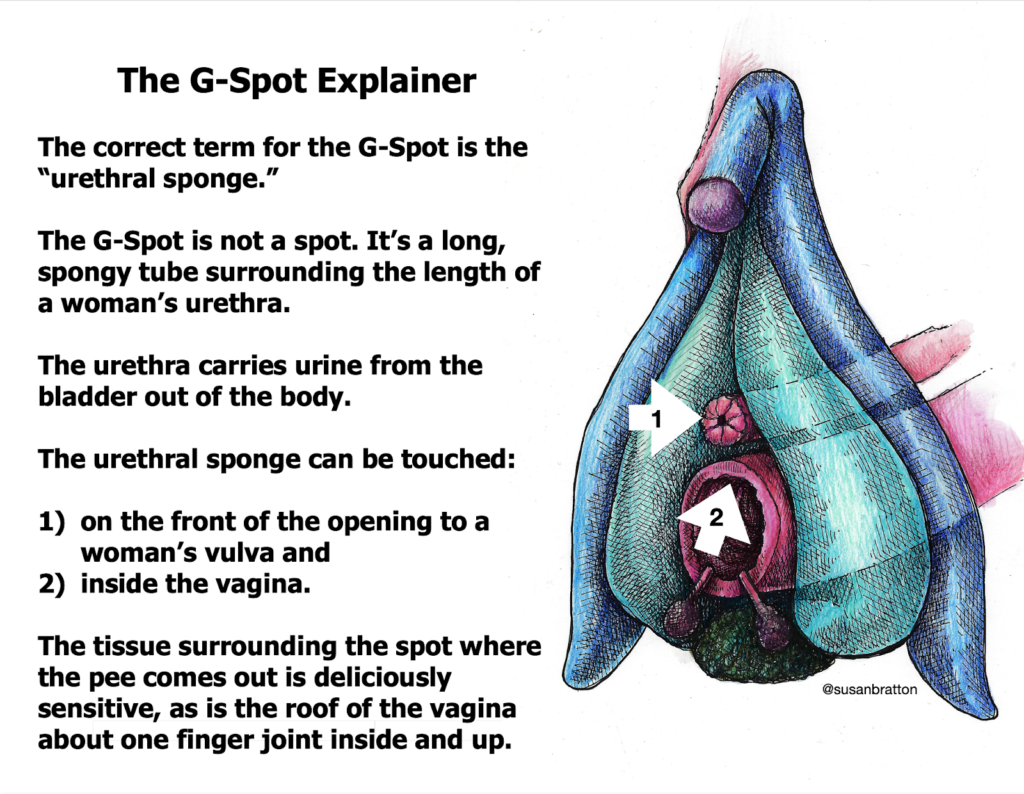 This illustration shows all the erectile tissue surrounding a woman's vaginal canal. The urethral sponge tissue holds traumatic emotion. So, G-Spot Healing genital massage is somatic (body-based) trauma release work. Often a woman who's been raped has very tight pelvic muscles, and it hurts to be touched in the G-Spot.
The best way to open her up and release that tightness and pain is to focus on relaxing the abdomen with a massage on the mons area and the G-Spot. Giving a nurturing, sensual massage first before touching that area will accelerate the healing. Going more slowly gives you results faster.
We have an online digital program called Female Liquid Orgasm that shows you how to do G-Spot healing and give women female ejaculation.
Female Ejaculation
Female ejaculation is fluid from the urethra that is not urine. Watch this video for proof that female ejaculate is not urine. Too many women are afraid to release themselves because they fear they are peeing. Removing this fear by educating yourselves will hasten her release. When you watch that video, you'll get a free ebook called The Truths and Myths About Female Ejaculation. Go through the material I'm giving you. Knowledge creates confidence. Information gives you the map to success.
I like to describe FE as if a good cry and an orgasmic release had a baby. You push out the release, and it feels incredible. There is something emotionally cleansing about ejaculating. When we let it all go, and fluid gushes out of us, it's like we've taken back our goddess energy. Any kind of psychic wounds, such as rape, can often be healed better with the addition of the release of female ejaculation.
The fluid is commonly known as "Amrita," in Sanskrit, the nectar of the goddess.
Introduction to Sexual Pleasure Tools
Unlock Additional Members Only Content
Please login or register for a Free Membership to view this content.
Many women come so close to orgasm with penetration but can never quite achieve orgasm. A nice vibrator on her clitoris can get her over the edge, improve her confidence, and increase her pleasure.
Later you can watch my Penetration Orgasm free videos on BetterLover.com.
Couples hesitate to add toys into intercourse. My research results say utilizing sex toys during lovemaking is on the bottom four of partner's lists of things they are comfortable with. They think they are failing if they need a toy. That's not at all true. They are leaving pleasure on the table needlessly by not taking advantage of sexual pleasure tools. The ones I linked to above are the tested and recommended ones I have found everyone likes best.
Oral Pleasuring
Once you've gotten good with your hands, it's time to add in your mouth, lips, tongue, and even the tip of your nose. Using your hands and mouth simultaneously can give a woman blended orgasms. Our Steamy Sex Ed® Video Collection has 30 oral pleasuring techniques and 20 oral positions for couples. You can get four free ones here.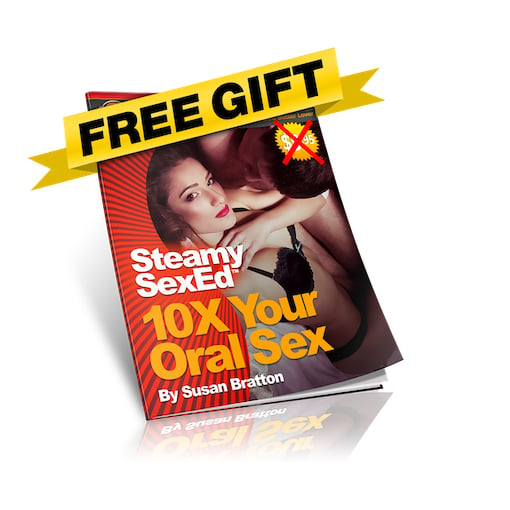 Very Important!
There's one last thing before you rush off and start doing all this. And that is, take your time! You are testosterone dominant and tend to rush ahead. You are goal-oriented and want to fix things. These are all beautiful traits and tendencies except when dealing with a partner who's been sexually traumatized.
The roadmap I've given you could take a few years to accomplish. Enjoy the journey. Slow down. Then go ten times more slowly.
She will have good days, days where her nervous energy makes her want to run screaming from the room, and days when she sobs in your arms. She will have releases that make her scream and howl.
Once you go through this, it releases, and her responses will likely normalize to a pre-traumatic time before she was wounded. And then, she will be at the early stages of her sexual maturation. To take three steps forward, you will need to take four steps back.
Thank you for being the kind and loving man you are. Your girlfriend is so lucky.
As you go along, let me know about your progress. And if you get stuck, email me anytime.