The P-Spot: Prostate Orgasm Secrets (VIDEO)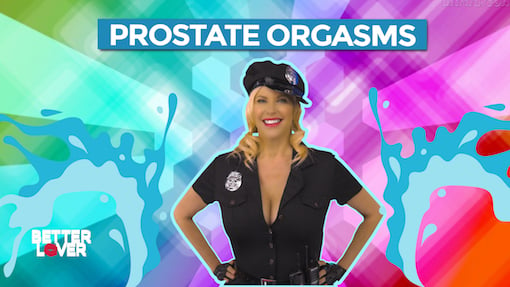 Firstly, anyone of any age can pump. You can pump to reverse softness, make your penis bigger, or simply to get a rock-hard erection like when you were a young man. Learn more about prostate massages, the prostate orgasm, and the P-Spot…
I'm wearing my "Pleasure Police" costume and I'm going to have to give you a ticket for NOT living up to your orgasmic potential. 😄
Surprisingly, 95% of people haven't yet achieved their highest level of sexual pleasure.
It doesn't matter where you are on the gender spectrum because there's always room for MORE intimacy and MORE passionate lovemaking.
Today, I want to share with you some of my videos on prostate health and orgasms.
Watch My YouTube Video "The Prostate Orgasm"
Men can have Energy Orgasms, Heartgasms, Braingasms, Full-Body Orgasms, and even Multiple Orgasms.
Here are some of the videos you're going to get to watch:
Prostate Orgasms: The P-Spot And Male Multiple Orgasms
Reversing Premature Ejaculation: Technique To Last Longer
Prostate Massager And Prostate Vibrator Review By Doctor And Sexologist
How To Clean Out The Prostate Gland By Masturbation
Prostate Massage, Prostate Orgasm, And The P-Spot
Prostate Milking: How To Avoid Prostate Cancer And Heal And Enlarged Prostate
How To Choose A Prostate Stimulator
I also want to give you one of my FREE books, the Pump Guide.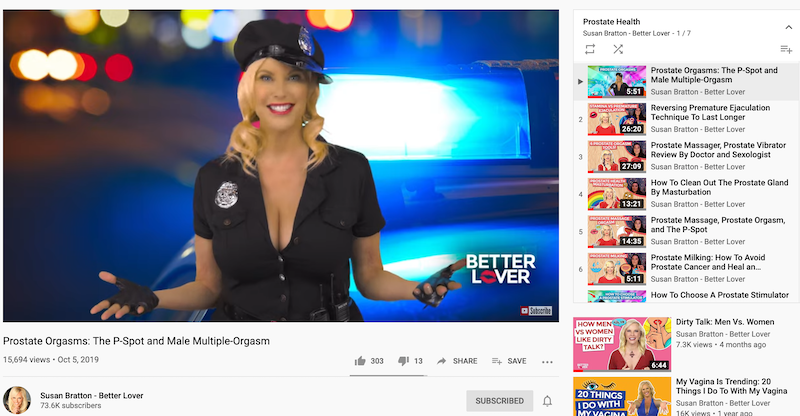 In my FREE Penis Pump Guide, you'll discover how to accurately use a penis pump to maximize harder, longer-lasting, lengthier and thicker erections safely, in the least amount of time — with permanent gains.
Firstly, anyone of any age can pump. Furthermore, you can pump to reverse softness, you can pump to make your penis bigger, you can pump simply to get a rock-hard erection like when you were a young man.
I also cover the latest new protocols for reversing erectile dysfunction and creating more robust erections by combining three protocols:
Unlock Additional Members Only Content
Please login or register for a Free Membership to view this content.
.
Click Here For The Download ⇐ Susan Bratton's FREE Pump Guide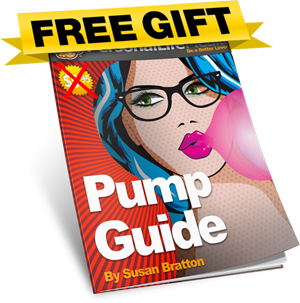 Thank you for helping me hit 100,000 subscribers! If you're not a subscriber yet (it's free), can you please subscribe to my Better Lover YouTube Channel? You just sign up with your email. Subscribing signals to YouTube that my videos are valuable and helps me grow. I really appreciate it.