Soulmate Embrace ⇐ Download Now As My Gift To You
What are you most grateful for? 
What strikes me is how the most simple things in life, health, friends, faith, family, a job, and a partner, make many of us most grateful.
Whether planting a garden, honing your cooking skills, building puzzles with your kids, or video chatting with friends, this time offers a great reflection of what makes a life worth living. Much of that is the connection to yourself and others.
That's why I'm glad you are one of the rare humans focused on intimate relationships. Because holding, touching, and loving is what we all need a lot more of right now.
If you are lucky enough to have a partner, please take time to hold or be held by them today. Never take for granted the blessing that friends and family are because so many are alone.
What are you waiting for if you haven't done my Soulmate Embrace technique? There will never be another time in the next 100 years when this holding technique will be of more value.
The rewards are immediate when a couple learns to hold and be held in this exquisitely intimate, loving way. Here is a list of a few benefits:
A deeper emotional connection.
Renewed interest in sexual pleasure.
More passionate lovemaking.
Stronger, longer, more profound pleasure.
A sense of safety behind closed doors, which leads to… 
More intimate adventurousness.
Profound openness and heart-sharing.
A stronger feeling of belonging to each other.
Greater confidence in your love for each other.
And that's just the shortlist…
What I love most about the Soulmate Embrace is how it cultivates polarity. 
Polarity is that delicious passion arc caused by the magnetic attraction of opposites.
In the Soulmate Embrace, the masculine and feminine get what they need.
For the man (or the partner in the male role), the intent is to slow down and allow the feminine partner to surrender fully. A woman needs to let go physically before she can open up emotionally. And she needs to open up emotionally before she can connect intimately.
It's that simple.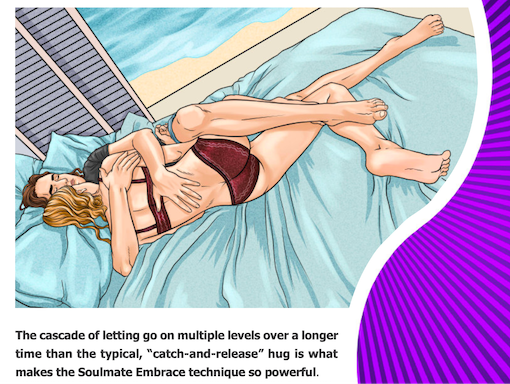 EMBRACE IN THIS NEW WAY
However you love yourself, I hope it includes this beautiful Soulmate Embrace.
Download the ebook for free. The directions are listed step by step on pages 7 and 8.
Soulmate Embrace ⇐ Download Now As My Gift To You
When couples try new things together, it increases the excitement of their intimacy.
If you're single, read the ebook to be ready when you find the one.