More intimate adventurousness…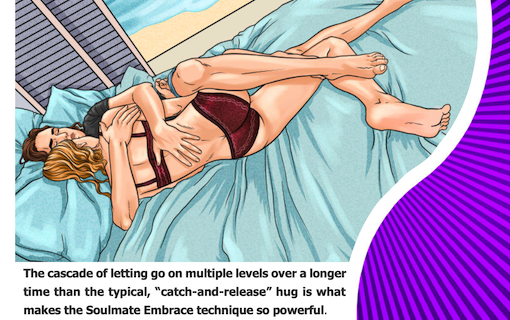 Soulmate Embrace ⇐ Download Now As My Gift To You
A few weeks ago I asked you what you were most grateful for
What struck me about the hundreds of responses you sent me was how the most simple things in life, health, friends, faith, family, a job, a partner were what made you most grateful.
Whether you're planting a garden, honing your cooking skills, building puzzles with your kids, or video chatting with friends, this time offers us a great reflection of what makes a life worth living. Much of that is the connection to yourself and others.
It's a nerve-wracking time of much uncertainty.
That's why I'm glad you are one of the rare humans focused on intimate connection. Because holding, touching and loving are what we all need a lot more of right now.
Today, if you are lucky enough to have a partner, please take the time to hold or be held by them today. Never take for granted the blessing that friends and family are because so many are alone.
If you haven't yet done my Soulmate Embrace technique, what are you waiting for? There will never be another time in the next 100 years when this holding technique will be of more value.
When a couple learns to hold and be held in this exquisitely intimate, loving way, the rewards are immediate. Here is a list of a few of the benefits:
A deeper emotional connection.
Renewed interest in sexual pleasure.
More passionate lovemaking.
Stronger, longer, deeper pleasure.
A sense of safety behind closed doors, which leads to…
More intimate adventurousness.
Profound openness and heart-sharing.
A stronger feeling of belonging to each other.
Greater confidence in your love for each other.
And that's just the shortlist…
What I love most about the Soulmate Embrace is how it cultivates polarity.
Polarity is the delicious passion arc caused by the magnetic attraction of opposites.
In the Soulmate Embrace, both the masculine and feminine get what they need.
For the man (or the partner in the masculine role), the intent is to slow down and allow the feminine partner to fully surrender. A woman needs to let go physically before she can open up emotionally. And she needs to open up emotionally before she can connect intimately.
It's really that simple.
EMBRACE IN THIS NEW WAY
My new love is fulfilling parts of me I didn't know I had or had forgotten about. It's all very natural and with the pandemic, we have been forced to live together. — Hannah

Marrying my high school sweetheart and being together for 30 years in November.  — Olin

Everyone in my family has remained healthy. — Len

I'm a single mom who works two jobs seven days a week. I got the coronavirus. I'm grateful for being alive because it's been six days and I no longer have a fever. —Kendra

Grateful for your contribution to making people more open-minded and less harmfully frustrated and hung up over the Divine gift of sexuality — Catholic Deacon

With the power of love and caring for each other — this could be a very good " New Normal," one based on fairness, balance, love, kindness & compassion for each other. — Paul

I still have a job, healthy and strong in body and mind.  — Dale

Grateful for my wife, my son, my mom, my family and my health. I'm also grateful for being considered an essential company and still able to work with extreme caution. Stay well. — Ike

I am grateful to be alive, to have food and essentials, to not be poor (i.e. have sufficient funds), to not be alone, and that today is a good day (weather-wise). — Jim

Thank you for helping me understand my female anatomy. I bought my first pleasure toy because of your recommendation. Ooo La La.. 😀 — Chris
Whichever way you love yourself, I hope it includes this beautiful Soulmate Embrace.
Download the ebook for free. The directions are listed step-by-step on pages 7 and 8.
Soulmate Embrace ⇐ Download Now As My Gift To You
When couples try new things together, it increases the excitement of your intimacy.
If you're single, read the ebook so you'll be ready when you find the one.