One of my readers asked how he could get his woman to orgasm using his penis while he's inside her. These are called penetration orgasms, penis-in-vagina orgasms or orgasms from intercourse. He especially wanted to know how to help her orgasm when she was on top of him –commonly called, CowGirl Sex Position.
If you want to read his email and my response, scroll down below.
Click Here For The Passion Patch ⇐ The ONE Place To Touch A Woman To Turn Her On
Click Here For The Stallion's Secret ⇐ Get Harder And Stay Harder All Night Long
Click Here To Watch My Dirty Talk YouTube Videos ⇐ Dirty Talk Techniques For Beginners And Advanced Lovers
Click Here To Give Her Orgasms With Your Manhood ⇐ Penis-In-Vagina Orgasm Techniques And Positions
RIDE 'EM, COWGIRL!
"Hi, Susan,

I've been able to turn my girl on much more and last longer with your ME Breath technique. Also, we are going to read your Dirty Talk ebook and watch your video series together.

Do you have suggestions for sensual touching hot spots? Her ears, arms, breasts, nipples, and neck are staples but I wonder if there are some other ones?

Lastly, when she is on top and grinds on me she mentions that it doesn't hit her clitoris.

The only time when she is on top that works there is if we are deep kissing and body to body. Do I need a cock ring or any other idea? As I've read on your newsletter on top is where she can really stimulate her g-spot and clitoris! Thanks!!!" —Trenton (name changed to protect privacy)
==============
Dear Trenton,
I'm so glad you're enjoying all of my fun techniques and ideas. I enjoy your progress updates.
Let me clear up a misconception about intercourse and the clitoris.
The clitoris is a large, fleshy tissue mass that surrounds the opening to a woman's vagina. She doesn't need to have the little glans stimulated directly to have orgasms. She can orgasm from the stimulation of your penis in her vagina.
The glans is the head of the clitoris that sticks out that everyone thinks is the ONE THING that must be touched or stimulated directly because it has all those legendary nerve endings. But the glans are attached to the shaft, the shaft splits into two arms and there are two puffy legs below that — and all of the rest of the clitoris is erectile tissue.
The clitoris wraps around the opening to the vagina. The trick to her having orgasms while on top of you is two-fold: Engorgement and Freestyle.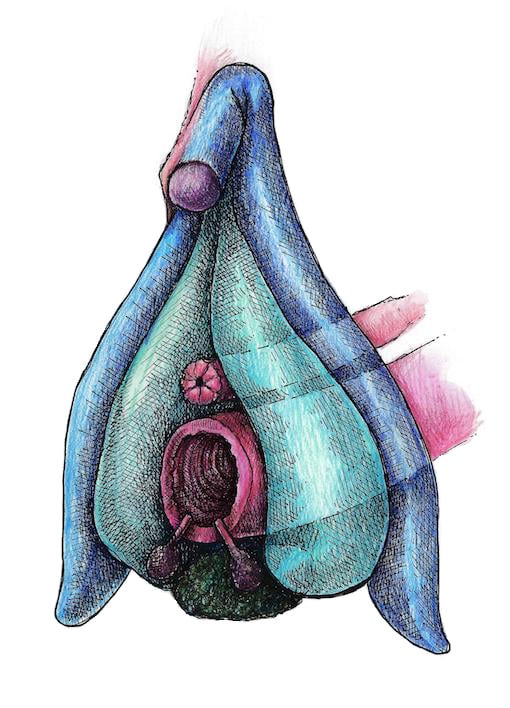 First, make sure you've given her a vulva massage with warm organic oil first. Massage all around her vulva from top to bottom, outside to inside, up to down and across. Stimulate ALL the tissue from outer labia to inner labia to mons pubis to her butt cheeks and inside to her g-spot (urethral sponge) and her p-spot (perineal sponge). Then give her oral and pleasure her some more. Just take your time and really get into it.
This will bring a lot of blood to the tissue making in exquisitely sensitive and pleasurable.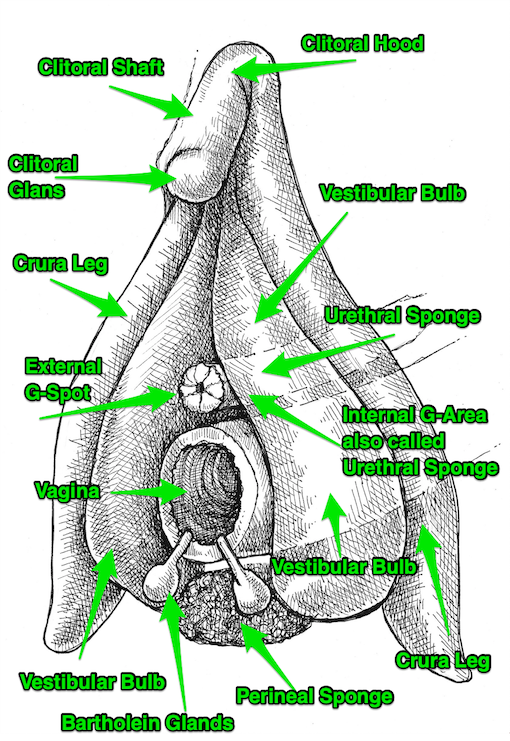 By the time she HAS to have your penis inside her, she will be well-engorged and everything in her clitoris will be plump and all the sensations will feel delicious.
Have her move all around on your penis. Girl on top is more about what she does, rather than what you do. She has to feel her way to pleasure.
I am just getting to this point at 57 years old where I can make myself orgasm by being on top of my man. For some women, it comes naturally. For others, it's possible when they do some practicing. I just have to let go and take my pleasure.
A woman finds her path herself. And it doesn't require any direct clitoral stimulation. It can, but it doesn't need to. Just your penis sliding in and out of her vagina is enough to give any woman multiple orgasms once she learns how. Your penis is tugging at and sliding across her clitoral structure, her g-spot, and her p-spot as well as all the mechanoreceptors at the opening to her vagina.
Orgasms with intercourse are a learnable skill. Penetration orgasms from intercourse come with practice and knowing what I'm telling you now. Engorgement and Freestyle.
The freestyle concept is just that she should follow her body wisdom and use your tool as an instrument to her pleasure. She can add fingers to play with her clitoris. She can add a vibrator on her clitoris. But she doesn't need to. If she's turned on and moving the way it feels good to her, the orgasms will come.
Your job is to deep kiss her, worship her, play with her breasts and nipples, tell her how sexy she is and how much you adore her while not ejaculating and staying hard for her.
You can have her hold herself up so she can slide up and down with not-deep, short, fast strokes on the head of your penis. Then when she wants deep strokes, have her slide all the way down on you a couple times. Then have her resume the short, shallow strokes. You can rise up to meet her too. You can even hold onto her derriere with your hands and move her up and down on you. This is a very masculine thing to do and makes it very hot for most women.
Encourage her to do whatever feels good to her. For me personally, I really enjoy my nipples stimulated while I'm making out with my man. I also like to take breaks and rub his penis across my clitoris and g-spot. Doing so often makes me ejaculate all over him, which he loves.
Imagine his view. He gets to kick back and watch! 🙂
Watch this playlist of five videos I created to help women have orgasms from penis-in-vagina sex. Some of my most valuable information is in these videos.
Have fun!
If you want to check out the sensual touch techniques, arousal control techniques, dirty talk series Trenton mentioned, you can check them out here.
Click Here For The Passion Patch ⇐ The ONE Place To Touch A Woman To Turn Her On
Click Here For The Stallion's Secret ⇐ Get Harder And Stay Harder All Night Long
Click Here To Watch My Dirty Talk YouTube Videos ⇐ Dirty Talk Techniques For Beginners And Advanced Lovers
Click Here To Give Her Orgasms With Your Manhood ⇐ Penis-In-Vagina Orgasm Techniques And Positions