"Whoa! This is what sex felt like when I was 35. I had aged over the years and didn't feel it." Read on to learn more healthy vagina tips.
It takes some serious cojones to reveal everything you can do with your vagina on YouTube. Don't miss Susan's "orgasmic breathing" demo in this video. It's so sexy!
Leave it to Susan Bratton, the Queen of Sexual Longevity, to rally her vagina onto the list of trending topics.
But all buxom blond bragging aside, this video is outright entertaining.
You expect nothing less with Susan, right?
In this 20-minute segment, Susan becomes the Vanna White of the Vajay-jay. She covers everything from
Unlock Additional Members Only Content
Please login or register for a Free Membership to view this content.
to genital grooming and hormone creams to breakthrough medical technologies to keep genital atrophy at bay.
HER VAGINA IS TRENDING ← Watch now (MUST SEE!)
You'll also be amazed by her healthy vagina tips and vagina-talk on topics such as:
Engorgement

Genital massage

Pussy breathing

Healing from sexual trauma

Non-toxic sex toys
HOW MANY THINGS CAN YOU DO WITH A VAGINA? ← Watch now (It's FUN, too!)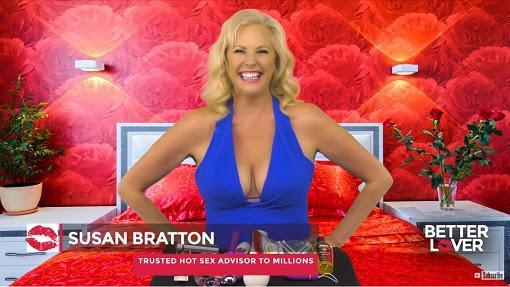 When Susan hit her mid-fifties, she noticed changes in her vagina. Nothing freaky, mind you, just the regular changes with aging.
Being the sex geek she is, Susan turned to technology for answers.
Find out what she did to dial back the clock. She now has her sexy on like a 30-something again!
FUN THINGS TO DO WITH A VAGINA ← Watch now (Sexy Tell-All Video)