Sexless Marriage Solutions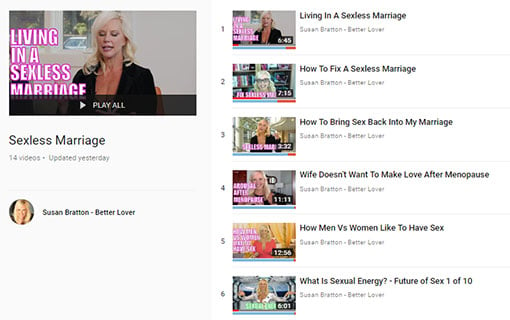 I got my start helping husbands rekindle the passion in their marriages. My very first program was

Revive Her Drive

.
I've helped thousands of men get their sex lives, not just back on track, but hotter than they ever imagined!
More and more these days it's women asking me how to get their husbands to have more sex with them.
Even boyfriends and girlfriends are talking to me, frustrated at their lack of passion.
Hey, it isn't easy to keep the passion burning. But it IS possible!
In this video playlist I reveal myriad considerations and action steps you can take to rekindle or even create passion where none exists.
It comes down to a few basic understandings that nobody teaches you… except me!
HOW TO REVERSE A SEXLESS RELATIONSHIP ⇐ WATCH NOW
Feel free to leave any questions in the comments below the video. I will answer them for you.
While you're watching, please subscribe for free to my Better Lover channel. That way YouTube knows my content is valuable enough to show to others.
I'm putting tremendous energy into my videos for you. Thank you for helping me reach 50,000 subscribers this year by clicking here!
HOW TO REVERSE A SEXLESS RELATIONSHIP ⇐ WATCH NOW