The naughty nurse will see you now. Hehe.
As I write this I'm up to 9,600 fans. Help me hit 10,000!
Below is a picture of me in the video studio shooting a new YouTube series called "Sexy Nurse."
I can't wait to release 10 new videos for you.
They are all about avoiding STDs, Which STD and Hormone Tests to Get, How Men Like To Have Sex Versus Women… plus all kinds of cool new facts and helpful advice on having more pleasurable sex.
Last week I asked you to subscribe to my YouTube channel.
Within the last week over 1,000 friends like you have subscribed.
This just lets YouTube know you like my channel. It's like a "turbo thumbs up."
Thank you so much!
I'm less than clicks away from reaching 10,000 subscribes, which allows me to shoot in the YouTube studios. It is also a signal to YouTube to offer my videos in search results, helping me grow my audience.
Please click here and subscribe so my advice can reach more sexual seekers:


One of my fans sent me this silly picture making fun of the little-blue-pill warning phrase/marketing tagline. I had to share it with you 'cause I thought it was so funny!
THIS WON'T HURT A BIT!
Subscribing to someone's YouTube channel is completely free.
It's sort of like subscribing to a free online magazine — new content by YouTube channels you're subscribed to shows up on your YouTube homepage or your YouTube phone app.
You see my videos recommended to you, instead of having to hunt for them when you go to YouTube.
I put up a new video each Friday. So those videos are going to show up on your subscription page.
When you go to YouTube, you click on "Subscriptions" and you'll see all the newest videos from all the channels you're subscribed to.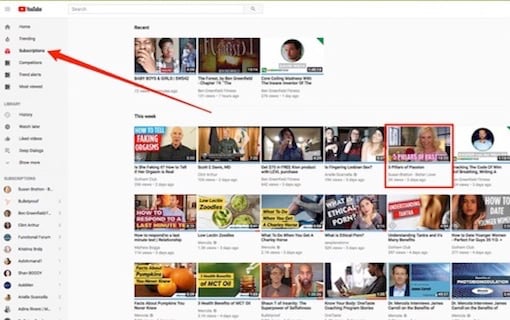 YOUR SUBSCRIPTION PAGE
There is no charge to subscribe. It's simply a recognition that the content is valuable enough to you that you'd like to see it on your subscription page when you visit YouTube.
That's why I want YOU to subscribe.
One of my goals for the year is to get to 10,000 subscribers by the end of the month. And I may not get to that goal without your help.
Pretty please, click the red, hot, Subscribe button below. It's totally FREE!


I'll go to ridiculous lengths to entertain you. Including dressing up as a naughty nurse to talk about how to have lots of hot, safe sex!
My Mom was the one who came up with this idea of dressing in a sexy nurse's outfit. I was talking to her about this new series.

What should I wear, Ma?
How about being a Naughty Nurse?
Bam! That's why I love my mother (among a zillion other reasons).
Thanks, Mom!
And thank you for supporting my work with one simple click here: