Women need to be romanced before they want sex from you.
I studied what romantic actions turn women on the most sexually. Then I came up with the top 30 ideas you can customize to make passion blaze.
These work on first dates and for old married couples equally. THESE romance tricks work like magic!
Download My Free eBook ⇒ 30 Romance Tricks That Work Like Magic To Turn Her On For You
SHE WILL CRAVE YOUR LOVING
Women need to be romanced before they want sex from you.
If you want consistent intercourse you have to put effort into keeping romance alive for a woman. (And give her orgasms from intercourse, which I will also keep teaching you.)
Click Here To Download My FREE Book ⇐ KEEPS ROMANCE ALIVE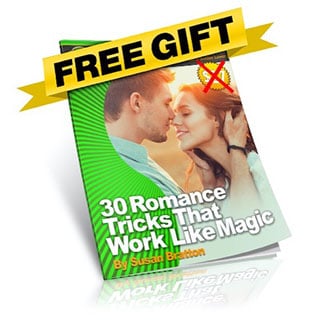 These are not your everyday tabloid-variety romance tips. They're not another list of Cosmo-magazine glam-bam, do me ma'am, one-off gimmicks.
These 30 romance ideas are based on my Five Pillars of Passion. Classic romance with a modern-day twist sure to fan the flames of love!
Download The Book For FREE Today ⇐ 30 Romance Tricks To Get Her In The Mood
When a woman feels like a queen, she starts treating her man like a king.
That's when she starts to bring out his hidden strengths.
And he, in turn, activates the affection within her.
Romance is the bread and butter of any relationship.
Without romance your relationship will become as dry and painful as being stranded in the desert naked with a rash.
However, if the romance is exquisite, the relationship will be fruitful, authentic, passionate, and remarkably sexual.
That's why you need to get this book. Do what I say. And see for yourself.
And why am I giving this to you for free? Because it works. And when it does, you'll be like, "That Susan Bratton is MY sex guru!"
Your "sexcess" is my happy place