The Kama Sutra Kiss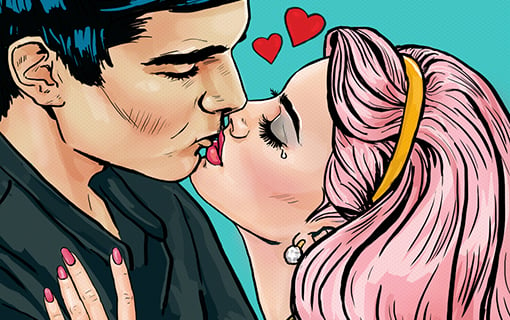 The best kiss is the one that has been exchanged a thousand times between the eyes before it reaches the lips…
One of the most potent ways to create intimacy in your relationship is kissing.
Do you love a romantic kiss?
Maybe in the back of the car, tucked in a doorway, on the couch or out in nature with the birds chirping…
Here's a REALLY soul-connected kissing technique that will make you unforgettable to your partner.
TANTRIC KISSING
Tantric love techniques are based on ancient wisdom from our elders, passed down throughout the eons of humanity.
The Tantric Kiss includes two powerful techniques in one:
Making sweet eye contact

Giving your complete attention to each other ("being present")
If you're a woman, be careful. When you suggest to a guy that you do some Tantric Kissing he's going to get really excited.
Guys LOVE kissing, especially deep kissing, so you're going to have to slow him down…
And, it's best to have him lead you, instead of you showing him what to do.
This is where the feminine wiles come into play.
Explain how it works and then just let him run the scene.
Even if he doesn't get it right the first time, it will make him feel very masculine.
If you try to direct him, it lowers your polarity.
So just give him simple directions and then sit back and make the most of whatever he does. Surrender to his process.
That way you can see if he's sensual and good at leading or not.
If you're a guy, she's going to love this soulful kissing.
TANTRIC KISSING DIRECTIONS
Clear your minds and sit down face to face in a comfortable place in your home.
Touch your foreheads together. Then spend a few minutes getting your breathing to slow down.
Let the world fall away and be completely present at the moment you two are sharing.
Keep a soft lingering gaze —make eye contact with each other.
(You can tell a lot about a man's integrity and confidence by how well he can hold a woman's gaze.)
You can hold hands in his or begin stroking each other's hands lightly in a sensual manner.
Tease each other with your lips with, but don't go in for a full kiss.
You want to increase your desire for each other. Build up the excitement here.
He can kiss your cheeks, eyelids, and forehead.
Women love this kind of sweet kissing and eye contact.
KEEP IT GOING LIKE THIS
As he warms you up, he can nibble your lips and earlobes and kiss down your neck.
In the future, this Tantric Kiss can proceed into the most divine connection.
He can slowly trace his lips down your body to kiss and tease your skin to activate your sensation.
There are even more exquisite steps to this technique in my Steamy Sex Ed® Video Collection. 
I made Steamy so that couples can watch it together and singles can be ready for when they find "the ONE…" and especially for lovers who want heart-connected, slow, sensual intimacy. 
The Steamy Sex Ed® Video Collection integrates Tantric lovemaking, the Kama Sutra and 21st Century technologies into 8 videos that teach you TONS of techniques for slow, erotic connection.
When you know a lot of techniques, you can show your beloved all kinds of ways you can both bring each other incredible pleasure.
It won't seem weird to your partner at all if you say, "I heard about this technique and I've always wanted to try it." "Can I explain it to you and will you lead me through it?"
That is MUSIC to a beloved's ears.
People generally love to know exactly what their partner wants, and then they want to give it to us.
Everyone hates guessing it wrong.
By knowing what sounds fun, you will be the romantic partner they cannot get out of their thoughts.
ONE CAVEAT
I must warn you, however… We rarely offer the Steamy Sex Ed® Video Collection on sale.
It sells out every time.
So being new around these parts, I suggest you jump ahead of the line and get on our Early Bird list.
Get On The VIP LIST ⇐ Steamy Sex Ed® It's better to get to say no than never get to say yes. (Heart-connected, sensual, passionate lovemaking videos)
You'll get one-day advance notice before other people so you can have a chance to consider purchasing my Steamy Sex Ed® Video Collection before all of our 60% off sale copies are snatched up by other customers.
You will get a one-day advanced notice to see if you want this for yourself.
That way if you want a copy, you'll be able to get your order placed before there are no more left.
I'm all about making you a total love puppy because you are an absolutely sensual, passionate person just for being here and learning how to add pleasure to your relationship.
I'm serious about the Steamy Sex Ed® Video Collection limited availability.
Get on the Early Notification list ⇐ Steamy Sex Ed® It's better to get to say no than never get to say yes. (Heart-connected, sensual, passionate lovemaking videos)
There will only be a limited number of copies. And we usually sell out days before the sale ends. So I suggest you sign up for the VIP list to get your copy before everybody else gets the chance to order theirs.
So if you want to be at the head of the line, in front of everybody else who can't wait to get a taste of Steamy Sex Ed®, get on the VIP List today!
Steamy Sex Ed® Video Collection VIP List ⇐ Jump To The Head of the Line!
Susan is a trusted advisor to millions of lovers who want lifelong intimacy and passion. Known for her programs including her #1 international best-seller, Sexual Soulmates, Relationship Magic, 30 Romance Tricks That Work Like Magic, Revive Her Drive and the Steamy Sex Ed® Video Collection, Susan is beloved by couples worldwide for helping them keep the flame of passion alive in their relationships.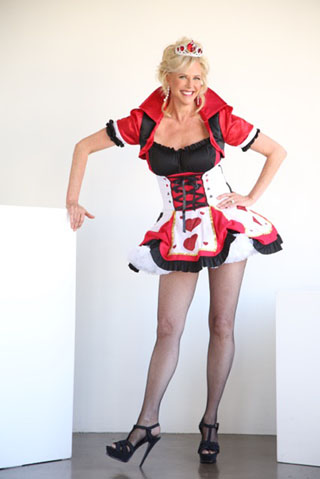 Clicking to get on the VIP List is free. You are not obligated to purchase. This gives you one-day advance access to view our video trailers, sample sizzle reels and learn all about this video collection.

By clicking and putting yourself on the VIP list you get an email from me one day before the general sale starts. Because this is a 60% discount, we always sell out of copies during our sales.

Getting on the VIP list means you get to decide for yourself you want this as a gift for you or your lover before all the copies are gone.